After years of false starts and delays, the US Department of Homeland Security has again delayed the implementation of rules intended to make US drivers' licenses more secure.
The latest actions by the department granted compliance extensions to California, Alaska, South Carolina, and New Jersey until Oct. 10, 2016. With these extensions, 22 states are now exempt until that date from the security requirements, known as Real ID. New Mexico and Washington state have exemptions that last through Jan. 10, and have yet to be granted extensions.
(Update, Jan. 8: DHS has announced that IDs from some non-compliant states will be rejected by airport security by Jan. 22, 2018 and from all non-compliant states by Oct. 10, 2020.)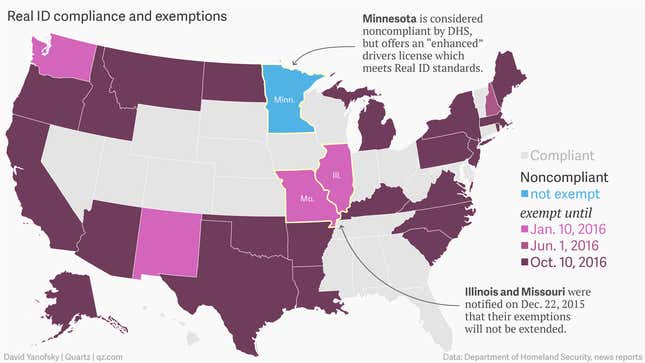 These recently granted exemptions come as the DHS missed its own self-imposed deadline to outline new airport security procedures that would give strong preference to IDs issued by compliant states. In Oct. 2015, the DHS said it was planning to "announce the schedule for any changes to air travel requirements by the end of the year." No changes were eventually announced. Asked by Quartz to explain the missed deadline, Amanda DeGroff, a spokewoman for the DHS, said the department "is continuing to evaluate the schedule for any changes to air travel."
The Real ID requirements are an attempt at increasing security not just though the addition of certain features to driver's licenses themselves, but also through administrative mandates such as requiring specific documents, verifying the immigration status of applicants, performing background checks on employees who process license applications, and participating in cross-state sharing of drivers' personal information.
Presently, the only repercussions for a non-compliant state are that its residents cannot use their state issued driver's licenses and IDs to enter nuclear plants or federal facilities that require identification. The DHS intends to extend the same requirements for those facilities to Transportation Security Administration checkpoints at airports. The department has said it will give at least 120 days of notice before changing air travel requirements.
It's unclear what effect, if any, the new requirements will have on travelers from non-compliant states. Currently, travelers under the age of 18 have no requirement to have identification at TSA checkpoints. The TSA allows other passengers through airport security with limited or no forms of identification if they undergo "enhanced" screening and TSA agents can sufficiently verify the passenger's identity.