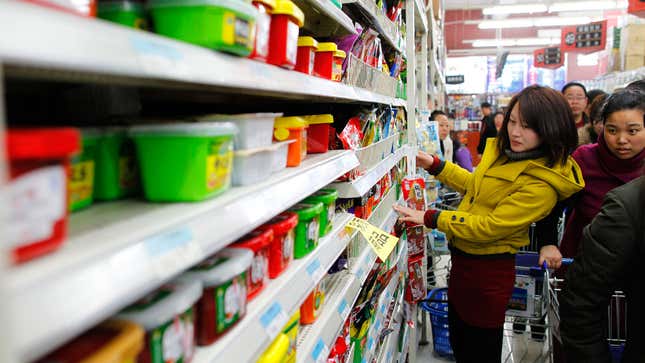 Every month new data come out about China's economic slowdown. The latest purchasing managers' index (PMI), which measures the health of manufacturing, points to an 11th straight month of contraction. But now new data suggest that the economy isn't only slowing, but also subtly changing shape.
Boosting domestic consumption has been a constant mantra of Chinese officials, international institutions and economists. To become more mature and balanced, they say, the world's second largest economy needs to depend less on its export industry and more on its own citizens buying and selling goods. Moreover, officials realize they must develop the country' hinterland, which has lagged behind the richer coastal provinces near cities like Shanghai and Guangzhou and also near Beijing.
That may be starting to happen, according to the China Beige Book, a survey of businesses in various sectors. For the third quarter of 2012, it confirms that manufacturing is weakening but shows resilient and sometimes accelerating retail spending in China's periphery regions in the north, southwest and west, according to a preview released on Sept. 23. The report says sales revenues were up at 58% of retail outlets surveyed and over two-thirds of retailers expected higher sales six months hence. Retail sales in the country's southwest reported higher retail growth than the last two quarters. In contrast the number of manufacturing firms reporting higher revenues dropped 20 percentage points, and the number reporting lower sales or output doubled.
"The problems of manufacturing have been overemphasized and people tend to forget that this is what rebalancing looks like," says Craig Charney, director of research and polling at CBB International, which publishes the report. "China's economy is not just manufacturing," the firm said in a statement, noting that retail strength could be the first step in shifting the country toward a consumption-based model.
The economic news from China, therefore, is not all bad, says Charney. "The way restructuring often proceeds is through crisis," he said. "What we're seeing is consistent with the idea of rebalancing so far… we see hints and signs."