Here's an amazing chart of heart attacks among Germans during the 2006 World Cup of soccer, which was held in Germany. The red line, for 2006, spikes each time the German national team plays a match, especially during its nail-biting, quarterfinal victory over Argentina in penalty kicks (#5) and crushing loss to arch-rival Italy in the semifinals (#6):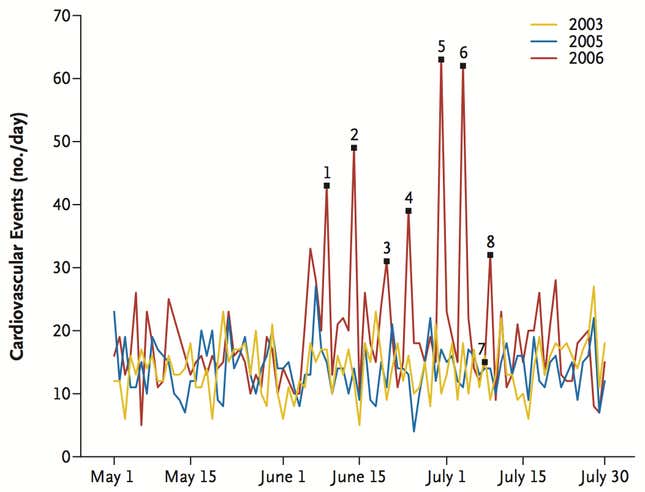 Group match: Germany beats Costa Rica, 4-2
Group match: Germany beats Poland, 1-0
Group match: Germany beats Ecuador, 3-0
Round of 16: Germany beats Sweden, 2-0
Quarterfinal: Germany beats Argentina, 1-1, in penalty kicks
Semifinal: Germany loses to Italy, 0-2
Third-place match: Germany beats Portugal, 3-1
Final: Italy beats France, 1-1, in penalty kicks
"Viewing a stressful soccer match more than doubles the risk of an acute cardiovascular event," concluded the authors of this study (PDF), which was published in the New England Journal of Medicine in 2008. (The study was highlighted today by Grantland staff writer Katie Baker from the audience at the MIT Sloan Sports Analytics Conference in Boston.)
"It is clear," the authors continued, "that watching an important soccer match, which can be associated with intense emotional stress, triggers the acute coronary syndrome and symptomatic cardiac arrhythmia."
Interestingly, the only match that didn't cause a spike in heart attacks was the third-place game against Portugal, confirming that once a team has been knocked out of contention for the World Cup title, nothing really matters. That semifinal loss to Italy, a team that has long tormented Germany and went on to win the tournament, left Deutschland quite literally with its hearts broken.