Our crowded airwaves
Go ahead and take a look at how many wireless networks can be detected on the device you're using to read this story. Chances are, you'll see quite a few, especially if you're in a city. If you're using Wi-Fi, this article, and whatever else you're after on the internet, came to you a little bit slower than it might otherwise have.
"You're at an airport, a convention, or hotel and you break out your laptop, tablet, or smartphone, hoping you can get a Wi-Fi connection," Federal Communications Commission Chair Julius Genachowski said at an open meeting last month. "One moment you're saying, 'Great, I can get online.' Moments later, you're saying, 'Not so fast,' literally … Wi-Fi congestion is a very real and growing problem."
Researchers in the Netherlands say that in crowded environments, less than 20% of a Wi-Fi network's bandwidth may go to actual internet use, as the rest gets taken up with managing all those devices using the network. Genachowski, the supervisor of America's airwaves, has spent his tenure since 2009 focused on figuring out what to do with all the bits clogging up the airwaves as an increasing amount of wireless traffic from cellphones winds up on Wi-Fi, even as more tablets and computers compete with an increasing number of hotspots.
At the meeting, he announced plans to open up a new chunk of spectrum to public use, but warned that more action will be needed as usage increases. The satellite company Globalstar has an intriguing–and potentially lucrative—plan to help him in that task, and get itself out of a financial hole in the process.
Looking for revenue up, down and all around
Globalstar's 32 satellites provide voice and data communication to some 120 countries, servicing satellite phones and tracking devices. But problems with its previous generation of satellites hurt service and have kept the company mired in losses. Its stock, delisted by NASDAQ at the end of last year, trades over the counter at a little over 30 cents a share.
Two years ago, John Dooley, an engineer and investor who co-founded Jarvinian, a venture fund that invests in wireless technology, approached Globalstar about a missed opportunity to make money. Globalstar licenses wireless spectrum to communicate with its satellites, but doesn't use nearly all of it. Dooley told them that the "best use of your spectrum" would be on earth: Expanding Wi-Fi, effectively a three-lane highway, into a four-lane express.
For this is Globalstar's advantage: The spectrum it licenses for its satellites just happens to be adjacent to the spectrum reserved for public use, right where a new channel for Wi-Fi would be found. The picture below shows what the 2.4-2.5 GHz band of spectrum looks like right now in the Boston area. Those green and red peaks are Wi-Fi use. The part next to them, marked "Wi-Fi Channel 14," is quieter, and half of it ("GS 2400") is reserved for Globalstar's satellite needs.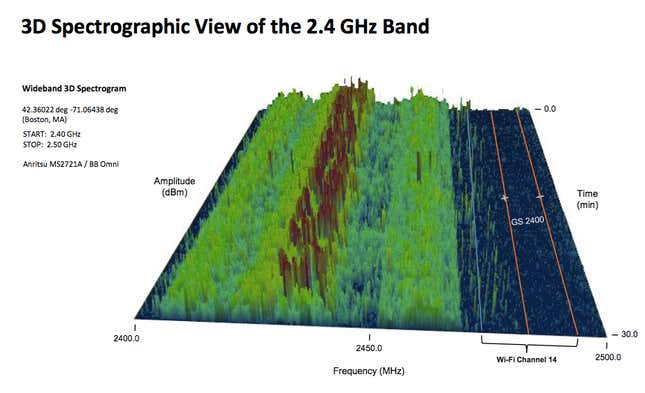 Particularly in metropolitan areas with lots of communications options, few people need satellite phones or tracking beacons. So Globalstar could use its channel for a terrestrial Wi-Fi network without harming its primary business. The only catch is that it needs regulatory approval from the FCC.
There is some precedent. Last year, the Dish satellite network received approval to use its satellite spectrum for a new terrestrial network. However, its electronic real estate isn't adjacent to anything as widely used as Wi-Fi. That means the company will take years to create hardware that can operate in that band and get it into consumers' hands. "One of the real challenges is building an ecosystem of devices that can use it," Dooley says. "Satellite phones can, but putting it into your iPad, iPhone, whatever, is a real challenge."
To use Globalstar's spectrum for Wi-Fi, on the other hand, wouldn't require any new hardware. According to Dooley, who developed the technology for this "terrestrial low power service," or TLPS, potential users could simply update their devices' software to reach the new band, which would be a managed like what a cellphone network to improve efficiency.
TLPS is only the first step in Globalstar's plan for its spectrum. The company wants to develop a proprietary wireless data network like Dish, one that uses a broader section of its spectrum holdings and would require significantly more investment. The near-term proposal to expand Wi-Fi is only a first step toward the broader goal, but it's one that could garner attention from regulators at a time when the agency says it is itching to expand wireless access.
Opening the government gate
The FCC is now considering Globalstar's request. Two of the company's competitors, Clearwire and Iridium, which share spectrum with it on other frequencies, are objecting that broadening the Wi-Fi spectrum could cause interference. To sweeten the deal, Globalstar is offering free wireless access points to public users like schools and hospitals, and promising free use of its satellite products anytime there is a federally declared emergency. An FCC spokesman wouldn't comment on what to expect, but noted that "spectrum is a big deal here."
If the FCC gives the go-ahead, Globalstar will immediately become a more valuable company. But executives will still need a business partner. Like competitor Clearwire, it could sell access to its network to a major data carrier, or market directly to consumers. Dooley, now a consultant with Globalstar, and Barbee Ponder, the company's general counsel, offered a number of possible scenarios: A single wireless carrier uses TLPS in all of its devices, or multiple carriers work with Globalstar to use the new network.
Other ideas are decidedly more ambitious, suited to a company that rents rocket ships. "Globalstar could use TLPS to give a tech company, a Google, an Apple, an Amazon, an extreme advantage by giving them a dedicated fast lane that would only work with their hardware and application," Dooley says.