Soon drones will be able to take off, fly, and land all on their own, and self-driving cars are just around the corner. The next step, naturally, is an autonomous drone that can fly you around, and Chinese company Ehang, has already built it.
The Ehang 184 is a single-seater, eight-rotor autonomous flying vehicle that will go on sale later this year.
Zipping through the air in a go-kart with wings might sound terrifying, but Ehang's co-founder Derrick Xiong says it's the future of transportation. At this week's Consumer Electronics Show in Las Vegas, Xiong told Quartz that the company had been in talks with multiple national aviation authorities, including China and New Zealand, but not with the US Federal Aviation Administration (FAA).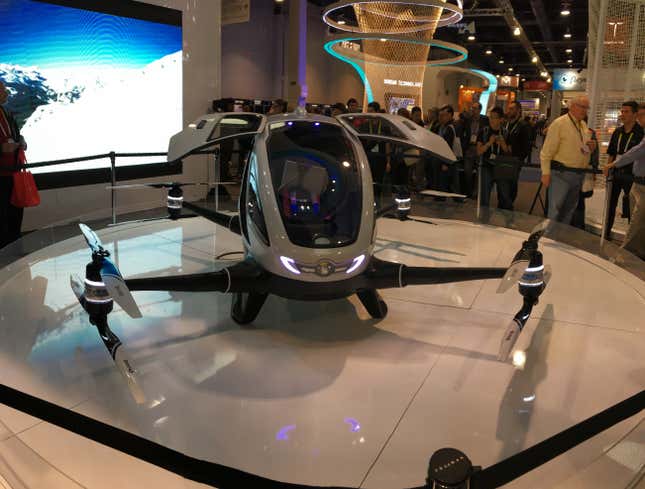 Details are thin on how the 184 flies, but Xiong said it's controlled by a minimalistic tablet that lets riders tap on a map to create their route. At CES, Xiong demonstrated the mapping technology, but couldn't fire up the helicopter itself, for the safety of the 150,000 convention-goers in the nearby area.
The 184 comes with built-in air-conditioning, reading lights and spotlights that can be controlled by the on-board tablet. Its batteries allow a 20-minute flight, which Xiong said equates to a range of about 50 miles—perfect for short jaunts around town. Be warned, though: The 184 can only carry passengers who weigh less than 220 pounds (about 100 kilos)—any more and your trip will be even shorter than expected.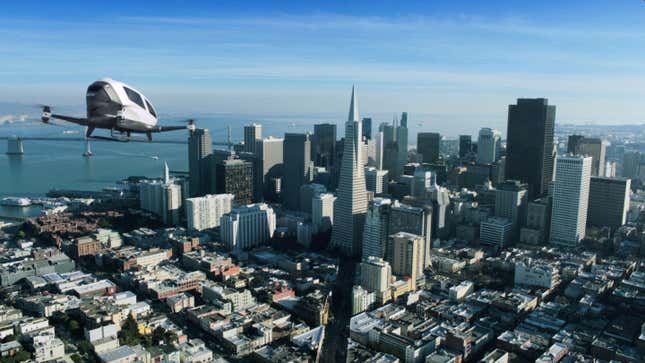 Xiong says the 184 will go on sale in select countries later this year, and will cost between $200,000 and $300,000. That's considerably cheaper than the average private jet, and a little less than a Bentley Mulsanne.
Considering the FAA is struggling to lock down regulations for consumer drones weighing less than a few pounds, it's unlikely that Americans will be soaring above cities any time soon, but who knows—perhaps Doc Bown's ruminations on whether we need roads where we're going was only off by a few months.