Trading on China's stock markets was suspended for the day this morning (Jan. 7) for the second time this week, after the CSI 300, a collection of blue-chip companies, plummeted by over 7%.
It took just 14 trading minutes—29 actual minutes, adding in a 15-minute temporary suspension—to hit the market's second "circuit breaker," which ends trading for the day. That, according to the Financial Times (paywall), was the shortest trading day ever recorded in China: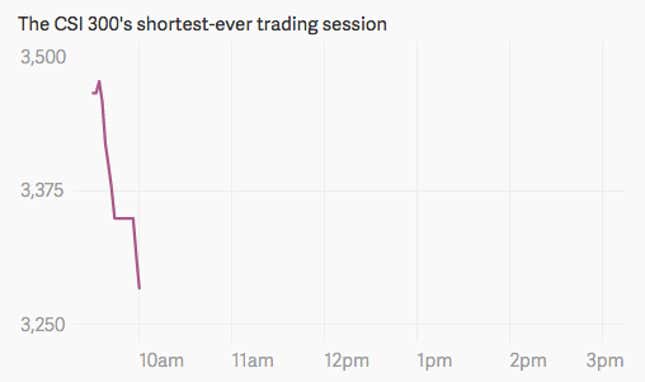 The speed at which the market tanked is important because, as Quartz has reported, it suggests a problem with how China has set up its circuit breaker system: halting exchanges for 15 minutes after a 5% drop in the CSI 300, and then shutting down trading for the day after a 7% retreat.
Under that set-up, it appears investors rush to sell off shares as the market approaches a shutdown for the day. That would mean that in trying to protect the market from a one-day mass sell-off, the new system is instead feeding pessimism that could break the markets many times over.