David Joel believes he owns a Monet. And he's been trying to force others to agree with him.
He bought the piece of work privately, titled Les Bords de Seine à Argenteuil, in 1993 for €50,000 ($54,000). Joel has spent the last two decades trying to prove the work, dated 1875 on its frame, was painted by the great French artist Claude Monet.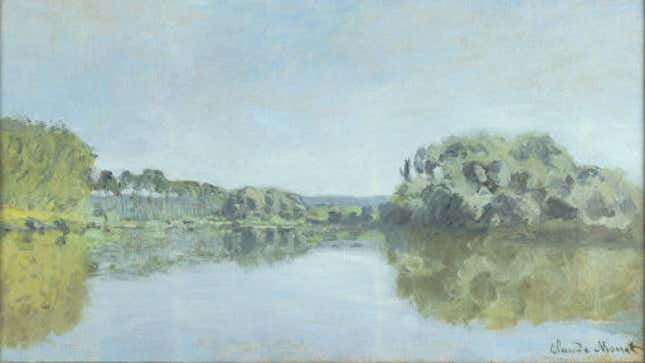 The authenticity of the work was scrutinized in the BBC program, Fake or Fortune, which went on to present a compelling case that suggested the painting was genuine. The evidence uncovered in the show included an illustration of the painting in the artists' obituary, published in the French newspaper Le Figaro, as well as a provenance—the history of the ownership of a historical object—that dated back to Monet's dealer, Georges Petit. The show even got a renowned art expert from the Courtauld Institute of Art to back the authenticity of the painting.
But it wasn't enough in the end.
An important work of art needs to be included in a catalogue raisonne—a comprehensive compilations of the artist's body of work. "Having a work published in a catalogue raisonne is seen as essential by collectors in establishing the authenticity of a work of art," Bendor Grosvenor, an art historian and a researcher for Fake or Fortune, tells Quartz.  It can dramatically alter the painting's value, adding many zeroes.
Monet's catalogue raisonné is published by the Wildenstein Institute, a French non-profit run by an art dealing company owned by the Wildenstein family—who are in the middle of a legal nightmare of their own. The show presented its evidence to the Wildenstein Institute, in hopes of getting it published in a catalogue raisonne, but the Institute refused.
Joel sued the institute in 2014, but lost the case. The judge pointed to the controversy around the authenticity of the painting, highlighting that other prominent art historians didn't believe the work is a Monet. (One theory attributes the work to an artist called Louis Latouche.) Joel appealed, but the court ruled against him again this week. The judge didn't believe the court had the right to compel art institutes whether a work was genuine or not.
While Grosvenor doesn't agree with the Wildenstein decision to not publish the work in the catalogue, he doesn't believe a court should force an author or art historian to change their mind. He is, however, frustrated with France's "anachronistic" system of establishing authenticity.
Joel will have to continue his fight, but it could be worse. When English businessman Martin Lang sent what he believed to be a painting by Marc Chagall to the Chagall committee, it was not only declared a fake, the committee seized the painting and announced their plan to destroy it. He had paid £100,000 ($145,800) for the work.