The dramatic recapture in Mexico of Joaquín "El Chapo" Guzmán, which included heavy gunfire and a chase through a sewer system, took an even more theatrical turn Saturday night (Jan. 9) when Rolling Stone published American actor Sean Penn's account of meeting and interviewing Guzmán while the drug lord was still on the lam.
Not only that, but the Associated Press reported that Penn's meeting is what led Mexican authorities to find Guzmán six months after he escaped from prison.
Penn's secret visit, he wrote, was brokered by Mexican actress Kate del Castillo. The two film stars chartered a plane from the Los Angeles area to an unnamed city in mid-Mexico, where they were driven to another airport and taken on a two-hour flight, and then a seven-hour truck convoy, to a cluster of bungalows where the fugitive greeted them.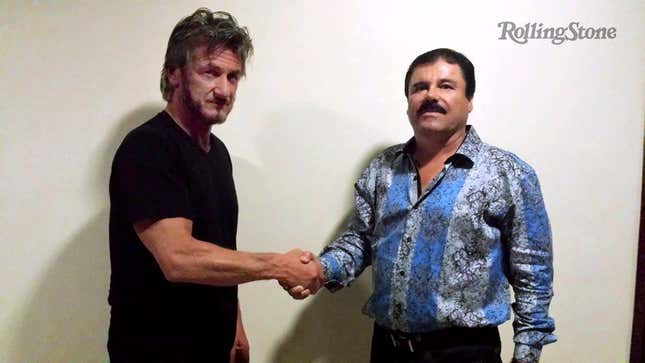 Penn's 11,000-word story for Rolling Stone is a wild and, at times, rambling account. He writes of his encounter with Guzmán:
I tell him, up front, that I had a family member who worked with the Drug Enforcement Agency, that through my work in Haiti (I'm CEO of J/P HRO, a nongovernmental organization based in Port-au-Prince) I had many relationships inside the United States government. I assure him that those relationships were by no means related to my interest in him. My only interest was to ask questions and deliver his responses, to be weighed by readers, whether in balance or contempt.
And that's where the piece begins to drag a bit. Penn's conversation with the head of the cartel said to provide more than a quarter of the US's supply of illegal drugs revolves mainly around niceties—translated from English to Spanish and vice versa, over several fingers of tequila—and a promise Guzmán makes to Penn to sit for a formal interview in eight days' time.
But the chronology up until the meeting is worthy of a Hollywood screenplay all on its own. Penn says he began working on arrangements for the meeting during a stay in New York on Sept. 28, at the same hotel where Mexican president Enrique Peña Nieto was staying that day while in town for the UN General Assembly. Then came the introduction to Castillo, who had earned the admiration of Guzmán after penning an open letter to him in which she expressed that she could "believe more in El Chapo Guzmán than in the governments that hide all the truths…"
Penn refers to destroying burner cell phones and taking other precautions to protect his source. But those efforts were clearly not enough to escape the notice of authorities. A day after recapturing Guzmán, Mexico indicated that it would extradite him to the United States.
After the initial meeting between the drug lord and actors, Guzmán would come through on his promise to Penn for a formal interview. It was taped, and delivered later than expected. (A portion of the video is available on Rolling Stone's website.) In his recorded answers, a transcript of which is included with Penn's article, Guzmán talks about growing up poor, eschewing gratuitous violence, and observing an evolution in the illegal narcotics trade.
Is it true what they say that drugs destroy humanity and bring harm?
Well, it's a reality that drugs destroy. Unfortunately, as I said, where I grew up there was no other way and there still isn't a way to survive, no way to work in our economy to be able to make a living.

Do you think it is true you are responsible for the high level of drug addiction in the world?
No, that is false, because the day I don't exist, it's not going to decrease in any way at all. Drug trafficking? That's false.
He is similarly succinct throughout, owing perhaps, as Penn explains, to the need for translation and the lack of opportunity for follow-up questions.
The piece is no doubt a coup for Wenner Media's Rolling Stone, which is still smarting from the fallout over its cover story about a campus rape at the University of Virginia—an account which, following an independent review, was concluded to be a journalistic failure. But the magazine is already facing criticism for publishing Penn's story. A disclosure at the top of the piece said that "some names have had
 to be changed, locations not named, and an understanding was brokered with the subject that this piece would be submitted for the subject's approval before publication. The subject did not ask for any changes."