SPONSOR CONTENT BY CITI
When authorities in Panama took the measure of their capital city's prospering and booming metro area, with its maze of streets filled to bursting, they knew they faced a massive challenge. Panamanians were waking up at 3:00 or 4:00 am to make the commute. The wasted hours meant wasted money, too, in lost productivity and extra childcare. And too little time and energy for family. Lengthy commutes make people unhappy, as countless studies have shown—and what is more pressing a problem than that?
Panama City needed a metro system. No Central American country had built one, and few cities anywhere had built one at a comparable moment in their development. It would take ingenuity and collaboration, and it would require experienced partners and significant financing, both public and private.
One precedent for the scope of the project was found not in a far-flung world capital but right there at home. It was Panama's previous answer to the epic challenges of transportation, and the country's signature symbol.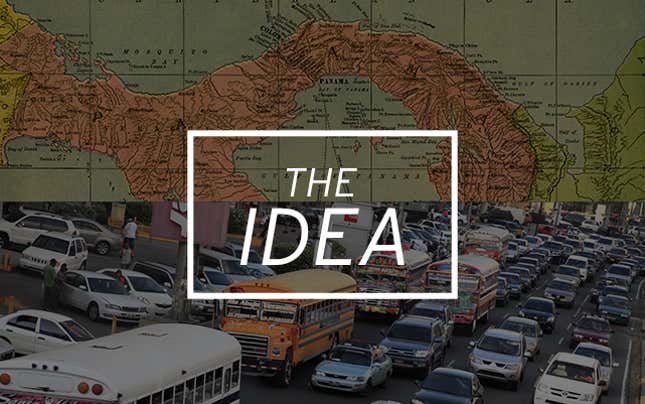 For a long time, it was only a dream. The Americas, measured from north to south, formed one enormous and unbroken stretch of land. That land was a natural glory but also a barrier, stretching from the Arctic north down to Cape Horn, not far from Antarctica. Moving people and goods between the Atlantic and the Pacific, between the West and the East—that was the difficulty. You had to travel thousands of miles out of the way, taking a V-shaped journey around the southern tip of South America. That meant passing through the notoriously forbidding Drake Passage, where seas, wind, and ice are known to spell trouble and even doom.
If only, people thought. If only the water could be cut through the land at some narrow point in the Americas. If only someone could cut a canal through Panama…
***
For so long, it was only a dream. In the 21st century, Panama City was growing not only skyward but outward, swallowing formerly rural and suburban areas. As a fleet of aging, wheezing buses failed to keep up and the country grew wealthier, more people were buying cars, to the tune of 5,000 per month. This was "a very big problem for us," says Roberto Roy, executive secretary of Panama Metro, because vehicles were only making congestion and pollution worse. The issue was circulation—circulation of goods, and especially people. The patient was too healthy for its own good, with too much blood flowing through narrow arteries.
If only. If only thousands of Panamanians could leave their cars at home every day, bypass the buses, and travel downtown efficiently, with less environmental impact…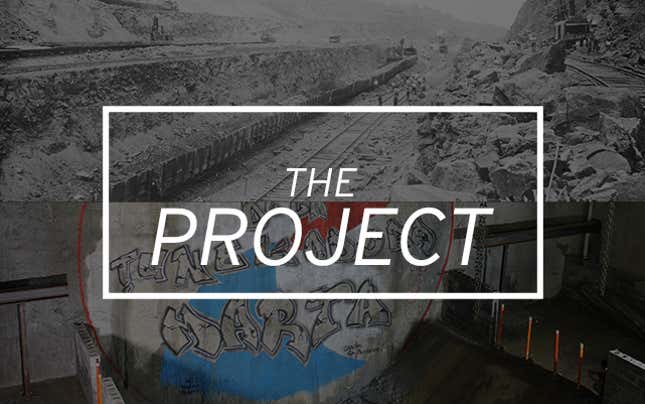 It was daunting enough, a century ago, to dig a waterway that would cut through 50 miles of jungle-choked land. Worse was the fact that building a canal that simply linked the two oceans at sea level wasn't feasible. The rocky Continental Divide stood in the way. Ships would need to be raised skyward midway through their voyage, to travel at higher elevations. Then they would need to be lowered back to sea level. The canal would involve a series of locks—giant metal shoeboxes with movable walls to control the flow of water. Elevators, in a sense, for giant ships.
The vast artificial lakes connecting the locks would flood the existing railway that paralleled the canal, so a new railway path would have to be constructed as well—how else would the largest earth-moving machines ever made reach the site?
The Panama Canal occupied tens of thousands of workers at a time for more than a decade, until its completion in 1914. It was a larger engineering project, arguably, than any the world had yet known.
***
Almost one hundred years later, all hands were brought on deck in Panama again, including, crucially, a major private lender, Citi. Two extraordinary machines arrived by sea. Built over the course of months in Schwanau, Germany, they boarded enormous vessels in Antwerp, Belgium, and embarked for Central America in 2011. Each shipment weighed as much as 274 elephants. These Tunnel Boring Machines (TBMs) would rip their way through the rocky earth beneath Panama City, kilometer after kilometer. They were the keystone of Panama's solution to its new transportation problems.
Officials had determined that the metro line, elevated for some of its length, would have to dive underground—the narrow streets near the city center were taking all they could bear. "It was a mess," says Susana Paredes, a Panama-based executive at Citi.
The TBMs—named Gloria and Marta, after the Panamanian president's mother and wife respectively—would each excavate a tunnel big enough for two trains to pass one another inside. "Marta" sent huge rocks crumbling down as it broke through the final wall in March 2013, cheered on by legions of press and construction workers. Soon the subway stations, some of them soaring architectural marvels, would be completed, and the state-of-the-art trains, shipped from the coast of Spain, would be loaded onto the tracks. Line One of the system began operation in 2014—the centennial of the Panama Canal's opening—with more lines to come.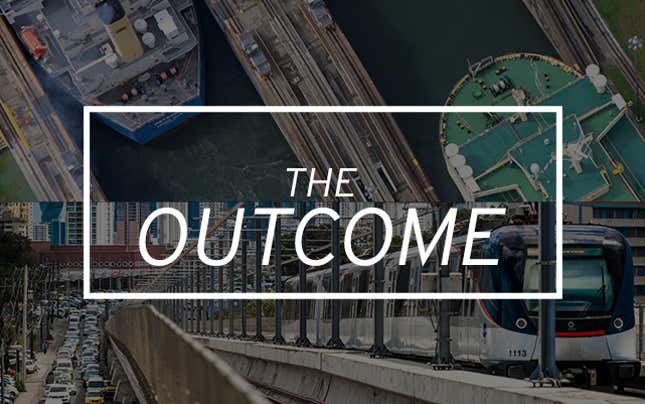 The Panama Canal was also financed in part by Citi, which has been in Panama since 1904. The canal turned Panama into a world crossroads and now stokes the fires of the global economy. About 14,000 ships annually pass through the channel, saving untold fuel and time. Vessels the world over are designed at the maximum dimensions afforded by the canal—they're called "Panamax."
The shortcut through Panama has greatly enhanced the flow of goods between, in particular, America's East Coast and East Asia, creating a boom in trade. Even now, the canal is being expanded to allow more craft and cargo, prompting New York City to dredge a bigger channel in its own harbor to allow the next Panamax ships to pass through. It's the only way to keep up.
***
David Rosenfeld, an American living in Panama, relies on the metro whenever he's in the capital. "I absolutely love it," he says. The ridership has almost doubled the forecast, at 200,000 daily, and Rosenfeld's only request is for more—more trains, more stations, more lines. And they are on the way.
Susana Paredes of Citi observes that many commuters who now ride the rails to work have some two hours more to spend with their families each day. Everyone in Panama City breathes less exhaust since the metro is an all-electric system and has taken cars and buses off the road. Paredes is herself Panamanian and notes that the metro is "not going to be for my benefit only, but for my kids, for my grandkids, and it's going to change the whole country."
In its role of financing and advising the project, Citi took advantage of its global experience and, perhaps more importantly, it made the most of its local ties as well. The bank and the nation, with their longstanding partnership, share a common language—the language of major achievements.
Read more about how innovative financing is driving progress here.
This article was produced on behalf of Citi by the Quartz marketing team and not by the Quartz editorial staff.