Hugh Hefner's Playboy Mansion—known for some of Los Angeles' wildest and most lavish parties—is now for sale. Playboy Enterprises is listing the 20,000 square-foot property, complete with its iconic cave-like Grotto, for $200 million.
Built in 1927, the 5-acre residence in Holmby Hills, one of three affluent neighborhoods—along with Bel Air and Beverly Hills—known as the "Platinum Triangle," features 29 rooms, including six bedrooms and eight bathrooms, as well as a host of amenities like a catering kitchen, wine cellar, and home theater, the listing says. The private residence also has a separate four-bedroom guest house, game house, gym, tennis court, pool, and even a zoo license.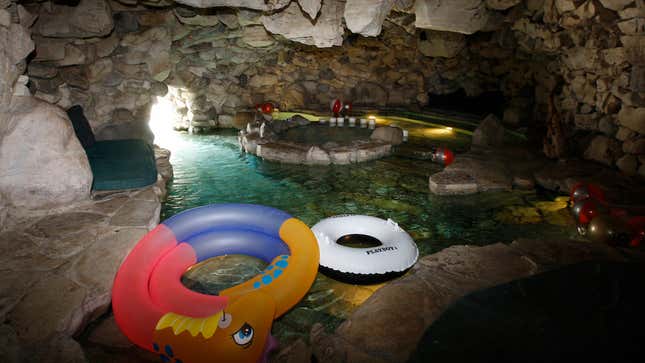 But don't write a check just yet. There are a few catches. First off, 89-year-old Hefner still lives on the property. And the deal is reportedly being structured as a "living estate," so whoever buys the mansion will have to rent it to him for as long as he lives.
The mansion's $200 million asking price also makes it one of the most expensive properties for sale in the US today, Forbes reported. And it's way overpriced. Hefner originally bought the mansion in 1971 for $1.1 million, and it was valued at nearly $55 million in 2011.
The mansion is also notoriously outdated and, as Vice once wrote, kind of depressing. The property's real value lies in its land and the mansion itself could be torn down, depending on the buyer, TMZ pointed out.
All this means that the storied mansion may be a hard sell.
But let's be honest, the Playboy Mansion is a piece of Los Angeles history. Everyone from John Lennon and Elvis Presley to Snoop Dogg and Leonardo DiCaprio has partied there. Someone will scoop it up, if only to tear it down and erect new homes in its place.
Prospective buyers can make an appointment to tour the property, which is being sold by Hilton & Hyland and The Agency. But Hefner's room is reportedly off limits.
The brokers did not immediately respond to Quartz's request for comment.