Public libraries are a relatively new phenomenon. Before the 1880s, when Andrew Carnegie started funding the more than 1,600 library buildings that bear his name, most libraries in America were subscription-based, with members funding and shaping the collections. As free public libraries sprouted up across the United States, membership libraries mostly died off, but 19 non-profit membership libraries still exist, and are reinventing themselves as cultural centers and the coolest coworking spaces you could dream of.
I'm an itinerant freelance writer and work most of the year in Cincinnati, where I discovered the Mercantile Library a few years ago, when it was hosting a small concert. The majestic space immediately appealed to my aesthetics, but I had no idea of its history. The Mercantile was founded in 1835 as a young merchants' association library—the collection is generalist, though early on there was a ban on novels that has since been reversed. The original cast iron and walnut newspaper reading desks remain in the building that the association secured with a 10,000-year lease for $1 annually.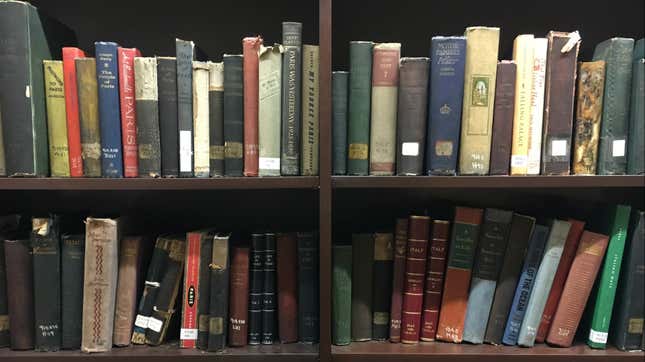 In the first 70 years of its existence, the Mercantile Library was the most trafficked in Cincinnati, former director Albert Pyle wrote in the book America's Membership Libraries. That was before the Public Library of Cincinnati and Hamilton County opened its original main branch, a gorgeous structure that has since been demolished, and its 40 additional libraries.
While public libraries remain a vital resource for the community, membership libraries serve a self-selected clientele looking for something more. On quiet days, the Mercantile Library is my private aerie, a literary hideout of mahogany and leather. On busier days it's a well-appointed office, miles nicer than any I've ever worked in, with coworkers who have chosen to be with each other. Coworking spaces in mid-sized Midwestern cities such as Cincinnati cost upwards of $300 a month—which, honestly, is more than half my rent. But membership at the Mercantile Library is $55 a year, and its brethren charge anywhere from $15 to $250 annually.
The first subscription library in North America was Benjamin Franklin's Library Company of Philadelphia, founded in 1731 with members paying 40 shillings to join and promising 10 shillings per year towards buying new books. "Public libraries made books universally available, but they did not supply the other need for which membership libraries were created, the need for a social forum, where books and the matter they contained could be discussed," Nicolas Barker wrote in America's Membership Libraries. These were a distinctly American invention—the first subscription library did not appear in England until 1797. Instead, book collections were owned by religious institutions, schools, universities, and private individuals, and "circulating libraries" charged per book. Franklin's subscription library "produced a new class of reader, someone firmly placed between those who could read Franklin's almanacs, on the one hand, and the well-educated elite on the other," Richard Wendorf wrote in the same book.
In Cincinnati, the Mercantile Library's membership peaked around the time of the Civil War at more than 3,000, and dipped to just 500 by the late 20th century. Its board realized it had to reinvent the organization to maintain relevance in a world replete with public libraries. The Mercantile's lecture series have featured Julia Child, Ray Bradbury, and John Updike, and it hosts small concerts, book groups, and social hours. (I'm a frequent guest on its book discussion podcast.) When I joined the library three years ago, the clientele was overwhelmingly older men in suits coming in at lunchtime to eat their Subway sandwiches. The Mercantile Library's new director, John Faherty, a reformed reporter poached from the Cincinnati Enquirer, is actively recruiting creative people around the city as members, doling out annual passes like a skinny Santa.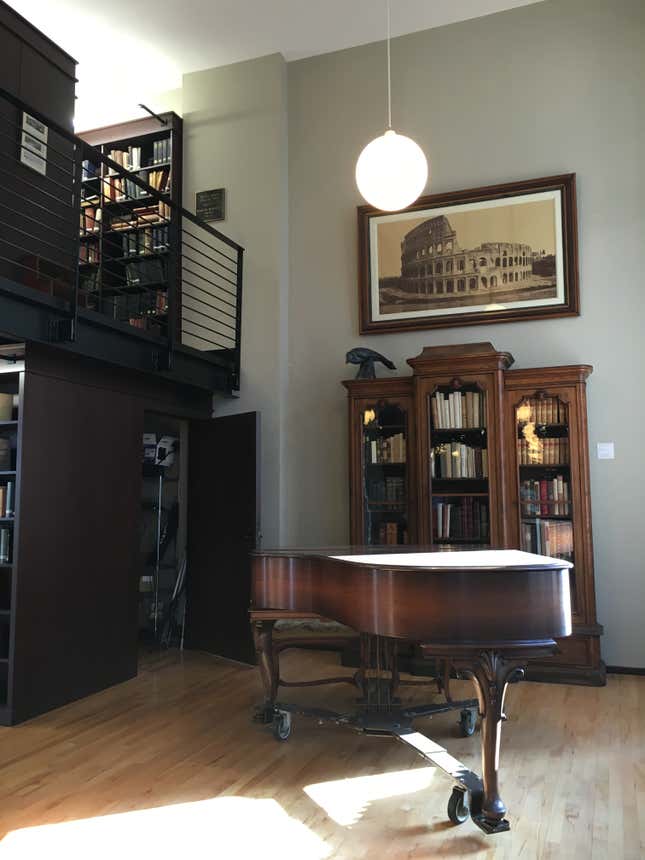 "Over the century, our position in society has changed a little bit," Faherty says. "We're as much about being a place that celebrate books and where people talk about books more than it is a place where people check books out." His little cage of an office is right next to the wrought-iron stacks, with some sliding shelves for oversize volumes that he's crazy about. The Mercantile's staff is just five people, but some of its programs draw hundreds of patrons.
In San Francisco, another membership library follows a similar ethos. "We don't try to compete with the public library," says Deb Hunt, director of the Mechanics' Institute Library. "We want to be the cultural center for the bay area." And what they specialize in is community, as evidenced by the high librarian-patron ratio and the legendary Tuesday night chess marathons.
The Mechanics' Institute was founded in 1854 and has been in its current building since 1910—owning a prime piece of San Francisco real estate definitely helps their budget. Now the library has about 4,600 members, but before the 1906 earthquake it peaked at more than 10,000.
Hunt is quick to point out the difference between private libraries and membership libraries. "A private library is exclusive—you have to be recommended, and the bar is very high," with initiation fees in the thousands of dollars, she says. Her library costs just $95 a year to join. "We feel it's very democratic." In November, the Mechanics' Institute Library will host the fourth international conference of independent and member libraries, the first held in the United States. And although most membership libraries were created before the 20th century, one more has just sprouted in Washington: Folio: The Seattle Athenaeum opened its doors this month.
The low barrier to entry makes me wonder why membership libraries remain such well-kept secrets, but the Mechanics' Institute's demographics are getting younger, as are the Mercantile Library's. "We kind of appeal to younger people in a way I didn't anticipate. We are so authentic. And we're not like purposefully authentic—we're not ironically or contrived authentic. We're just authentic. And I think that appeals to people. It appeals to me," Faherty says. "The world can feel like a contrivance. This place is anything but."