China's answer to Google, Baidu, is more than a search engine. The Chinese internet giant also owns online services that act like Google Maps, Dropbox, Groupon, Netflix, and Spotify. Many of these are among the biggest players in the market, and the search engine dominated China even before Google left the country in 2010, after refusing to cooperate with censors.
This week, though, tens of thousands of Chinese citizens pledged to boycott Baidu entirely, after they discovered the Beijing company has been earning profits by giving chronically ill users biased information through its chat rooms, known as "post bar" services.
Launched in 2003, Baidu Post Bar, or Tieba, is a massive online community with about 19 million discussion groups that range from food to films to foreign affairs. Tieba's numerous illness-related post bars serve as online support groups, where patients share experiences about their diseases and treatment.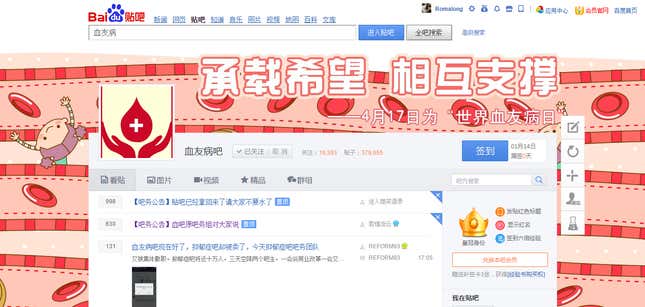 Tieba's groups are run by administrators, known as "bar owners," who monitor comments and delete inappropriate content. In many cases these individuals are founders of the discussion group, or experts in the field, and there are often more than one for any group.
What's incensed Chinese users this week is the realization that at least one of Baidu's groups for people with serious illnesses was run by a "bar owner" who had been sold the position, and was using it to advertise dodgy medical facilities, and delete criticism about them.
A bar owner from a hemophilia group claimed this past weekend on Chinese Q&A site Zhihu that he and other owners had been removed without notice. Their successor, a newcomer to the group, was posting ads promoting several unqualified private hospitals, and deleting negative information about them. People with hemophilia lack a protein that makes their blood clot, a condition that can be life-threatening. There are around 5,000 users in the hemophilia post bar.
Baidu quickly announced Tuesday (Jan. 12) (link in Chinese) it had replaced the owner of the "hemophilia" post bar with a representative from an NGO working on the disease, but also seemed to confirm it has been selling these positions for profit, saying it would "stop commercialized operation" of all illness-related post bars, and invite non-profit organizations to run them. A Baidu spokesman told Quartz he couldn't say what percentage of Baidu's 19 million post bar groups were run by a commercial partner.
The situation has sparked widespread pledges to boycott Baidu in China. The discussion topic "Baidu Post Bar gate" has attracted more than 1.2 million views (link in Chinese, registration required) on Sina Weibo, with many bloggers condemning the company's values. "Robin Li, it isn't enough for you to make your money," one blogger wrote under Baidu's official Weibo account, referring to its founder, "now you want to take people's lives?"
The incident has also attracted widespread coverage in China's state-run media, despite Baidu's good relationship with the country's censors. Businesses and local governments regularly buy post bar slots to promote themselves, media reports say. The "Zhengzhou" post bar was sold to the local city government for 2 million yuan (around $300,000) a year, one unnamed industry insider told Beijing News (link in Chinese).
Chinese netizens are discussing Baidu alternatives, like Microsoft's Bing search and Alibaba-owned Gaode Map, online. But many say they wish Google was still in operation, and are sharing Google's old "Don't Be Evil" motto on Weibo.
"Google: Don't be evil," one blogger mocked. "Baidu: more evil, more money."