Socially-minded architect Alejandro Aravena has become the first Chilean to win the prestigious Pritzker Architecture Prize.
Known for building designs that consider social and environmental impact, the 48-year old architect was praised by jurors of the 2016 prize for pioneering "a collaborative practice that produces powerful works of architecture and also addresses key challenges of the 21st century."
Tom Pritzker, chairman of The Hyatt Foundation, led the jury that determined the winner, who receives a $100,000 check. First awarded in 1979 to influential post-modernist Philip Johnson, the Pritzker is considered by many to be architecture's most prestigious award. It was established to honor living architects who have "produced consistent and significant contributions to humanity and the built environment through the art of architecture."
Arevena's high profile projects include several energy-efficient buildings at the Universidad Católica de Chile in Santiago, including the aptly named Siamese Towers, which house the school's computer department.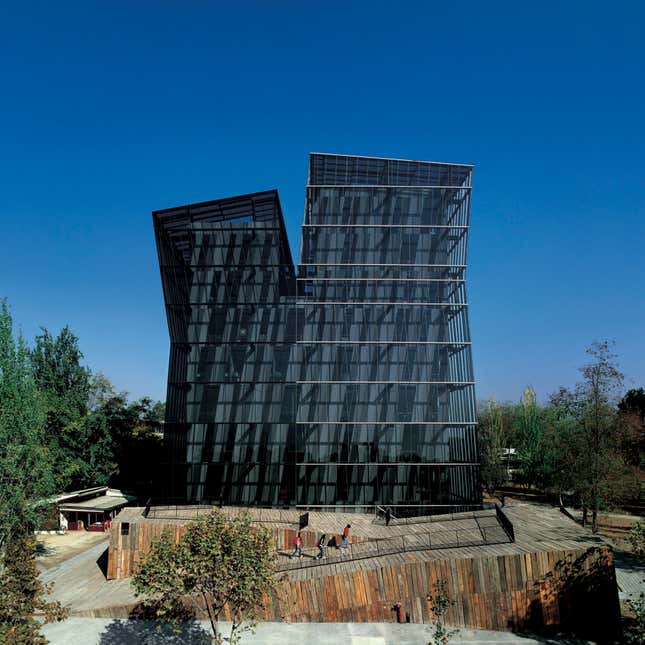 The jurors cited Aravena's work in ELEMENTAL, his Santiago-based, so-called "Do Tank," which tries to address emergent social problems through design and navigate the labyrinths of Chilean government policies to build well-appointed houses for lower-income communities. "His built work gives economic opportunity to the less privileged, mitigates the effects of natural disasters, reduces energy consumption, and provides welcoming public space," Pritzker said in the official announcement. "Innovative and inspiring, he shows how architecture at its best can improve people's lives."
Like many art and design awards, the Pritzker Prize has not been without its controversies. In 1991, the jury awarded the prize to American architect Robert Venturi, only briefly mentioning the contributions of Denise Scott Brown, his wife and design partner of 22 years. She requested inclusion in the prize in 2013, but Pritzker declined to revisit or discuss its decision, to the ire of architects, designers and feminists around the world.
Aravena is the first winner of the prize from Chile and only the fourth from Latin America after Luis Barragán, Oscar Niemeyer and Paulo Mendes da Rocha. He served as a juror for the Pritzker Prize from 2009 to 2015.
Aravena is currently spearheading plans for the upcoming Venice Architecture Biennale and said he sees the high-profile honor as an opportunity to help expand his social change-oriented practice. "The prestige, the reach, the gravitas of the prize is such that we hope to use its momentum to explore new territories, face new challenges, and walk into new fields of action," he said in a statement.