Gui Minhai, the owner of the Hong Kong publisher Mighty Current who has been missing since October, appeared on Chinese state television last night (Jan. 17) and made a tearful confession—he had killed a 20-year-old college student while drunk driving in Ningbo, a city in southeastern Zhejiang province, in December of 2003.
Gui's friends and family have their doubts, and say his confession looks scripted and they still believe he was abducted. Gui's daughter, Angela, who lives in the UK, told Reuters she could not confirm what he said, Gui's wife, who is based in Germany, told Hong Kong-based digital publication The Initium (link in Chinese) that she was not aware of any accident, and a friend told the South China Morning Post he believes there was an accident but not that Gui turned himself in.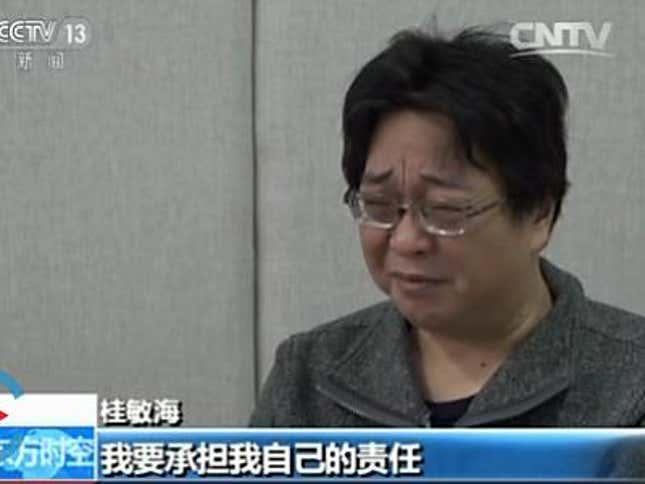 In the broadcast confession, Gui said, he was given a suspended two-year jail sentence but evaded overseas using a fake identity the following month. Mainland police have been trying to arrest him since August of 2006.
The hit-and-run case was news when it happened more than a decade ago. The original investigation by Ningbo police found Gui mainly responsible for the car crash, but said the victim was jaywalking. After her parents appealed, a court judged Gui fully responsible (link in Chinese).
There is apparently more to come in Gui's public humiliation. Soon after Gui's confession aired, Hong Kong's two pro-Beijing newspapers reported that the wife of Lee Bo, the most recently missing bookseller, had received another letter from his husband (link in Chinese) naming Gui for bringing trouble to him. Gui was a "morally unacceptable person," Lee allegedly wrote, who was "involved in other crimes." The investigation was making "good progress," Lee wrote, and he had become good friends with the investigators.
China's state media seems to acknowledge that the detention of Gui is about more than a car crash. Xinhua said Gui is also suspected of other crimes and is now under investigation, while the Global Times said his other crimes relate to his bookstore's "malicious attack on mainland political systems."
A post circulating on Weibo in China that originated in Hong Kong points out discrepancies in shots of Gui during the confession, which indicates it was filmed during at least two sessions, rather than the spontaneous confession it appears to be (his t-shirt is different colors, for example):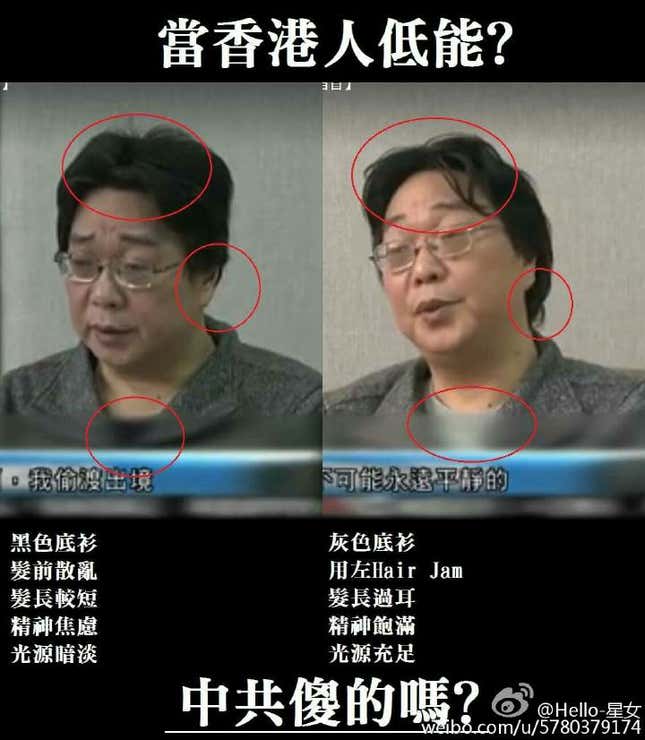 In China's Quora-like Q&A site Zhihu, most bloggers cast their doubts on Gui's aired confession under a question about the state media reports (link in Chinese).
"The first story is over," one blogger wrote, referring to the five missing men linked to the Causeway Bay Bookstore. "There are four more coming."
"He decided to return home to turn himself in but didn't even tell his wife?" wrote a second. 
Another said "The plot sounds more and more like 1984."