The world of design can be an intimidating place for outsiders, never mind kids. Many designers and architects—often wearing the de rigueur all-black costume of artistes—are notorious for embracing a wordy, over-intellectualized approach to design that makes the industry feel quite inaccessible.
French designer Ionna Vautrin wants to debunk this approach. The affable, award-winning 36-year old designer of shoes, lamps, toys and furniture, tells Quartz that she aspires to create objects that have an instant and "intuitive connection" with users. For her first solo curatorial exhibition, Le bestiaire (The Bestiary), originally staged at the design biennial at Saint-Étienne last year and launched this weekend (Jan. 16) at the French Institute in New York City, Vautrin decided to eschew a traditional showcase of her work. Instead, she invited 14 of her favorite French designers, graphic artists and photographers to reimagine their favorite wild animals and draw colorful designer costumes for children.
Animals have been a constant source of inspiration for Vautrin's commercial work as portals into entire worlds. "The animal kingdom is amazing and rouses the imaginations of young and old alike," she wrote in an introduction to the Le bestiaire.
Vautrin asked the participating designers to conjure different animals using only two pieces of cardboard. The resulting menagerie includes a zebra with a Grace Jones mohawk by the sought-after graphic design foursome Les Graphiquants, a zippy rooster by industrial designers Perrine Vigneron and Gilles Belley and a geometric cat by illustrator Malika Favre. To represent a rat, photographer Felipe Ribon took a picture of the innards of a dead rodent and aptly called his grisly creation, Ratatouille uncover. "With this, the parents are more grossed out than kids," Vautrin laughed during a recent tour. Vautrin's contribution was a rosy-cheeked jellyfish.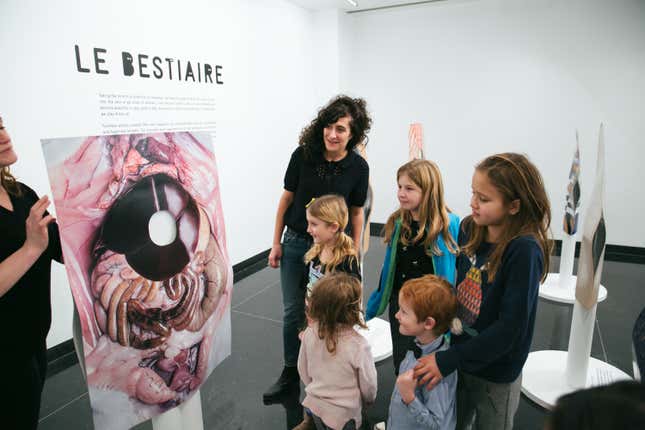 Though kids won't be allowed to try on the one-of-a-kind cardboard costumes at the installation at the French Institute gallery, the exhibition includes hands-on workshops for budding designers eager to make their own beastly creations.
Vautrin tells Quartz that she is considering reproducing the captivating cardboard costumes for sale—hopefully in time for Halloween.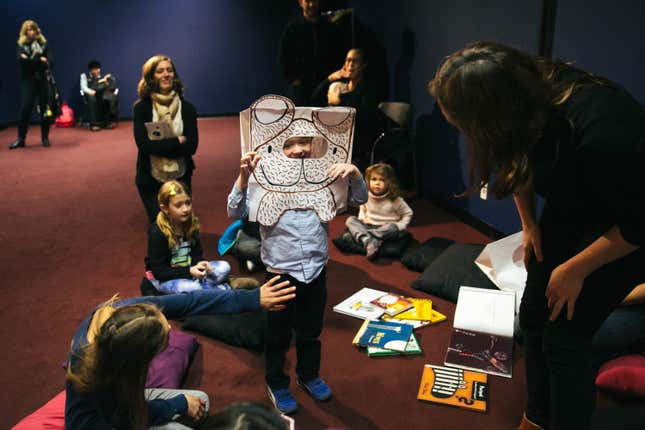 Le bestiaire runs until April 2 and is part of the upcoming Tilt Kids Festival activities organized by the French Institute and the French Embassy in New York. The unique citywide initiative will expose kids to philosophy, design, experimental theater, conceptual art, molecular gastronomy, and Afro-electronic music. Parents can also attend talks on how to discuss sex with children and learn about the health habits of French families.