The World Economic Forum in Davos is an annual event on the social and business calendars of many of the world's power brokers. But a change in station, economic climate, or corporate strategy can turn even a reliable attendee into a no-show.
More than 260 people who attended in each of the past three years are absent from the 2016 forum, including at least 27 current or recently departed CEOs of some of the world's largest companies, according to a Quartz analysis of participant lists from each year.
Here they are:
Anshu Jain was co-CEO of Deutsche Bank, until he resigned from that position in July 2015.
Antony Jenkins was fired as the the CEO of Barclays in July 2015.
Barry Salzberg retired as the CEO of Deloitte and is now on the faculty at Columbia Business School.
Brady W. Dougan left Credit Suisse in June 2015 after admitting to the US Congress that his bankers helped some clients evade US taxes.
Bruno Lafont, CEO of French cement maker Lafarge, couldn't convince shareholders that he was the man to run the company after its merger with Swiss cement maker Holcim. Eric Olsen, the CEO of the combined company—LafargeHolcim—is listed as attending this year.
Christopher J. Nassetta, the president and CEO of Hilton Worldwide, is not attending this year, but Simon Vincent, a top Hilton executive in Europe, is supposed to be there—along with Hilton's top lobbyist, Jonas Neihardt, who has attended each of the last four WEFs.
David M. Rubenstein, the co-founder and co-CEO of publicly traded private equity firm The Carlyle Group, is another no-show. But Carlyle executive Volkert Doeksen is expected to attend.
Cargill has had at least two employees at the previous three WEFs, but no one from the agricultural giant—including chairman and CEO David W. MacLennan, is listed as being in attendance this year.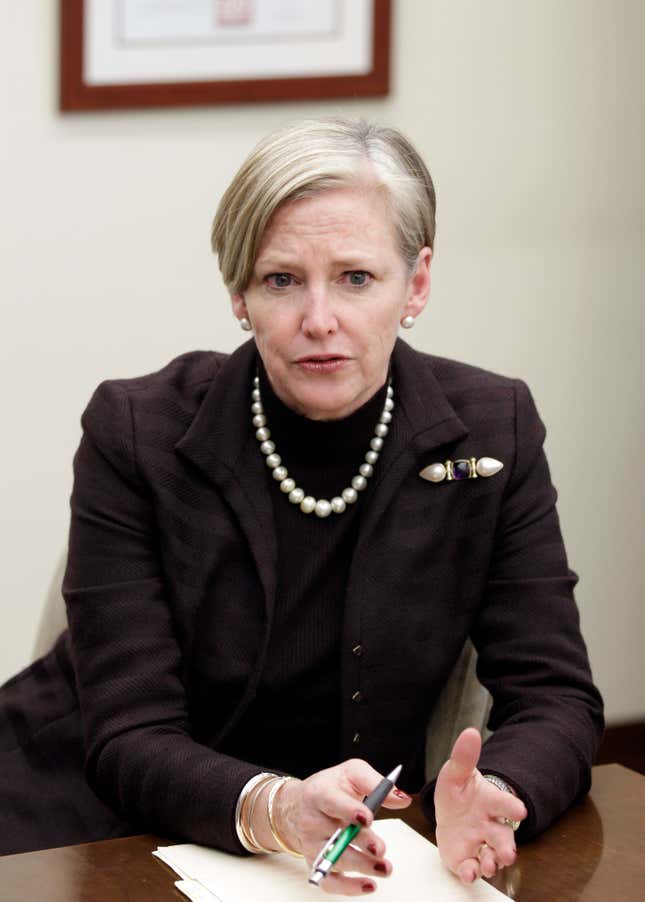 Douglas Frye, the former CEO of Colliers International, resigned weeks after the commercial real estate firm was taken public and won't be at Davos this year. His replacement, Dylan E. Taylor, won't be there either, after being on the participant list for the last three years.
Ellen Kullman retired in October as the chair and CEO of chemical maker DuPont. In previous years, the company has registered five executives to Davos for the WEF; this year the list shows there is only one: executive vice president Jim Borel. DuPont announced in December that it will be merging with Dow Chemical.
Frits D. van Paasschen resigned as CEO of Starwood Hotels & Resorts last February. After sending two executives each of the last three years, no Starwood employees are listed in attendance this year. Starwood is in the process of being acquired by Marriott, the companies announced in November.
James Cuno, the president and CEO of The J. Paul Getty Trust, a philanthropic—and at times controversial—cultural institution is not listed on this year's attendee list. Update (Jan 22): a spokesman for The Getty Trust told Quartz that Cuno is currently in India on business.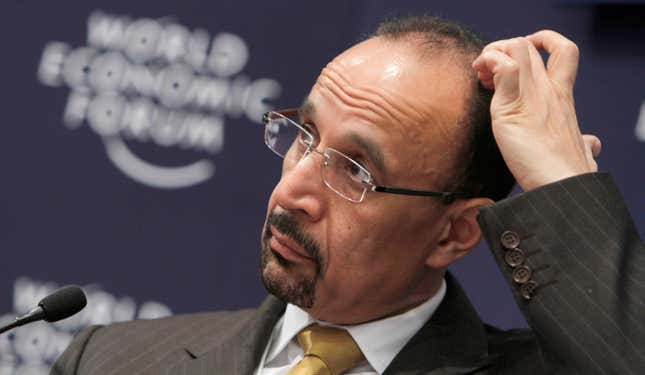 Jasmine Whitbread stepped down as CEO of Save the Children International in December, and isn't expected at Davos this year.
Jean-Paul Chifflet retired as CEO of Credit Agricole in May and dropped off the Davos attendee list.
In September, Khalid A. al-Falih was replaced as the president and CEO of Saudi Aramco, the world's most valuable company. Amin H. Nasser, the state-owned company's new CEO, is expected to attend this year's WEF with five others from Aramco.
Lance Uggla, CEO of financial information provider Markit, does not appear on the attendee list, but is tweeting about Davos.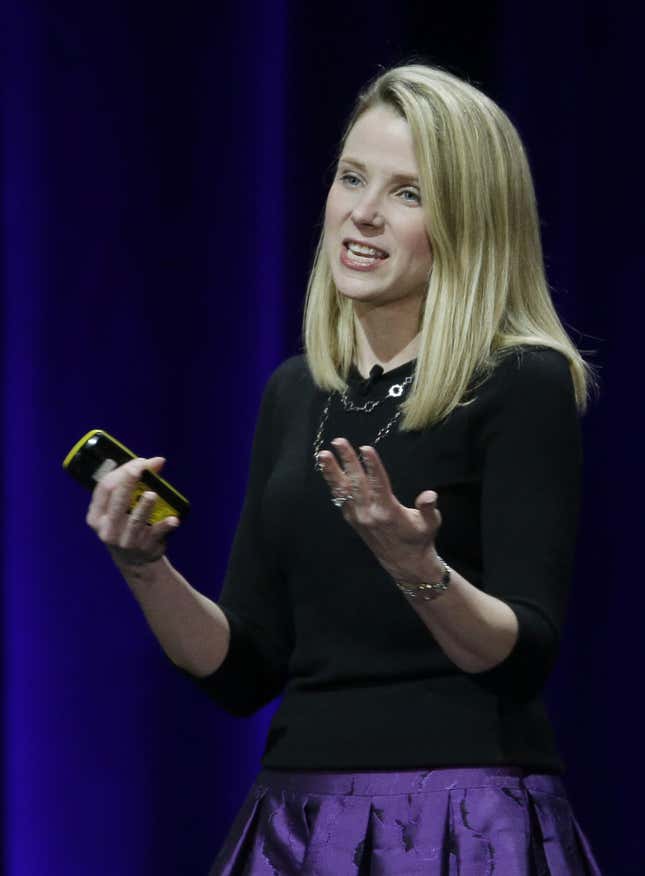 Yahoo CEO Marissa Mayer, who gave birth to twins in December and has come under fire from activist shareholders over the company's performance, is not listed as attending this year, but four other Yahoo employees are.
Aetna's Davos delegation shrank from six in 2013 to three in 2014. In 2015, the US health-insurance giant sent four people, but this year, it's not sending chairman and CEO Mark Bertolini—or anyone else.
Martin Senn resigned in December as CEO of Zurich Insurance. Senn's permanent successor has yet to be named, but eight other Zurich executives are listed as attending the WEF this year.
Michael Mack, CEO of European agro-business Syngenta, stepped down from that position in October and is off the Davos attendee list.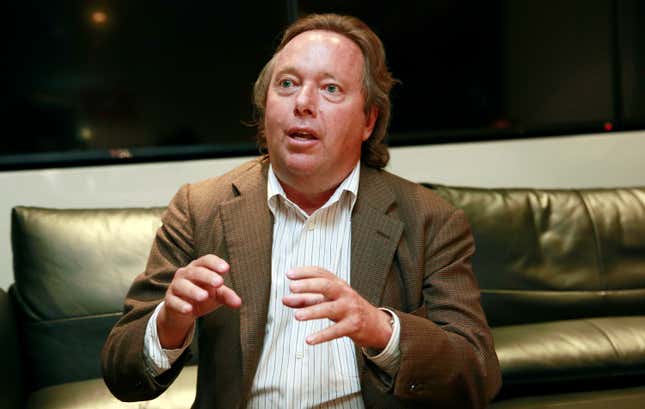 Olof Persson, who was forced out of his position as president and chief executive officer of Volvo in April, is also expected to be a no-show.
Peter Sands, who was CEO at Standard Chartered, was replaced in June by Bill Winters, who is listed as attending this year along with five other Standard Chartered executives.
Pierre Beaudoin stepped down last February as CEO of Bombardier, the railway and aircraft manufacturer founded by his grandfather. Only one member of the company is listed as attending this year. There have been at least four in each of the last three years.
Reto Francioni stepped down in May as CEO of stock-exchange operator Deutsche Börse. The new CEO, Carsten Kengeter, is expected to attend this year's summit.
Richard L. Gelfond, CEO of the large-format film pioneer IMAX Corporation, is not attending, nor are any surrogates from IMAX.
Steven Mollenkopf, the CEO of Qualcomm, is not attending, and the company's delegation is down to three from five in previous years.
Yasuchika Hasegawa was replaced in April as CEO of Takeda, the Japan-based pharmaceuticals company. Christophe Weber, the company's new CEO, is listed as attending this year.