Legendary radio host Louis "Studs" Terkel recorded more than 9,000 hours of conversation with luminaries like Martin Luther King Jr., Tennessee Williams and Simone de Beauvoir, over the course of a 45-year career. But sadly for the age of the podcast, many of these audio gems remain trapped in reels and reels of tape.
Today (Jan. 21), Terkel's Chicago home station, WFMT Radio Network, is launching a Kickstarter campaign to digitize the beloved Pulitzer-winning oral historian's work. The project is called the Studs Terkel Radio Archive, and will be free and open to the public.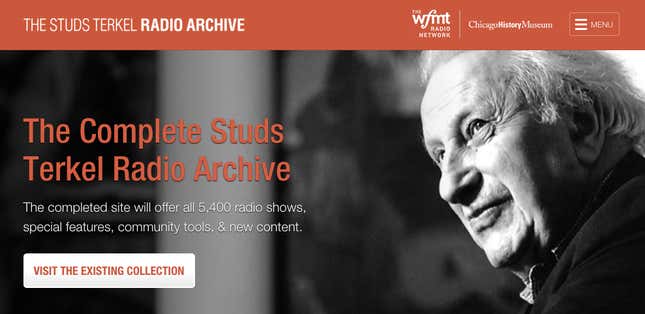 Widely considered the forefather of podcast serials, Terkel was an important documentarian of design and architecture. When the mayor of Chicago unveiled a 50-foot sculpture given to the city by Pablo Picasso in 1957, Terkel was on the scene, avidly recording the public reaction to the quixotic Cor-Ten steel colossus.
Terkel interviewed creative visionaries like Buckminster Fuller, Charles Eames, Marc Chagall and Maurice Sendak. In this newly digitized clip from 1977 shared with Quartz, Terkel speaks to furniture designer George Nakashima, known to many as the father of the American craft movement.
Terkel and Nakashima's 51-minute conversation is rich with insights about how great artists process the world and flourish, even in the most challenging times.
A trained architect, Nakashima explained to Terkel why he preferred to be called a "woodworker," and recalled honing carpentry skills from a master woodworker he met while interned at a camp in Idaho during World War II. Like thousands of American citizens of Japanese ancestry, Nakashima, then a working furniture designer and teacher in Seattle, Washington, was forcibly relocated to a camp in 1942.
"I would say perhaps the most shameful part of our history," Terkel commented.
This important cultural artifact, like many of Terkel's interviews and stories that were recorded on reel-to-reel tapes, would be inaccessible to interested students, researchers, journalists and historians without digitization.
In 2014, WFMT received a grant from the US government which allowed them to start the initiative. They digitized 400 notable interviews. Funds from the Kickstarter campaign would allow WFMT to covert 1,ooo more Terkel classics over the course of two years.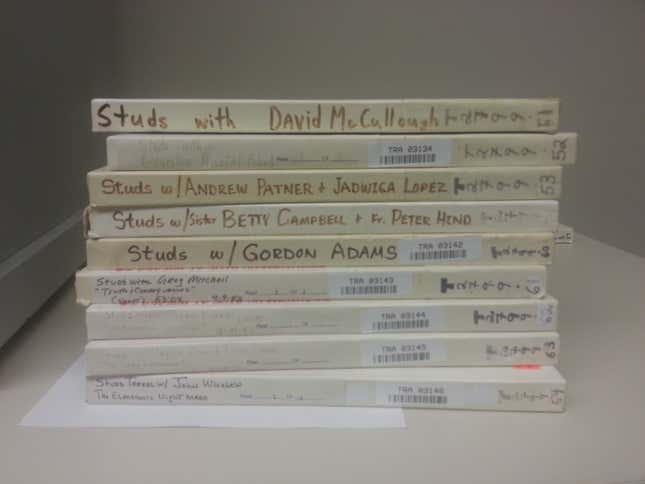 Open access to Terkel sound bytes
With the crowdfunding initiative, organizers also aspire to introduce new listeners to Terkel, who started his radio career during the Great Depression. WFMT plans to open parts of Terkel's archive to fans, artists and musicians interested in using and remixing audio clips into their own work.
"We're at a stage where we're very open to artists, journalists, people with projects that have to do with listening and talking—even to ideas that are off the wall," Tony Macaluso, director of the Studs Terkel Radio Archive project tells Quartz.
Macaluso says that Terkel, who died in 2008, would have not wanted the archive to be a shrine of the past. "What Studs would have wanted most was the idea of 15-year old kids being able to use the [original] audio, do their own interviews and kinda mix it all together in different ways."
"Last year, the Broadway production A Raisin in the Sun played a 1959 interview by Terkel with its playwright Lorraine Hansberry to warm up the audience before every performance in New York City. Musicians and theater groups have also been experimenting with incorporating sound bytes from Terkel's interviews into their performances, explains Macaluso. WFMT has even partnered with transcription service HyperAudio so fans can easily drag-and-drop Terkel's clips into their tracks.
Today, Terkel's grand mission of assembling an archive of human voices has been inherited by programs like StoryCorps (which Terkel helped inaugurate in 2003). This animation adapted from a StoryCorps interview with Terkel when he was 93 is just one example of the possibilities for representing and re-using his genius for generations to come.