Amnesty International is calling for Iraq's Kurdish Regional Government (KRG) to be investigated for war crimes, for expelling and banishing Arab civilians from their homes.
According to the organization's Jan. 20 report, expulsions were recorded in 13 villages and towns across a stretch of disputed territory between the KRG-controlled north and the rest of the country. Its research was gathered between October 2014 and November 2015.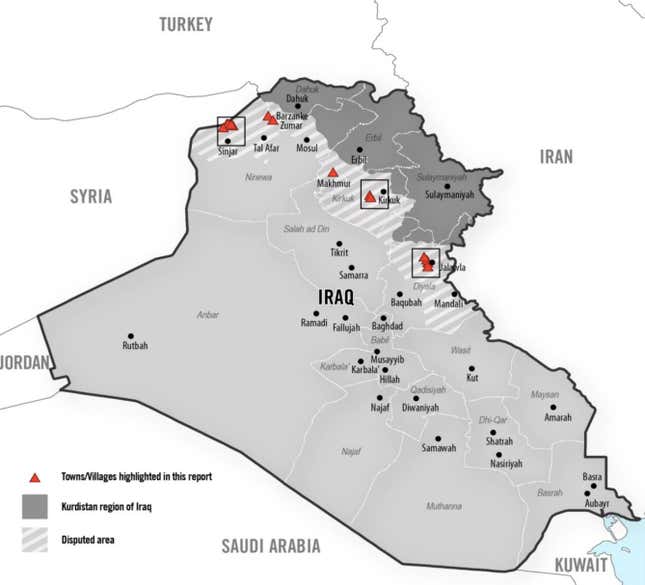 Amnesty reports that huge swaths of these villages were destroyed with explosives. The organization's researchers on the ground say peshmerga and bands of independently organized Iraqi Kurds undertook this destruction in order to keep villagers from returning.
Dindar Zebari, a spokesperson for the KRG, rejected Amnesty's findings. He told Reuters that the damage is the result of fighting between peshmerga and IS militants. But satellite imagery from the report offers evidence of more systematic destruction, says Amnesty: In the town of Juneili (below) 95% of all walls appear to have been destroyed, for example, and bulldozer tracks are visible as well.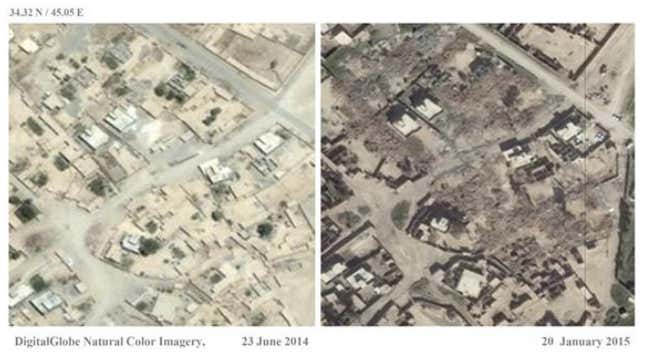 Back in August 2014, over 5,000 Kurds were displaced from the Sinjar District of northern Iraq, during an attack by terror group ISIL. Kurdish actions condemned by Amnesty in this report are part of an ongoing effort to take back that territory.
The KRG has also stated that their forces are demolishing some homes and villages of known ISIL members in order to keep them from returning to continue their operations. But Amnesty argues that destroying whole villages is excessive, and tantamount to war crime. The report argues: "Suspicions or vague allegations that a certain population group or community may support or cooperate with the enemy does not constitute imperative military necessity and cannot justify measures which amount to collective punishment."