Jan 23. marks National Handwriting Day in the US. It's a day to remember 18th-century US statesman John Hancock, best remembered for his large and flamboyant signature on the Declaration of Independence. And in the age of keyboards, touchpads, and Siri-assisted dictation, it's also a time to consider the lost art of penmanship and cursive writing.
In just a few decades, handwriting in the US has become a rather archaic act. Paper goods company Moleskine is celebrating the day by encouraging fans to post handwritten messages on their social media channels. To jumpstart the initiative, it gathered handwriting samples from celebrities and luminaries of varying wattage and trades.
"How can I burn all of your love letters in a fit of pique if they aren't hand-written???" writes Gabrielle Hamilton, with a stark signature. Bruce Willis writes in with all caps, while cartoonist Matt Freedman finishes with a doodle.
Gabrielle Hamilton, chef and author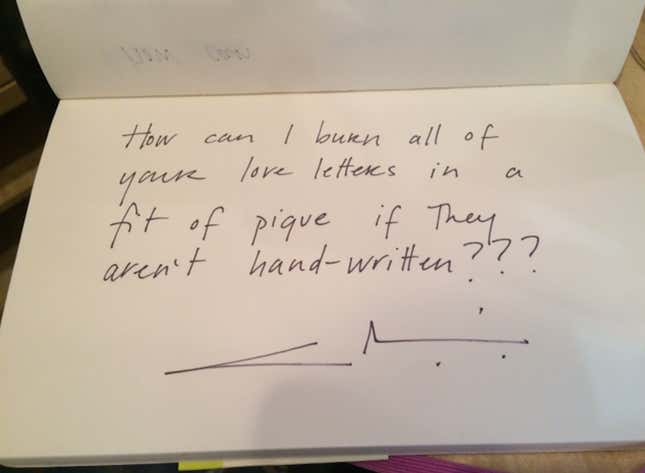 Bruce Willis, actor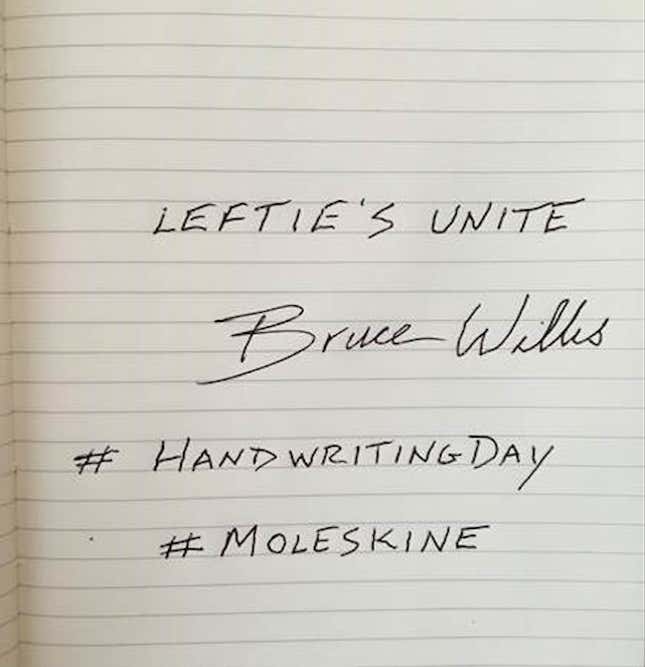 Justin Peters, columnist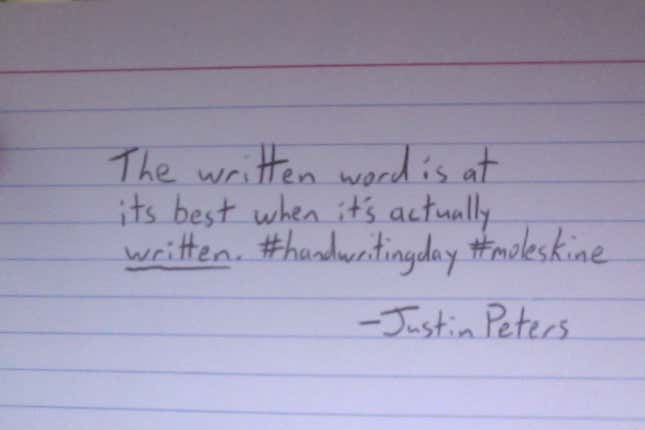 Debra Messing, actress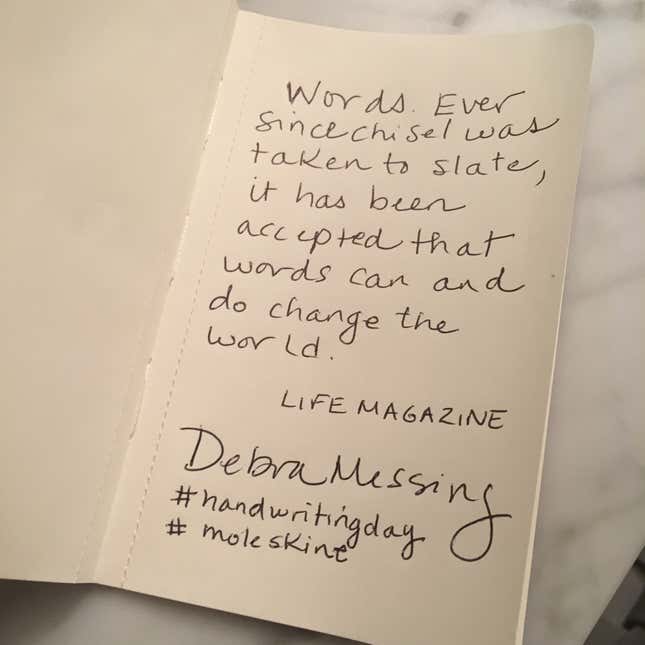 Alison Bechdel, cartoonist and MacArthur genius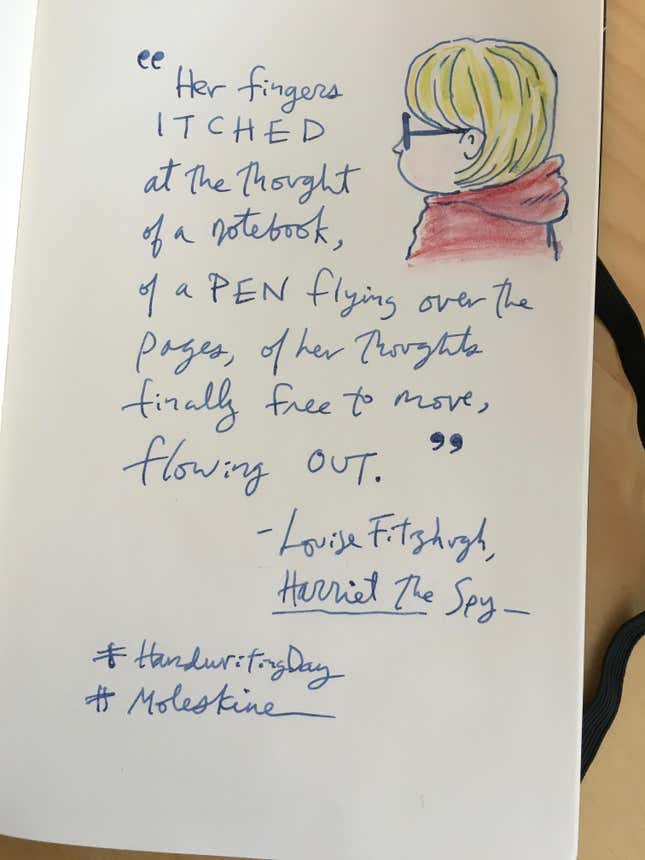 Matt Freedman, cartoonist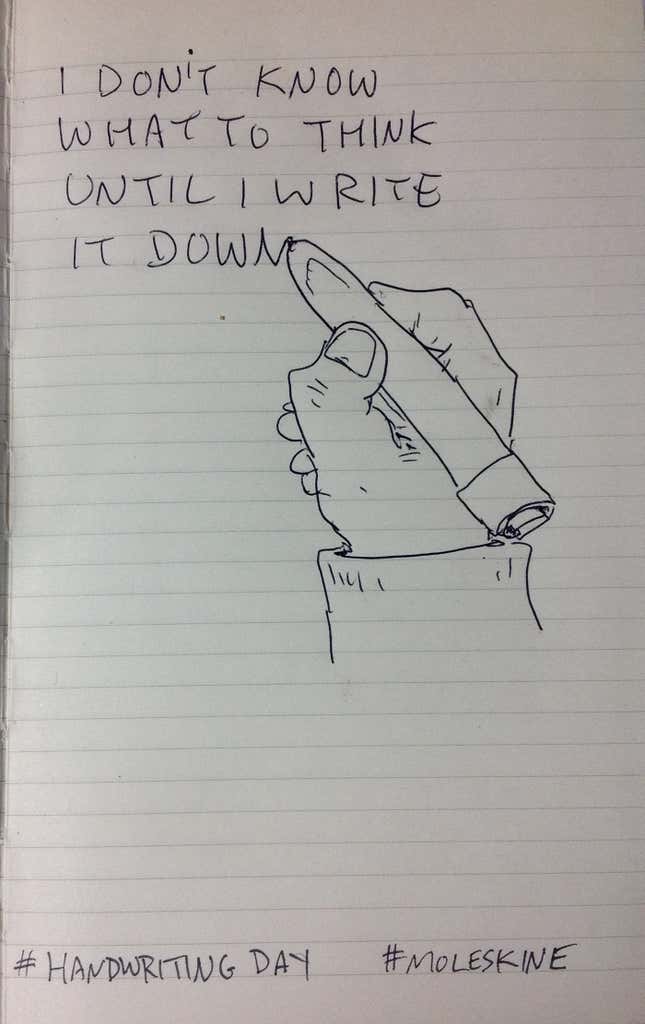 Despite the fun, the loss of handwriting in common practice is a weighty matter.
Several scientific studies have shown that the act of putting pen to paper is related to the quality of our thinking. "When we write, a unique neural circuit is automatically activated," cognitive psychologist Stanislas Dehaene told the New York Times. Stanislas's research posits that writing by hand actually makes learning easier. "There is a core recognition of the gesture in the written word, a sort of recognition by mental simulation in your brain," he explained. A 2014 study with the catchy titled "The Pen is Mightier than the Keyboard," supports Dehaene's research proving that taking notes by typing on a computer actually diminishes our ability to process new information.
Moleskine's promotion is part of its ongoing efforts to blur the divide between analog and digital, as they expand their product lines to include tech-powered tools.
Correction: Attribution for tweets have been updated.