Anaheim, California
"That Hook is good," Sarah Sterling said admiringly.
She nodded in the direction of a woman in a purple hat and stylish red coat snapping a photo with her family in Disney California Adventure Park.
Then, a few minutes later, she pointed to a woman in a turquoise jumpsuit and elaborate ponytail: "She's Jasmine-bounding. Look at her hair. Teal always stands out like a beacon to me."
Sterling was spotting Disneybounders, people who dress to evoke a particular Disney character without crossing the line into costume territory. The lady in the cool coat was channeling Peter Pan's nemesis Captain Hook. The girl in the turquoise jumpsuit was Princess Jasmine, the royal love interest in the film Aladdin.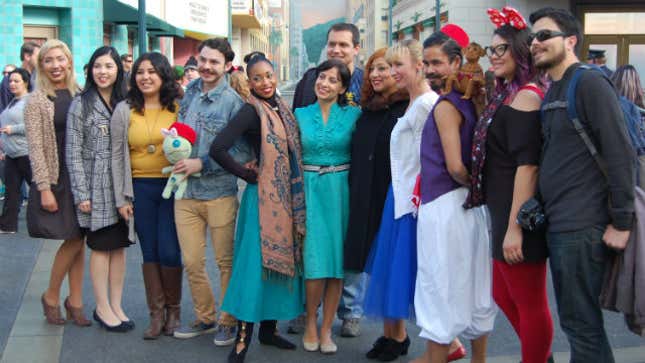 Sterling, a 24-year-old southern California native, and her boyfriend Leo Camacho are popular bloggers in Disneybounding's enthusiastic online community. They were Disneybounding that day as Aladdin characters—Sterling was the titular hero, Camacho, the evil Jafar. They are like the Brangelina of a very specific world, one in which a dress that echoes Minnie Mouse is a better get than a designer handbag.
"I call it the Disney Fight Club," Camacho explained. "Unless you know, you don't know what to look for. But when you do, it's like . . ." He cocked his eyebrow and gave a knowing nod of familiarity.
Once upon a time, setting aside a love of all things princess and animated was considered a requirement for adulthood. (Or, at least, the socially acceptable kind of adulthood.)
But this is a different era. The children raised during the boom years of Disney's princess marketing push are young adults now. They've never lost the brand loyalty the Walt Disney Company so carefully seeded at a very early age.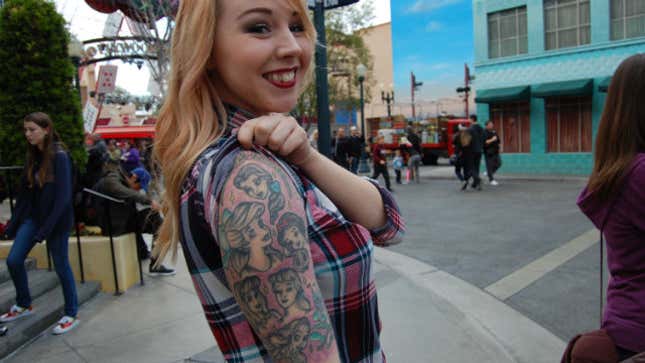 This generation, empowered by social media and Comic-Con culture, is proudly carrying their fandom into adulthood. Search for Disney tattoos on Pinterest and evidence appears of hundreds of adults permanently inked with Minnie Mouse bows, Cinderella slippers, Disney movie quotations, and half-sleeve tributes to the Lion King. An online dating site called MouseMingle, designed to pair up Disney lovers, launched in December. And there are Tumblrs, Instagram accounts and, YouTube channels full of content generated by Disney fans.
Even Disney's sharp-eyed marketing team didn't anticipate these consumer demands. As the company struggles to catch up, Disneybounders have created their own merchandise and media to fill the desires of grown-ups staking their claim in a fantasy land.
"I get Rapunzel. I relate to Rapunzel. And this is a way I could dress"
The mother of Disneybounding is a 27-year-old Canadian woman named Leslie A. Kay. Five years ago, she started a Tumblr to chronicle a trip to Orlando, Florida with a friend.
"We realized, hey, we have money and our parents can't tell us what to do with it anymore. We're going to Disney World," she recalled.
Kay noticed that Disney's merchandise fell into two categories: apparel for little kids, or, as she put it, "what I call 'dad wear': something that seems a good idea to buy it when you're there, but then you get the product home and you think, I don't really want to wear this anymore."
So she began posting image boards of pieces taken from conventional fashion sites that evoked the colors and themes of Disney characters. The blog went viral, spawning countless #disneybound social media posts of grown people heading to Disney parks (or often, their workplace or daily errands) in the covert guise of a favorite character.
Kay's favorite Disneybounders are "the teenagers and young adults who look at fashion magazines and see Mary-Kate [Olsen] and Kylie Jenner or someone and say, that's not me," she said. "But when they look at Disneybounding, they say, I get Rapunzel. I relate to Rapunzel. And this is a way I could dress."
Disneybounding is both a tribute to the Disney empire and a sneaky little subversion of it.
The parks have a long-standing ban on adult guests dressed in costume. This is in part for safety: No one wants their kid hugging a creep off the street dressed as Peter Pan. It's also for brand protection: A convincing Snow White who drops an F-bomb or lights a cigarette in view of other park-goers is damaging a valuable asset.
Disneybounders may toe the line of Disney's dress code, but they are above all fans, and are keen to self-police potential violations.
On one popular Facebook page, more than 6,600 members advise each other on outfits, gently warning against any that veer too close to costume-y. In recent posts, a pink top reminiscent of Rapunzel got the go-ahead. A busty, Goth-inflected take on Frozen's Anna did not.
"Please everyone respect the Rights of Disney and their characters," one impassioned poster wrote. "By all means Bound as if your heart was about to explode but always remember that we are guests-privileged to pass through Walter's [Walt Disney] world—hopefully to be forever changed and uplifted in his dreams." He signed off with a smile emoji.
"We've taken it and done our own thing"
After weeks of talking to Disneybounders, I found myself on a recent morning waiting to board a shuttle in Disneyland's Toy Story parking lot in Anaheim, California.
Virtually every other adult in line was wearing some piece of Disney paraphernalia: mouse ears, Little Mermaid backpacks, Eeyore beanies. Most had no children with them. They were just grown-ups, spending a Sunday at Disneyland in their favorite Disney attire. Essentially doing all the things you imagined you would do with your adult freedoms as a child, and then never did.
I've come to Disneyland California Adventure Park (a sister park opened in 2001 directly opposite Disneyland) to meet with YouTube superstars Sarah Sterling, Leo Camacho, and Tiffany Mink. Together with a fourth vlogger, Patrick Dougall, they make up the YouTube channel Thingamavlogs. Thingamavlogs posts daily videos about all things Disney—where to get free stickers in Disneyland, princess makeup tutorials, interviews with actors who voiced the animated films. Their videos have more than 18,000 regular subscribers and together have been viewed more than 1.4 million times.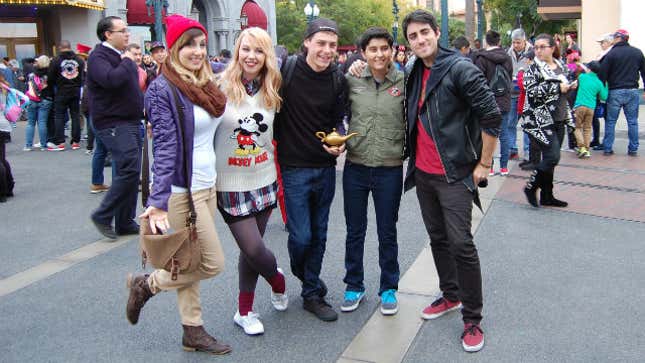 For its stars, the YouTube channel is a natural combination of Disney fandom, insider knowledge (Sterling once worked in the park as a cast member), and experience in digital marketing and social media. Mink also runs a line of Disney-inspired clothing, Whosits and Whatsits, aimed at young adult fans.
As we strolled past Paradise Pier, it became evident that these three personable, polite, and unassuming young people were, within the confines of the Disney-loving universe, super famous.
People shouted their names and stopped them for selfies. Strangers approached them constantly. Some fans were chummy, as if they'd confused the team's daily dispatches for personal messages from someone who knew them. Others were just starstruck.
"Ijustwanttosayhiiii! I watch your videos," said a beanie-clad girl, one nervous octave too high.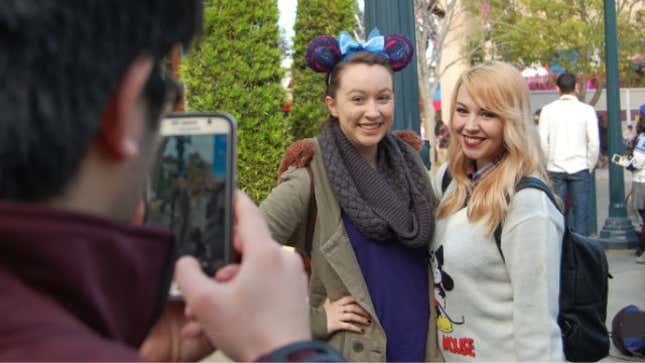 "On Dapper Day"—an annual fan-organized event where people come to Disney parks dressed in 1950s vintage, like a retro flash mob—"we had a line form that was three hours long, just to say, 'Thank you. Thank you for the content,'" Camacho said. "It's wild."
The trio stopped in Hollywood Land and parked themselves next to a wall with a disorienting trompe-l'oeil painting of a retro Hollywood skyline. Mink hid a giveaway necklace in a nearby planter and pulled out her phone to Instagram it, sparking an impromptu scavenger hunt for the prize.
"I don't want it to seem like a suspicious package," she muttered as she typed. Within minutes, three people were poking through the bushes.
If you are the parent of a young child, fending off requests for Frozen-branded Band-Aids and Cars-themed underpants, it sometimes feels like there is no branding opportunity left on the planet that the Walt Disney Company has not identified. The Thingamavlog team's success as independent content creators proves that's not at all true. The same generation that grew up on Disney's intensely marketed fantasies has demands that even the Big Mouse couldn't predict. They also have the tools to provide those products and services directly to each other.
Mink started her fashion line in 2011.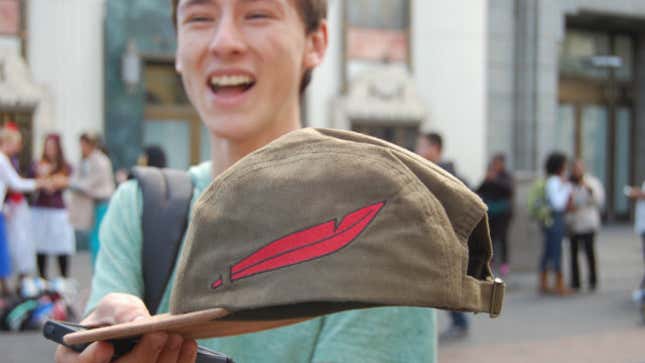 "I felt like Disney was missing a niche market," she said. "I was a young adult Disney fan and I wanted to be cute and show my fandom. What I wanted to wear wasn't represented. There are thousands and thousands of people who want that too."
For Sterling and Camacho, the videos and their personal social media presences have led to hosting gigs and opportunities with Disney and other outlets. The opportunities have been lucrative enough that for Sterling, it's now a full-time job.
Since the success of 2013's mega-hit Frozen, Disney's famously strict stance on copyright violations seems to have softened when it comes to fan-generated content. Disney has reached out to some of these self-appointed ambassadors of the brand. Leslie Kay appears in a DVD special feature on an upcoming re-release of Snow White and the Seven Dwarfs. The company also recently purchased a YouTube network, Maker Studios, whose channels include Thingamavlogs.
A Disney spokesperson told Quartz the company welcomes Disneybounding, but hasn't yet found a way to monetize it. The company seems to be playing catch up, several fans said.
"It's not just Disney marketing it," Kay told a panel at Stan Lee's Comikaze Expo last fall. "We've taken it and done our own thing."
Gray reality, Technicolor fantasy
Where does this passion come from? How did we arrive in an era that has blurred the line between children's and adult's entertainment, in which a grownup can read Harry Potter novels on the subway in a Hogwarts scarf as easily as a 12-year-old?
"I think that the growth of Comic-Con—that was what really allowed people to say, I'm a nerd, and there's nothing wrong with that," Leslie Kay said. "You don't have to be this old guy sitting at his computer with no friends."
One hypothesis is that an uncertain economic and security climate has spurred the rise of Comic-Con, cosplay, and adult fantasy. When reality looks dark and threatening, fantasy has a stronger appeal.
Cosplay originated in Japan during that country's long period of economic stagnation. With marriage and independence delayed, many young adults escaped into the "virtual worlds of games, animation and costume play," sociologist Masahiro Yamada told the FT. There, "even the young and poor can feel as though they are a hero."
Returning to beloved childhood stories and characters can also offer a certainty that is lacking in adulthood.
"It's an opportunity to retreat into a world where you know the characters are virtuous," Matt Smith, professor of communication at Wittenberg University who has studied Comic-Con and fantasy, told Quartz.
"Their personalities are reliable. You know who they are. This isn't the ambiguity of our politicians, or people around me who seem to be willy-nilly. These are characters I know and I know what they stand for and there's no ambiguity in that."
It's one thing to have a secret passion. To find a community that allow you share that passion openly, as the Disney crew has, is another.
"People will tell you their heartfelt stories," Camacho said. "People will come up crying: You made me feel I shouldn't be ashamed for the things I'm into."
Disneybounding forums have a touching vulnerability to them. People share photos of themselves heading off to work in secret Disney drag, knowing they'll get virtual praise for something their co-workers might overlook or sneer at.
One member posted an encounter with an acquaintance who'd belittled her Disneybounding. The exchange clearly hurt her feelings. Nearly 70 people chimed in with comments. They weren't just supportive of the writer. They expressed sympathy for her critic, a sad little man who didn't understand what it was like to feel as happy and magical as Disney makes them feel.
Standing on a faux retro street corner in California Adventure, Camacho said he empathized with the segment of his fanbase at odds with the social mainstream.
"Until freshman year of high school, I was extremely, extremely nerdy. I played Dungeons and Dragons," he said cheerfully. With time and maturity, he became more outgoing. He discovered his inner entertainer, a trait that drives his hosting career now. "I just became more comfortable with myself. I didn't need to hide who I was. It was an awakening, I guess."
People who look askance at the Disney crowd are missing the point, he said.
"Everyone says only little kids are into Disney, or creepy old men. That's like saying everyone who's into sports is a jock, [or] if you play Dungeons and Dragons, you live in your mom's basement. Overwhelmingly, by far, this is the most positive community I've ever been part of on the internet. When you think about what it represents, it's not weird at all. Disney is all about creating an escapist environment. A safe one. It's also artistic."
He waved his arm, gesturing to the crowd and the painted California sunset that faded into a real one. "Look at all the cool opportunities we're getting. How do you say that's not awesome?"