When most people think "ramen" they think Japan, but that association has landed Master Kong, the world's biggest instant noodle maker, in a lot of hot water. The company, which is based in Taiwan and listed in Hong Kong, has lost some $2.4 billion in market capitalization after false rumors about its ownership circulated during Japan and China's showdown over islands in the East China Sea.
Japanese products and companies have been hit with damaging boycotts and protests since the crisis began last fall. That's also when spurious rumors began circulating online that Master Kong's parent company Tingyi was majority-owned by a Japanese company. Then a mass campaign encouraged a boycott  via internet and SMS, alleging that the Hong Kong-listed noodle-maker had donated ¥300 million to Japan's purchase of the controversial islands, as reported by Chinese media blog Danwei, which also created this great chart: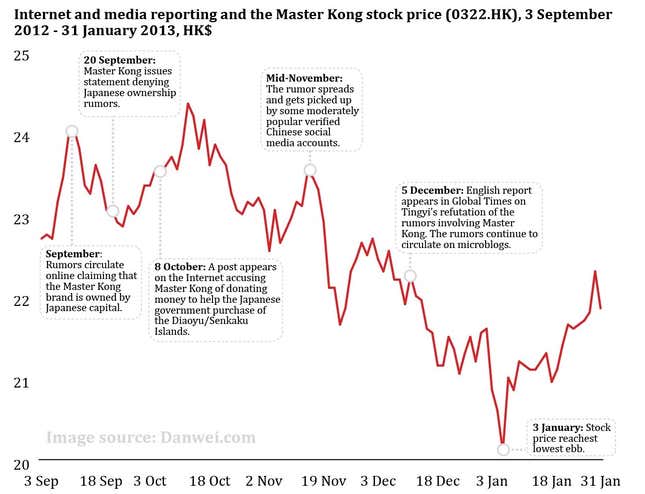 The smear campaign got its facts wrong—the Japanese instant food company Sanyo owns 33.18% of Tingyi, just behind Taiwan's Ting Hsin, which owns 33.27%. And the company didn't make any pledges to buy the islands for Japan. But the facts are little consolation to the company or its investors.
Tingyi says the originator of what it calls "Japanese investment-gate" (link in Chinese) was its biggest competitor in the ramen market, Uni-President (which, for its part, denies involvement). But this just goes to show how volatile a mix of social media, misinformation, and xenophobia can be—even before you add the extra spicy packet.