When parents take their children to the zoo, the idea is to learn about the beauty and diversity of animal life by seeing creatures in something resembling a natural habitat. But zoos in Denmark aren't afraid to let kids see dead animals, too—and what's more, to stage full-blown public dissections for the purpose of educating young visitors.
The practice has raised hackles among activists and horrified animal lovers in other countries. In the most recent case, Odense Zoo euthanized a young lion and carried out a dissection in front of a large audience of children and adults during the school holiday period. The previous year in Copenhagen, it was an 18-month-old giraffe, which was shot, publicly dissected, and then fed to the lions.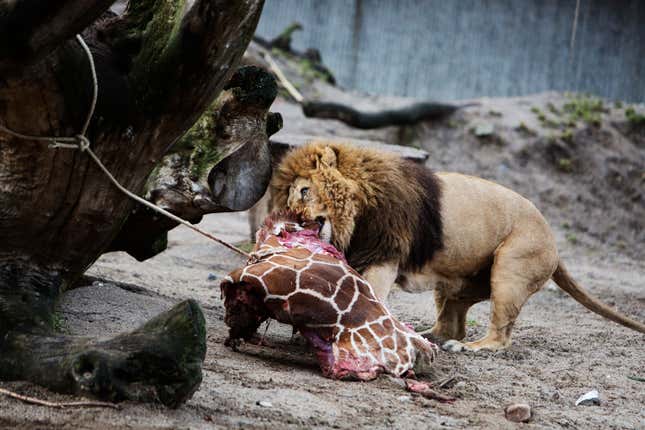 That parents are happy for children to watch the procedure comes down to one principle at the heart of Danish parenting: honesty.
"Danes are very, very honest with their children about life," Jessica Alexander, an American and co-author of The Danish Way of Parenting: A Guide to Raising the Happiest Children in the World, told NPR.
The Odense Zoo explains at length that it needs to kill animals occasionally for population control; that these animals wouldn't stand a chance if released into the wild; and that it has been carrying out dissections in public for the past 20 years. "If we, with a view to disseminating information, can teach our guests about the anatomy of a lion, for instance, by cutting it up, this is what we do," it wrote in a post on the zoo's official site. 
Other places in Denmark also carry out public dissections, like this one of a wolf at the Natural History Museum in Copenhagen in 2014: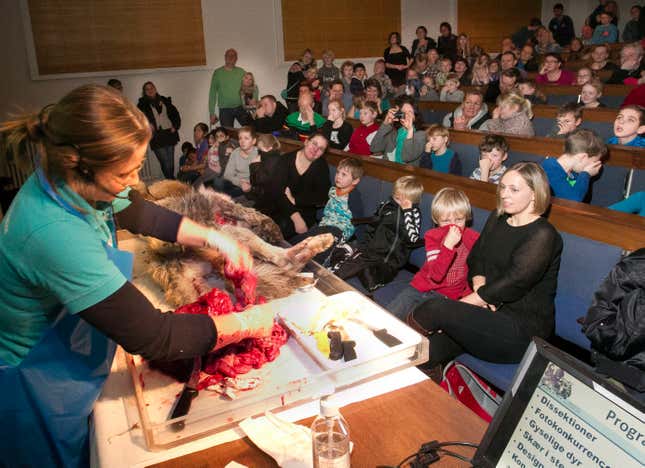 Both the zoo and the parents stress that it's about choice: people don't need to watch, and no child upset by the process is forced to stay. One father explained that he told his 9-year-old son, "If you think it's too much, then tell it to me and then we'll just go away."
But the child, he said, was "totally absorbed by it."
Other countries are much more squeamish. The UK, for example, has long been phasing out school dissection classes involving frogs, cow eyes, and rats because of fears over students' nerves and the danger of having scalpel blades in classrooms.