"How are we going to get there—Uber?"
"No, Facebook."
In a patent application published today—first surfaced by the legal technology firm ClientSide—Facebook outlines a system for setting up carpools for people attending the same event.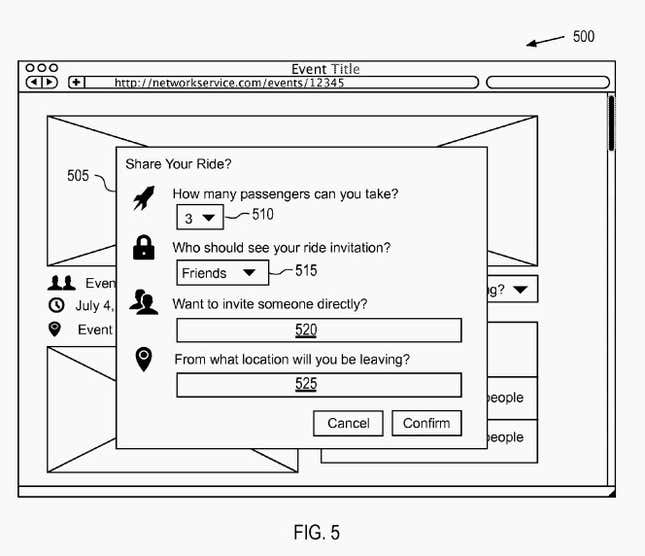 Facebook already allows users of the social network to set up events, and integrates maps from HERE—the former Nokia map product that was recently sold to a group of car makers—with directions on how to get to the event. But Facebook's patent application goes a step further: For future events, you'd potentially be able to select what mode of transport you're planning on taking to get there, and team up with others who want to get there the same way.
In practice, this could mean something as simple as Facebook matching up two people who want to take the train together, or it could allow someone driving to an event to pick up passengers.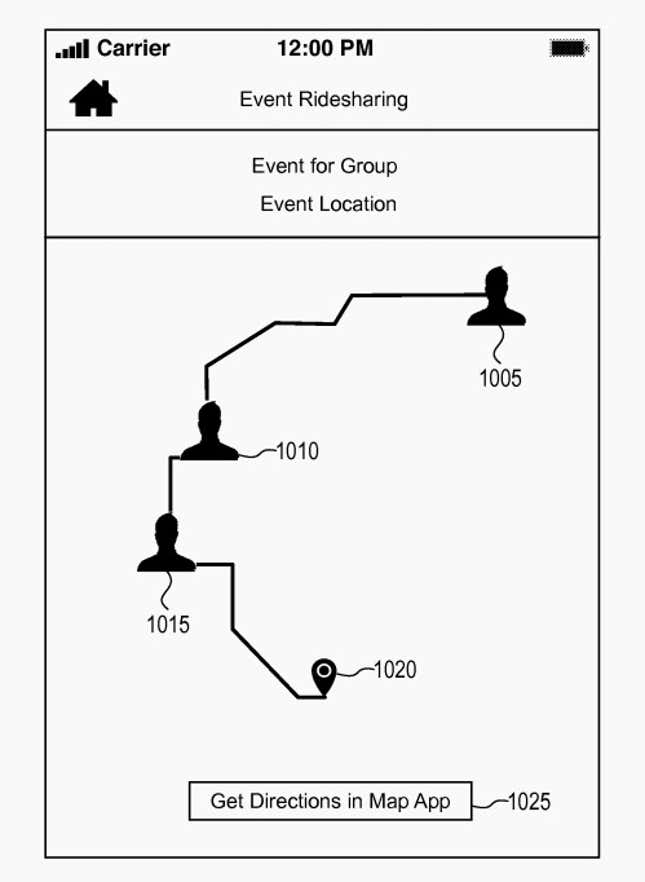 The patent application shows a mapping system that outlines how a driver could pick up a group of passengers along a route to an event. While this feature might not sound particularly useful in a busy city, it could potentially be a boon for those living in the suburbs, college towns, or less populated areas. If five people from the same town in Indiana are all going to the same music festival in Tennessee, it might well be easier and cheaper for them to ride there together.
The application also suggests that Facebook could take into account other attributes, such as what music a person has indicated that they like, or their political affiliations—those long journeys could be pretty fraught if a Bernie Sanders fan who only listens to bluegrass music got paired to ride with a Trump-supporting heavy metal aficionado.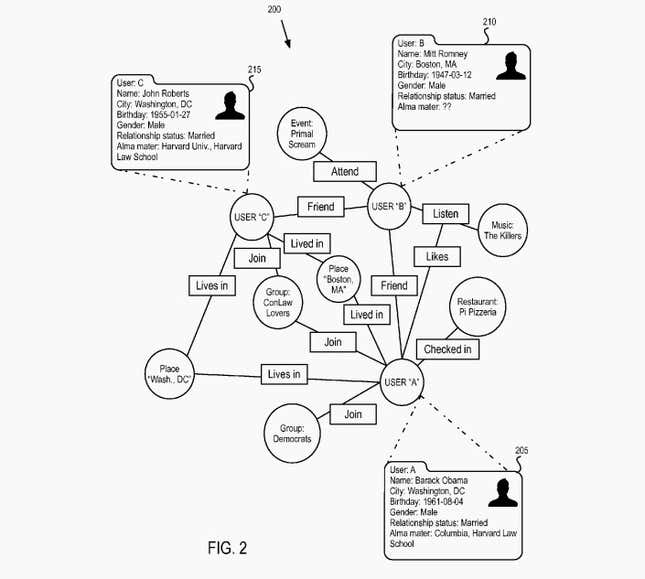 Once signed up to ride together, Facebook would show the driver how to get to each passengers' location. The application outlines a mapping system showing the optimal route for each pickup, which looks a lot like how Uber figures out how its drivers should pick up passengers in the UberPool car-service system.
But the application could portend a use case beyond just making it easier to get to events. Speaking to analysts on Facebook's Jan. 27 earnings call, CEO Mark Zuckerberg called the company's recent move to let Facebook Messengers order an Uber through the messaging app the beginning of a "transportation platform" test.
Perhaps the world's largest social network, which has little trouble managing 1.59 billion user profiles, and is pushing heavily into artificial intelligence research, could be looking to use its infrastructure to build the backbone of a car-sharing service of its own.
Facebook officials weren't immediately available to comment on the plans for the patent application, or whether the company is actively looking into building a system like the one it's trying to patent.
For now, it's worth remembering: Many companies in the "sharing economy"—including AirBnb and Uber itself—currently use Facebook as a login and user verification system, so it's not infeasible that Facebook could just cut out the middle man and use its own network in the future.