Losing a beloved family member is hard enough by itself. Uncertainties about the costs of the funeral and related services only make the situation more difficult. Now, Amazon Japan lists a company that offers budget-friendly monk delivery service.
Called "Obo-san bin—or "Mr. Monk Delivery"—the service's basic plan includes the monk, transportation, and a donation for ¥35,000 ($300). By contrast, a Buddhist temple might offer a comparable service for ¥100,000 ($830), the AP reports. Or maybe more. It's hard to tell, which is part of the problem.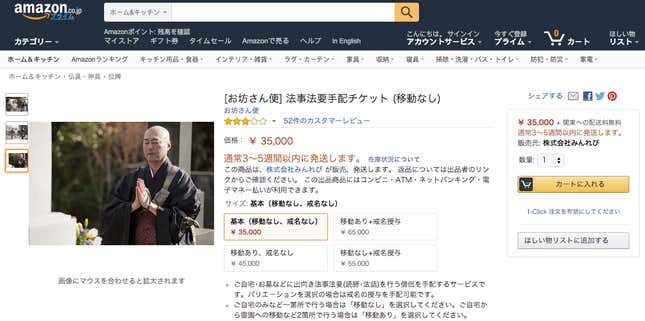 Customers can use the basic plan if they need the monk to perform in only one place and require no posthumous ordination. The latter service, slightly extra, gives the deceased a posthumous Buddhist name—an important tradition for some families. While over 60% of Japanese claim to be either not religious or atheists, Zen Buddhism and its ceremonies continue to be used for funerals, even as many temples struggle to stay in business.
One customer of the new service, whose son died from cancer, told the AP he liked that the pricing was "simple and clear." That compared favorably to the often murky ways temples calculate their fees, which he'd heard were "outrageous."
Tokyo-based Minrevi is the company behind the service. While Amazon is its newest platform, it's actually offered the service online and over the phone for years, along with other budget-oriented peers. Over the past five years orders for its service has tripled, according to AP, and orders surged after the Amazon placement.
Another thing that has surged: interest from monks. While the company already had contracts with monks around the nation, about a hundred more came forward to register for the delivery service after the Amazon tie-up. Temples, of course, are less enthused.