This story is from 2016, read about Prices for 2022 Super Bowl LVI tickets
Super Bowl tickets are expensive. Through official channels, the cheapest seats for Sunday's game at Levi's Stadium in Santa Clara, California are around $850 per person, with higher priced tickets listed as much as $3,000. On second-hand markets—the only place where fans who didn't win ticket lotteries and don't have corporate connections to the league can buy—prices are much higher. The current average price of a second-hand ticket is $4,732, the highest it has ever been this close to the game since at least 2011, according to SeatGeek, an event ticket search engine.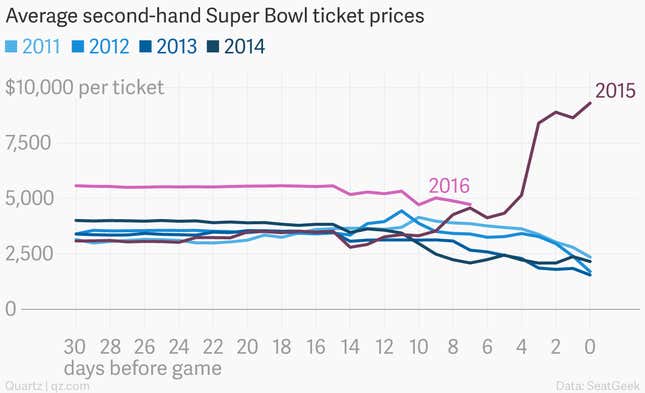 In previous years, prices have shown to fall as game day approaches, according to SeatGeek data. This means you should wait as long as possible before buying a Super Bowl ticket. The price drop is consistent with the the trend that SeatGeek typically sees in the secondhand market for tickets to concerts and other sporting events. Presumably, most sellers would rather reduce the asking price of their tickets or sell at a loss instead of letting the seats go unsold.
However, other market forces can reverse the last minute discounting, spelling catastrophe for your wallet if you wait. Last year, ticket resellers tried to capitalize on the decline, perhaps too aggressively. They sold tickets they didn't have with the expectation they would buy some at a cheaper price as the game got closer. In financial market parlance, sellers were naked short selling the tickets. According to Chris Leyden, an analyst at SeatGeek, prices started to increase when these short sellers realized that the unsold ticket inventory was low and they needed to cover their original sales, no matter the cost. There were also allegations of collusion amongst ticket brokers.
SeatGeek's data show how, in every year except 2015, sales volume spiked after the conference championships, two weeks before the Super Bowl, then increased in the days leading up to the game.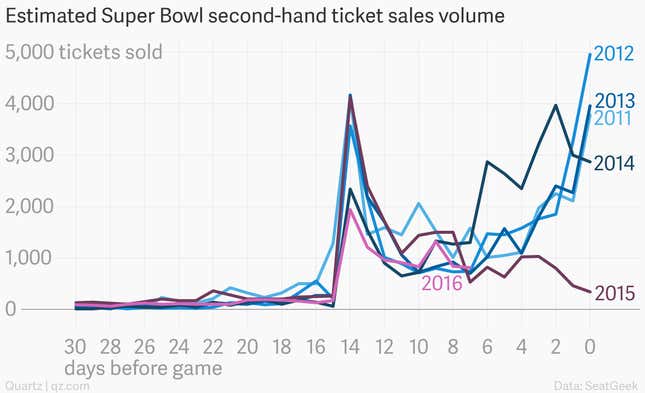 There no knowing what the next week will bring. However, according to a Quartz analysis of the data, this year's trend (with 83% correlation in prices and an 91% correlation in sales volume) most mirrors that of 2013—a year when prices dropped up until game day.