Sometimes, the simplest changes can have massive impacts. In a Wall Street Journal column (paywall), Joanna Stern outlined a number of ways that consumers can keep their mobile data usage under control to avoid paying expensive overage fees for additional data. Her tips included making sure to turn off auto-playing videos on Facebook and using different browsers to watch videos.
But one feature struck out a simple fix to save on data that blew my mind: There's a setting in Snapchat called "Travel Mode" that ensures snaps and stories don't load in the background before you're ready to watch them. Stern said she used 2 GB on Snapchat last month alone; my own casual snapping gobbled up 2.4 GB of data last month.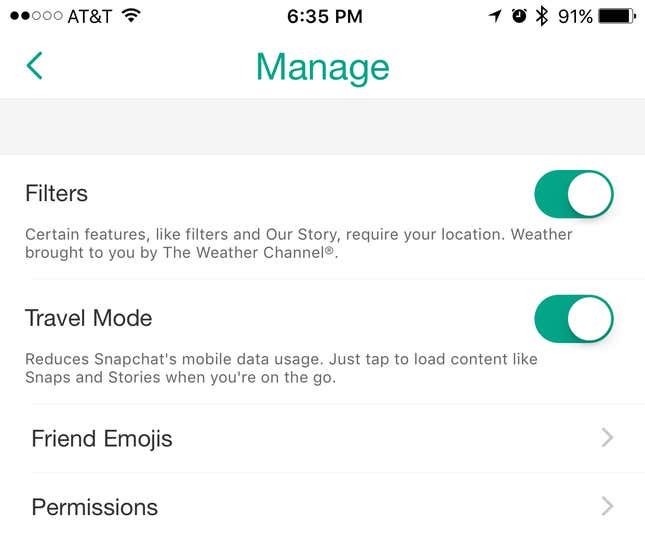 Turn on the Travel Mode setting, which is off by default, and snaps will only load when you tap on them, saving data in the process, as long as you're fine with having to wait a few moments to check your snaps every time you open the app. To access the setting, you'll have to make your way through Snapchat's rather confusing interface.
Here's how to find it:
Open the app and pull down on the home screen.
Tap on the settings gear icon in the top-right corner.
Scroll down to "Additional Services" and tap on "Manage."
Tap the "Travel Mode" button, so the slider turns green.
That's it. While you're in that menu, you can also find out what the emoji that randomly appear next to your friends name mean and what permissions you've given the Snapchat app. The "Additional Services" menu is a real learning experience.