Singapore has long been known for its thriving economy, a strength that has shaped a largely business-oriented culture. But in recent years, the city has begun a coordinated effort towards fostering a local design, art, and architecture scene. In the years since 2003 (which marks the official launching of the government's efforts), global design influencers have steadily migrated to the city, establishing retail operations, websites, and an array of design-centric events. Singapore's reputation as a preeminent global destination for design was recently recognized with its designation as a UNESCO Creative City of Design.
The influence of design on the city is best observed through three primary arenas: its hotels, its community of furniture makers and retailers, and its network of institutions dedicated to promoting the thriving scene.
Hotels: A palate for homegrown talent and global visionaries
Nowhere is the design culture more apparent than in Singapore's diverse array of hotels, which range from intimate boutiques to globally renowned properties. Government sponsored design initiatives—originating in 2003 with the establishment of its DesignSingapore Council—have bolstered the region's creative reputation and helped to draw both emerging creative talents and established design professionals.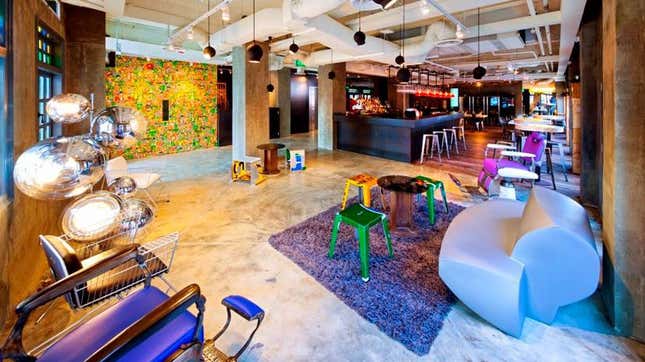 From the first category comes properties like The Wanderlust, a Little India neighborhood gem that combines whimsy with a serious design pedigree: each of the hotel's four floors was outsourced to a different design firm (including local designers Asylum and DP Architects). Bespoke hotel klapsons, in the heart of the city, offers 17 customized rooms, as well as a reception booth housed in a massive chrome sphere and visual references to Stanley Kubrick's 2001: A Space Odyssey.
In addition to smaller homegrown properties, Singapore's reputation for supporting creativity and adventurous design also has drawn the attention of global designers and brands eager to experiment and showcase new concepts and styles. With its transformation of former army buildings into a hotel featuring sky gardens and light installations, the South Beach Hotel with its Philippe Starck-designed interiors is a good example of this sensibility.
Furniture makers and retailers cultivate the Singapore aesthetic
Singapore has also attracted a thriving community of makers and sellers of contemporary furniture. Designer Nathan Yong is a trailblazer in the field, having started Air Division in the late 90s—one of the first Singapore design firms whose products were embraced by high-end furniture markets. Jarrod Lim, a newer figure on the scene, has a style that reflects Singapore's international influences. Born to a Singaporean mother in Australia, he traveled the world before settling in Singapore, finding his aesthetic most at home there.
Singapore also offers spaces to purchase furniture and art that are often as original as the objects themselves. The $50 million dollar Asian flagship store Space, designed by WOHA Architects, offers wares from upscale brands in a space that combines a glass block with the charms of an antique villa. And brands such as Commune are opening modernist shops featuring designs that make shoppers feel at home—so at home, in fact, that the brand has opened in-store cafes to encourage shoppers to linger longer.
Uniting the design community
Just as essential to Singapore's artistic growth is its interlinked web of institutions organized to bolster and showcase the city's design scene. The Design Incubation Centre, founded in 2006, bills itself as a "research laboratory" for industrial design, hosting workshops for students and providing a space for inventors to experiment with new concepts and prototypes.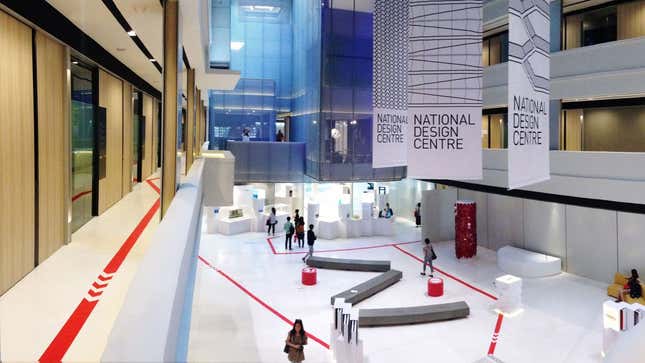 Meanwhile, the National Design Centre, housed in a former convent in the arts district of Bras Basah-Bugis, is the locus of Singapore's maker community. Serving as event space, gallery, design lab, and think tank, the building's translucent, light-flooded space reflects its mission of clarity and inclusiveness. The Red Dot Design Museum offers a comprehensive exploration of the contemporary product design landscape, as well as a monthly state-supported marketplace, which draws Singapore's emerging design elite.
In addition to the professional design community, Singapore has also fostered an interest in design amongst its citizens. Developments such as the ambitious Gardens by the Bay inspire citizens and visitors to consider the value of daring design. With its towering solar-powered tree light sculptures, the park has drawn global acclaim and proves the potential of well-designed green space.
All of the disparate elements of Singapore's design world come together and join forces once a year for Singapore Design Week, which has become a must-attend global event, attracting both young designers as well as more established artists like Thomas Chadwick and the Royal Academy of Arts' Kate Goodwin. Last year's fair featured over 60 events and activities over the course of nearly two weeks, acting as an umbrella for various shows like MAISON&OBJET ASIA and the International Furniture Fair Singapore. Fans should mark their calendars for this year's Design Week in March, the third in history, which promises to host the biggest expression of Singapore's booming design scene yet.
Design is just one industry in which Singapore has established itself as a 
. Learn more about how Singapore allows visitors to experience all of Asia's potential.
This article was produced on behalf of the Singapore Exhibition and Convention Bureau by the Quartz marketing team and not by the Quartz editorial staff.