The Indonesian government is on a mission to scrub messaging apps embraced by many of the nation's 250 million people of same-sex emojis, stickers, and emoticons.
This week, the government succeeded in forcing Line, a Japanese-Korean messaging app, to remove same-sex and lesbian, gay, bi-sexual, and transgender (LGBT) themed stickers from its Indonesian-language store. And it's coming for WhatsApp next.
"Social media must respect the culture and local wisdom of the country where they have [a] large numbers of users," Ismail Cawidu, a spokesperson for Indonesia's ministry of information and communication, said Feb. 10.
There is no law against homosexuality in most of Indonesia, but government officials in the Muslim-majority country have made a flurry of anti-gay rights statements lately, and some local governments have gone much further.

One province that has adopted Sharia law made having same-sex relations punishable with 100 lashes. Anti-prostitution laws—which often include same-sex intercourse—are used to persecute gay and lesbian people in other parts of the country. Last month Muhammad Nasir, minister for technology, research, and higher education, argued that the LGBT community should be barred from university campuses, because there are "standards of values and morals to uphold."
Line's messaging app had over 600 million users worldwide as of early 2015, and Indonesia was Line's second-biggest market with 30 million users in late 2014. Users chat for free but can use in-store purchases to pay for stickers—elaborate and often animated cartoons. Line offers a vast and creative menu of LGBT-related stickers: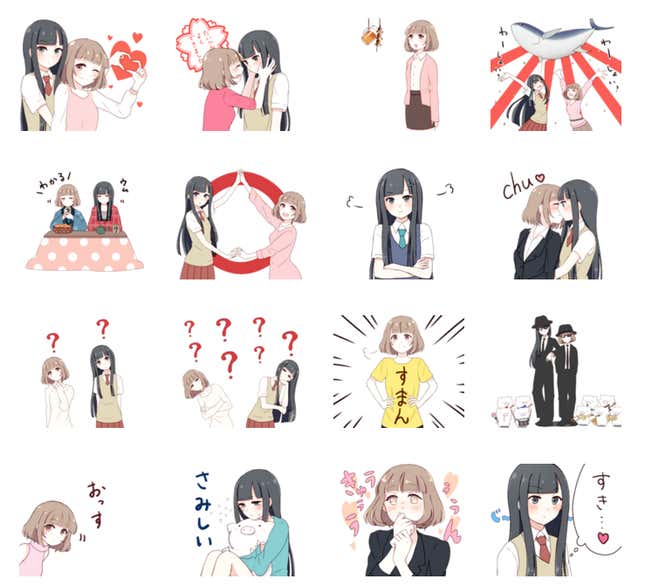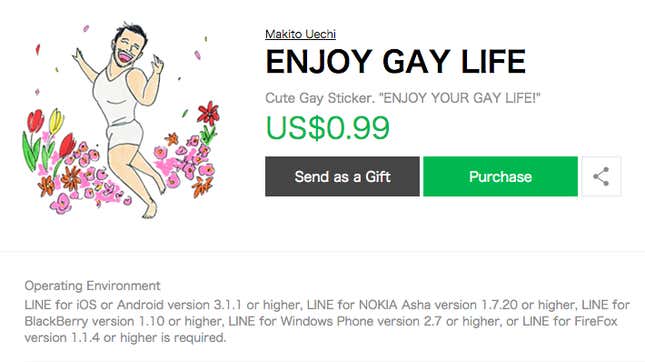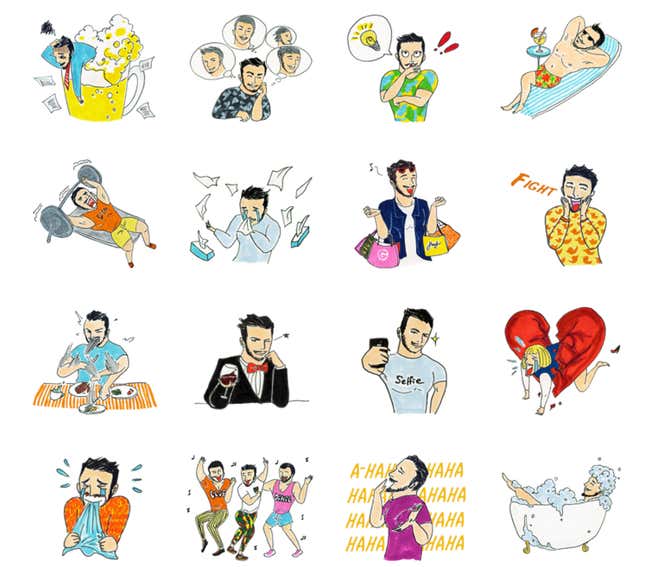 Some of these stickers are made by Line, but many more are made and sold in the app by third-parties. All LGBT-related stickers are being withdrawn from the Indonesian market, a company spokesman said. Line apologized for making some Indonesian users "uncomfortable" in a Facebook statement (link in Indonesian), and said that globally it screens content that is deemed sensitive to local cultures.
"The ministry is appreciative of Line Indonesia for their understanding and discretion in dealing with matters that could potentially cause public unrest, especially the concerns of mothers for their children in terms of the negative influence the circulation of these LGBT stickers could cause," said Ismail.
While it is relatively easy for Line to remove these stickers from their Indonesian-language store, the Indonesian government's goal of banning all LGBT-themed items from social messaging will be tougher. Facebook-owned WhatsApp's emojs are built in as part of its keyboard, and could be harder to remove. Apple may come under fire in Indonesia as well, because of the same-sex emojis it introduced last year: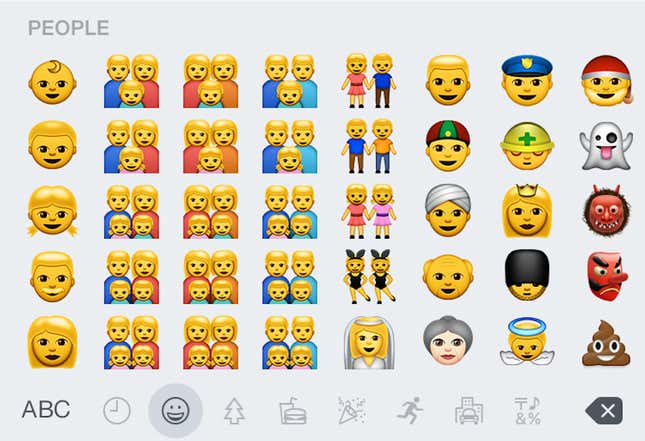 Facebook's Messenger also offers a diverse array of stickers sure to be targeted by the Indonesian government, like this "Pride" collection: