Since at least 2013, Coach has been in a sales slump, suffering from its reputation as a peddler of nice but unremarkable handbags, and the fact that Coach bags could often be had at a discount—the kiss of death for any "premium" brand. But now, a look around fashion's best storefronts suggests that's about to change.
As of this month, you'll find clothes by Coach amid the racks of cool, forward-thinking labels at New York's Opening Ceremony. At Colette in Paris, which buys some of the best European labels, Coach will be there, as it will be at luxury retailers Jeffrey and Saks Fifth Avenue in New York, Luisaviaroma in Florence, and Lane Crawford in Hong Kong, among others. And while some of these shops already carried Coach's bags, it's just as much the apparel—patchworked leather jackets and vests, as well as tops, dresses, and skirts printed with bustling, colorful prairie florals, with the label Coach 1941—that are finally steering the "affordable luxury" brand back toward the high-end.
Coach 1941 showed its latest collection at New York Fashion Week yesterday (Feb. 16), after an enthusiastic response to Coach's first major runway presentation last September. That this line is simultaneously debuting at some of the top fashion retailers around the world could offer Coach's image a much-needed boost.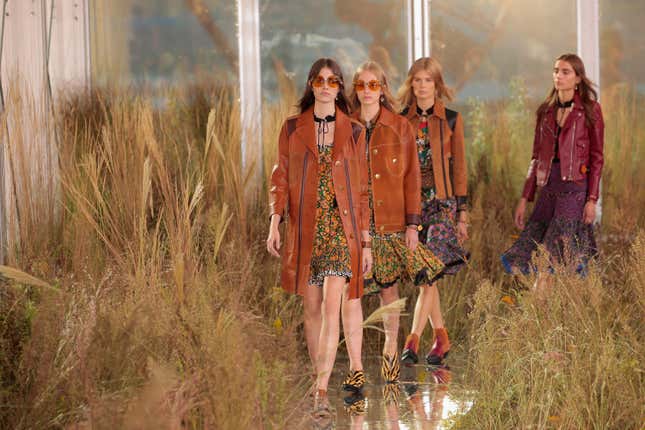 "It has the potential to drive sales and really make [Coach] a total brand, as opposed to just a handbag brand," says Robert Burke, CEO of retail consultancy Robert Burke Associates, of Coach 1941. "They've made a real push with specialty store retailers to be represented there and be sold there."
There are indications that a turnaround is already taking hold. While the brand's recent earnings report was far from stellar, it did show improvement. The company has been cutting way back on its promotions while introducing new designs, and CEO Victor Luis remarked in a call with analysts that Coach's handbag sales in the above-$400 bracket grew to 35% of bag sales, up from around 30% last year. "The increases showed continued progress of our elevation strategy, with higher price points and more fashion-forward products," he said.
Coach even expects to return to positive same-store sales growth by the fourth fiscal quarter this year.
The designer behind Coach 1941 is Stuart Vevers, a well-respected fashion veteran who previously reinvigorated accessories-driven brands Mulberry and Loewe. The English designer's clothes and bags for Coach 1941 are cool, easy, and fun, and they have a broad appeal, in keeping with Coach's accessible "affordable luxury" position in the market. They've already added some much needed energy to a brand that had become stagnant.
"There's a nice, youthful spirit to the ready-to-wear," says Jeffrey Kalinsky, founder of Jeffrey, which also bought Vevers's work for Mulberry and Loewe. "It's not just about a floral dress. It's about a biker jacket. But the biker jacket is not in black leather. It's in a shot of color."
Kalinsky is also an executive vice president at Nordstrom, which will carry Coach 1941, too. He says even though Coach's main business is bags, clothing is critical in turning Coach into a complete fashion house. "In an accessory business, ready-to-wear gets to spin the fantasy about who the woman is," he says.
Some of the clothes are selling well, Vevers has said, but Burke believes they're more about image than sales. "It's really meant to help in repositioning the brand and elevating it," he says.
It's hard to restore the luster of a brand that been overexposed in the mass-market, but there are noteworthy precedents, including Gucci and Burberry. As Burke points out, Gucci was mostly known as a mass-market handbag and accessories brand before Tom Ford took over as creative director, and made it supremely sexy, in the 1990s. And Burberry was a coat resource until Rose Marie Bravo helped it develop into a complete luxury house.
Whether this year will prove a similar turning point for Coach remains to be seen, but 2016 is important regardless. It's the 75th anniversary of the company, which started as a family-run workshop in New York—in 1941, of course—making leather goods.
In 1996, Coach hired Reed Krakoff as creative director. He was instrumental in reworking the brand's image and expanding the business into what it is today. Coach became ubiquitous in American malls and grew internationally, pioneering the affordable-luxury space now filled with American brands such as Michael Kors and Kate Spade. But the shine faded, and Vevers replaced Krakoff in 2014, the same year Luis took over as CEO.
It makes sense in that context that Kalinsky calls Coach 1941 a "natural evolution" of the brand rather than a change of course. It's more than just a pivot away from recent history—it's laying groundwork for the future, and it's making Coach a brand to watch.