Vancouver
A space archeologist is what happens when Indiana Jones and a Google Earth (goddess) have a love-child. This is how Sarah Parcak, winner of the TED Prize, described her work in a recent interview with Stephen Colbert.
To parlay its "ideas worth spreading" motto into action, TED, the ideas festival of the world's elite, bestows a million-dollar prize on an exceptional individual with a game-changing idea for improving the world. Past winners include rock musician Bono, writer Dave Eggers, anti-corruption campaigner Charmian Gooch, and StoryCorps founder David Isay. Per tradition, the winner frames his or her bold plan through a wish.
Since being named the winner in November 2015, Parcak, a University of Alabama professor, has been mulling over how best to use the seed money from TED. Before the 2,000+ high-powered audience in Vancouver, Canada and thousands watching online, tonight Parcak revealed her big wish:
I wish for us to discover the millions of unknown archaeological sites across the globe. By creating a 21st-century army of global explorers, we'll find and protect the world's hidden heritage, which contains humankind's collective resilience and creativity.
Her vision is to deploy a "massive, crowd-sourced online distance science campaign," as she describes it.
The first part of Parcak's ambitious plan is a mobile app. Working with game designers, she's designing an interface that will teach people the scientifically correct way to read high-resolution satellite data and spot undetected pyramids, ancient towns, and "looting pits"—deep holes on the ground that looters have dug up in search of antiquities and archaeological artifacts.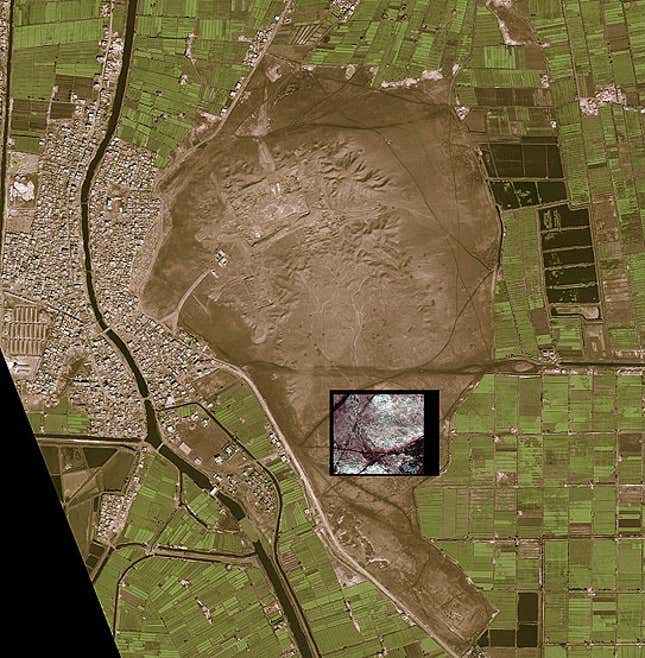 These pits are fairly easy to identify, Parcak says."They're small dark circles typically surrounded by a donut-shaped [pile] of earth." The real problem is the lack of time for over-taxed scientists. She explains that there are only about two dozen archeologists around the world specifically focused on monitoring looted sites.
Parcak, a pioneering Egyptologist who helped discover the ancient city of Tanis, is part of a cadre of dedicated archeologists and academics sounding alarms about the looting and destruction of heritage sites in places like Egypt, Iraq, and Syria. Last year, UNESCO said that the breadth of ISIL's deliberate and strategic campaign to demolish historical sites has reached an "industrial scale."
Parcak says that the found sites will not be tagged with GPS coordinates, in order to protect their location.
"If we don't do something in the next couple of years, all this will be gone," says Parcak. "We're losing the battle to the looters."
She hopes that millions of concerned or curious users—kids, housewives, students, scientists—will participate in the program and help archeologists accelerate their surveillance work. "We truly want the world to be engaged with this. If we don't get the world excited about discovery, I don't think we're going to make any headway."