The UK's Office for National Statistics just announced that, in readjusting the basket of goods used to compute inflation, it chucked out champagne, since it's "an over-covered area of the basket and expenditure is dropping."
Perhaps a better reason to shun the bubbly is that there is absolutely nothing to celebrate about the UK's economy. January's manufacturing output fell by 1.5% compared with December—the largest contraction since last June. Most analysts expected the data to come in flat.
"The manufacturing figures are appalling," Philip Shaw, an economist at Investec, told Reuters. "They represent a very poor start to 2013 for the factory sector. This may be a snow story once again, but one should be wary about putting too much of the blame onto weather conditions."
Here's a look at the year-on-year comparison: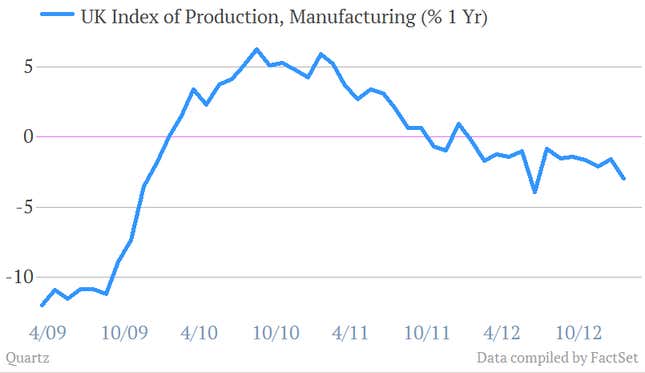 UK industrial protection tanked as well, shrinking by 1.2% in January, compared with December; analysts expected a 0.1% increase. The pound plummeted to $1.484 from $1.492, as the rotten data increased the likelihood of quantitative easing from the Bank of England. Since the beginning of the year, the currency has lost nearly 10% to the dollar.
The balance of trade improved slightly. But as the ONS highlighted, this was due to "an unusually low figure for the balance of trade in oil" (pdf). Well, that's an understatement. Oil imports dropped more than £1 billion on the previous month, as imports from Norway, Canada and Azerbaijan fell off a cliff, said the ONS. This marked the biggest monthly decline in oil imports since August 2008, though month-on-month data can be volatile.
Meanwhile, export of goods to the euro area slipped 5.3% in November-January, after having posted slightly positive export growth the previous three months. And as economist Chris Dillow points out, "weak exports are not due just to euro crisis." Exports to the US, the UK's largest export market, fell 8.8% in the three months that ended in January, compared with a 5.3% decline in August-October of 2012.
With data like that, the ONS's guesses about champagne consumption are probably on the money. To be fair to the ONS, it didn't leave Brits totally dry. In order to "diversify the range of spirits collected," it added white rum. Which is great for the UK—something else it can import, and drown its sorrows at the same time.