Fashion's track record on diversity isn't great. Runway shows in particular tend to be largely white affairs, even when designers happily draw the inspiration for their designs from African cultures.
So it's nice to see designers who think a little bit about who's wearing their clothes down the runway. As Fashionista reports, designer Zac Posen cast predominately black models for his Feb. 15 show at New York Fashion Week—appropriate since his muse this season was the incredible Princess Elizabeth of Toro.
Born in 1936 to an ancient royal lineage in the kingdom of Toro, now part of Uganda, Elizabeth Bagaaya-Nyabongo had a life story fit for a Hollywood epic. She was the first woman from East Africa to be admitted to the English bar, and ultimately the first black female attorney in East Central Africa.
After being exiled to London with Uganda's declaration of independence in 1962, she began a career as a model. In the late 1960s, she became the first black woman to get a spread in Vogue magazine. She later returned to Uganda to become minister of foreign affairs under dictator Idi Amin. Not long afterward, she was dismissed and placed under house arrest for refusing his marriage proposal.
Posen highlighted Bagaaya-Nyabongo's "kind nature, stunning appearance and exceptional intellect" in his show notes. He told Fashion Week Daily that the new collection was about "representing intelligent women that aren't only represented by an overt sexuality." Bagaaya-Nyabongo was a natural reference point.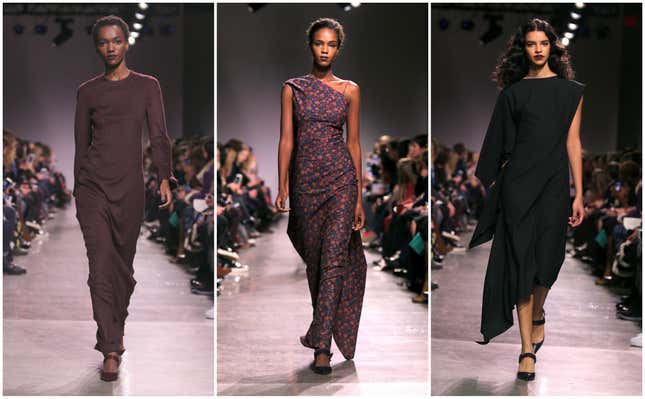 But Posen's approach to casting remains the exception rather than the rule. Even as fashion brands become global businesses and their clothes draw influence from around the world, fashion models tend to reflect a far more provincial outlook.
In the days before the show, Posen made his thoughts on the matter clear. A post on his Instagram account showed him with a bag that proclaimed in big, bold lettering, "Black models matter."