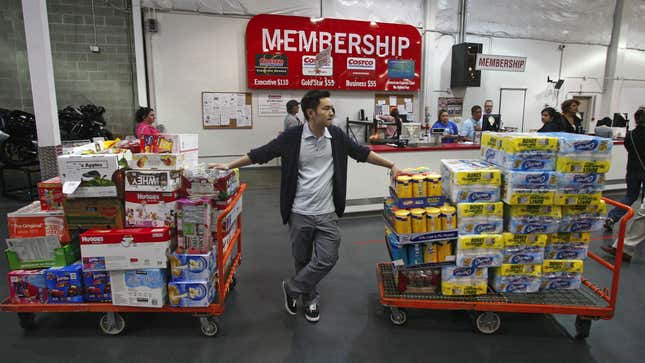 There seems to be a trend here. When the US economy suffers, discount big-box retailer Costco sees its sales go up, as shoppers opt for its no-frills bulk food and home goods. And while other cheap superstores like Walmart and Target are losing customers to online merchandisers, Costco manages to stay mostly insulated from the fight.
Costco, a company that's about a fifth of the size of Walmart in market capitalization, appears to be stealing some customers from the world's largest retailer. Today, Costco posted better than expected earnings for the second quarter. According to the company's report (press release), net income for the quarter jumped 39% on a year ago. In contrast, Walmart and Target posted weaker sales in February. Over the past five years, Costco's sales have grown 54% (paywall), compared to 25% and 16% at Walmart and Target, respectively.
Aside from a weak economy that gives Costco a leg up, analysts say the shopping club also benefits from the fact (paywall) that most of its sales growth is in foodstuffs rather than durable goods. Since most people still don't buy these online, that makes Costco less vulnerable than other brick-and-mortar stores to competition from the likes of Amazon.
But Costco's advantage in this zero-sum retail game may not last long. Target is reportedly in talks with Google to begin pilot same-day delivery service in a handful of stores in California. That would help it compete with Amazon's unlimited free delivery service, Amazon Prime, and with Walmart, which is already experimenting with a same-day service with UPS.