Cape Town, South Africa
British singer and songwriter Imogen Heap is building what she calls a "fair trade" music industry that aims to sidestep middlemen like iTunes and Spotify and give musicians more ownership over the money and data produced by their work.
Heap's latest song, "Tiny Human," a ballad to her newborn daughter, debuted last year on a site called Ujo Music where users can buy the song, as well as the track's key, tempo, and stems, using a cryptocurrency called Ether. The money goes directly to the producers, writers, and engineers involved in the song's production.
"When someone buys a piece of music or plays a piece of music, ultimately in the future there will be no need for a middle, centralized service. The fan will be immediately paying the artist," Heap told Quartz on Thursday (Feb. 18) at Design Indaba, an architecture and design conference in Cape Town.
The singer's experiment with "Tiny Human" is the precursor to an entire music eco-system she's building called "Mycelia," named after a thread of underground fungus that grows for miles. Aside from enabling faster, direct payments for artists, Heap wants to create a free platform where musicians have control over the data created by their songs as they circulate among fans and other musicians, including the song's credits, terms of usage dictated by the artist, where the song is played and when, and any transactions. This information is tracked using blockchain technology, a method of recording digital transactions first used for Bitcoin.
"There's a whole world behind each song…there's a lot of data there and a lot of wasted data that's not being harnessed to give back to the artist," Heap says, adding that this data can provide valuable feedback for artists. "It's so, so important to be able to know where your fans are, what they are listening to, what is exciting to them about what you are doing."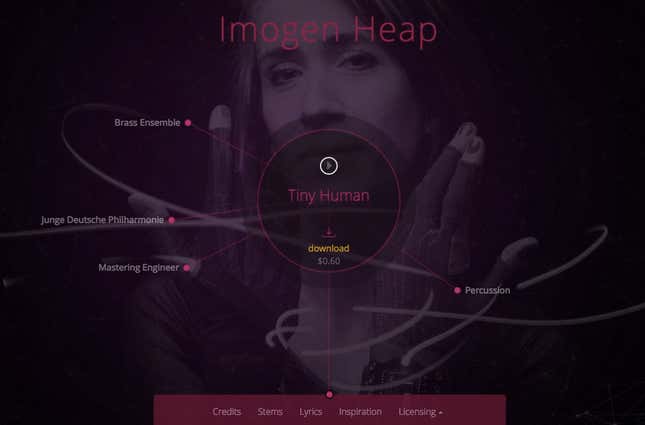 Heap, the only music artist to win a Grammy for engineering with her creation of "musical gloves" that shape sound as she performs, is no stranger to experimentation. She joins the likes of Taylor Swift (whose 1989 album she helped co-produce) and other artists who have criticized the music industry's treatment of independent artists and the few royalties they receive from streaming services. Her response is to try to build an alternative system.
The traditional music industry doesn't have to be cut out of the process, Heap says. She has been speaking with Spotify about the project and says the aim of Mycelia is not to rival streaming services or record labels but to serve as the source of the music. Artists would turn to record labels for things like marketing and promotion. "It's about trying to take away the power from top down and give power, or at least a steering, to the artist to help shape their own future," Heap told reporters.
Blockchain technology, already in use on other music streaming and download platforms like Bittunes and PeerTracks, has its challenges. It's not clear who would oversee these blockchain payment systems and there are concerns over how this complex technology would be managed. Previous efforts to set up a database of music rights have failed, such as the Global Repertoire Database, which closed in 2014.
Heap, who also runs her own label called Megaphonic Records, is in the process of registering Mycelia as a charity and is hosting a hackathon in April to work on the platform. She says she has heard from a range of tech companies interested in building the technology for Mycelia and hopes to launch the platform soon.
"The first thing is to create some kind of hope that there is an alternative to a major label deal and that it's coming, but its not quite there yet. Everybody is in a bit in limbo,"Heap says. "We've got this new technology, great possibilities ahead of us, but we've got this old cranky system trying to cling on to the remainders of [its] power."