"Think left and think right and think low and think high. Oh, the thinks you can think up if only you try," says Dr. Seuss. This is an advice perhaps best spent on children, whose imagination can indeed think up what for most adults is literally unimaginable.
Great evidence is proved by INVENTORS!, a project by artist and designer Dominic Wilcox, who asked 450 kids from the towns of Sunderland and South Tyneside in the northeast of England to come up with inventions and illustrate them. Local craftsmen then worked with the children to turn the drawings into reality, creating some of the most amazing inventions you'll ever see. They include a war avoider that lifts your home above conflict sites, a hook to get those pesky Pringles potato crisps out of the tube, and a light machine wig for people who are afraid of the dark. Some of the most impressive submissions came from the youngest inventors:
Ladybird Umbrella by Sophia Carr, age 5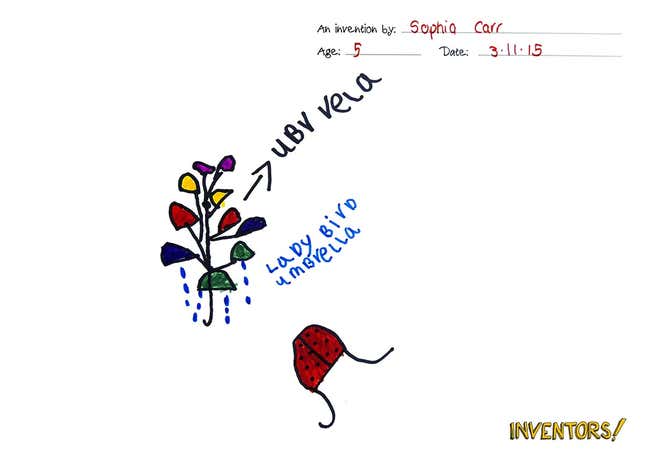 Sophia Carr thought a ladybird (or ladybug) could use a shelter for the rain, and a pretty one. So she drew one. Then Norman Veitch, a retired glass maker, created it under her close watch.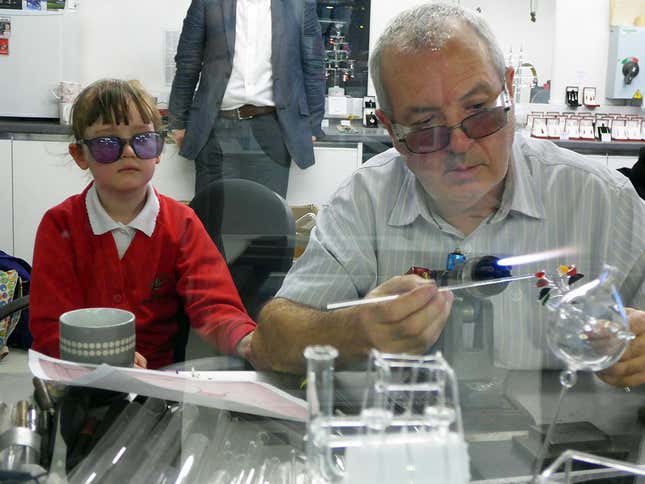 Food Cooler Fork by Ameliya Liddle, age 6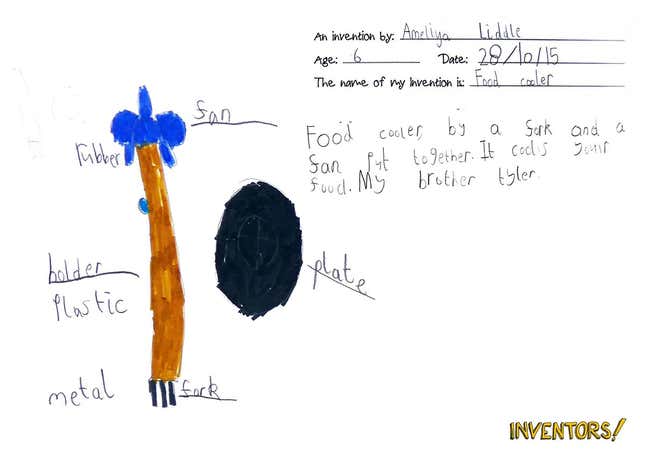 Just because blowing was the way you always cooled your food before taking a bite doesn't mean there isn't a smarter solution to be devised! Ameliya Liddle, inventor of a fork and fan combination, wants you to say goodbye to burning your tongue on piping hot pasta—and with the help of an industrial designer, she made it happen.
The Licker by Krystal James, age 9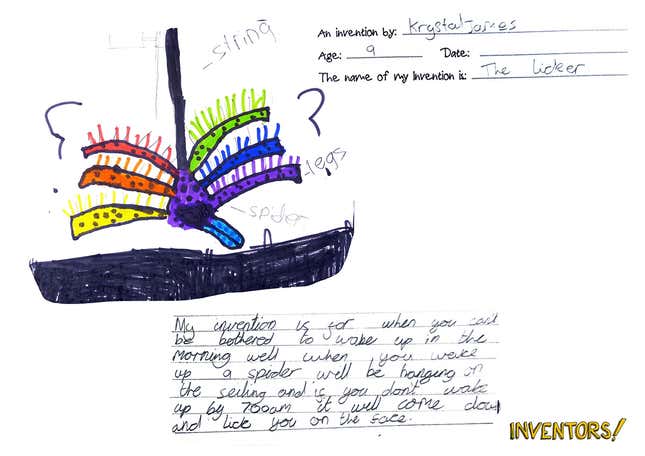 Getting up in the morning never gets easier, and while you are busy trying out yet another alarm clock, Krystal James has a better idea: a gigantic spider that will lick your head if you don't wake up at 7am. Tough, but effective.
Handy Hi 5 by Oliver, age 6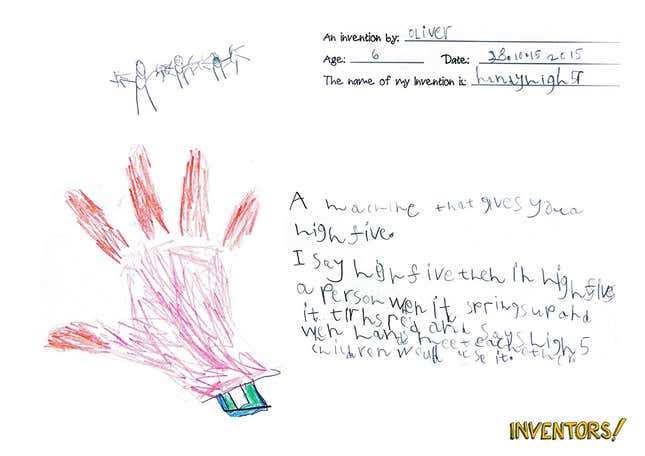 This machine scratches an itch. What to do when you really deserve a hi five but there is no one around to give you one? You use the Handy Hi 5 machine, of course! Oliver, its 6-year-old inventor, thought it up with the idea that kids would find it useful—but they wouldn't be the only ones.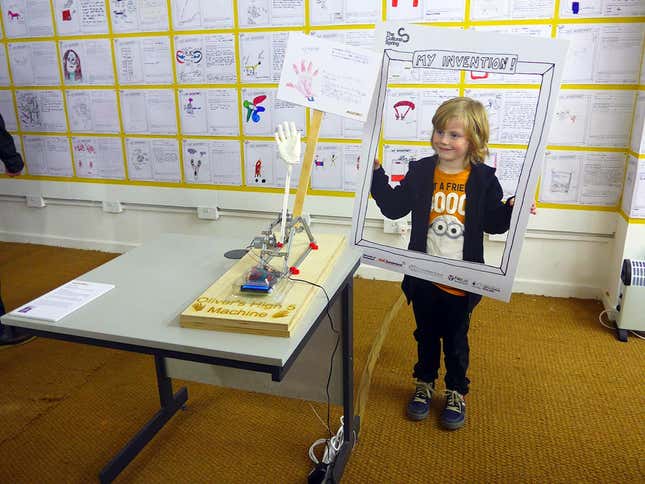 Shout Activated Camera by Daniel Shimmin, age 4 (and a half)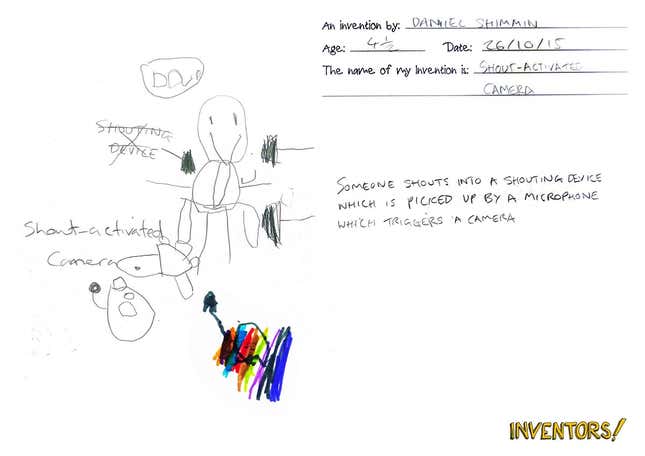 Daniel Shimmin really wishes cameras would take pictures whenever ordered to do so. So he designed a camera to do just that. Then Alistair MacDonald, a maker, turned the design into reality—paying particular attention to the multicolored camera base.
Flipping Rope by Chloe Main, 6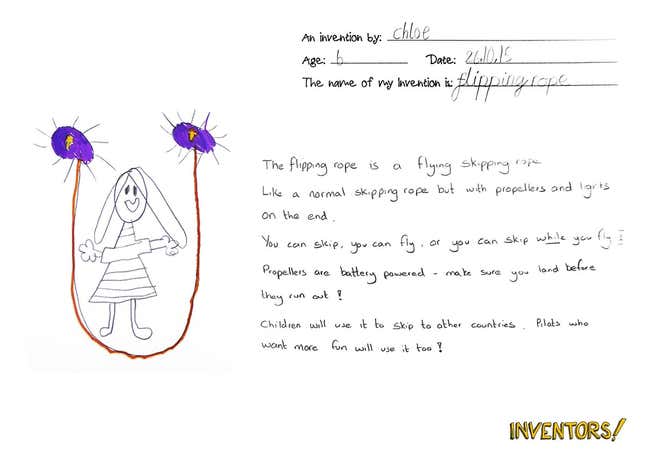 The Flipping Rope is just like a skipping rope. Except it flies! It can skip on its own, and also go places: Chloe Main, its inventor, predicts that kids will use it to go from a country to another, and pilots will like the invention, too. "You can skip, or you can fly, or you can skip while you fly," Chloe said.