This post has been updated.
Six people were killed and two critically wounded last night (Feb. 20) by a gunman apparently targeting people at random in Kalamazoo, Michigan. Jason Dalton, a 45-year-old white Uber driver, was taken into custody as the suspected shooter.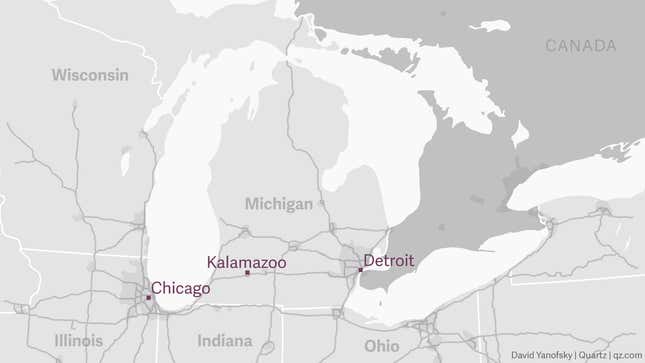 According to the Kalamazoo Department of Public Safety, Dalton allegedly began shooting around 6pm local time at a residential complex north east of the city. Four hours later, the attack continued 8 miles (13 km) away at a car dealership south west of the city and was followed by more shooting at a Cracker Barrel restaurant 15 minutes later.
All of the incidents took place in parking lots and victims were targeted randomly, but shot intentionally, police said in a Facebook update Sunday.
Dalton was taken into custody shortly before 1am. He has no known criminal record, police said.
Authorities also said on Sunday that Dalton was an Uber driver and they are investigating reports that he took some fares in between the shooting incidences. Uber has confirmed to multiple media outlets that Dalton was a driver.
A neighbor told the Detroit Free Press that Dalton was married, had two children, and "liked guns." The public safety chief of Kalamazoo told CNN that weapons had been seized from Dalton's home.
The deceased included a father and son shot in the car dealership and four women shot outside the restaurant, local news outlet WWMT reports. A 14-year-old girl and a woman are in critical condition.