Samsung released two new flagship phones this week, the Galaxy S7 and S7 Edge. Both are updates on the S6 versions of these phones unveiled last year. They perform pretty much like their predecessors, but with slightly better cameras, slightly brighter screens, and a few minor software upgrades. If you're looking for a new Android phone, they're likely to top your list.
But there's nothing particularly striking about these phones—they look like their predecessors, and they cost as much. And in an increasingly competitive mobile market, how can Samsung hope to stand out?
Samsung's usual approach is to load its phones up with gimmicks and flashy features that no one really needs (how often do you use the eye-tracking video-controlling feature on your S6?). But this time around, Samsung seems to finally be admitting that the phones have become commodities, and has switched focus to the gear around the phones. After waterproof phones, curved screens, phablets, styluses, Samsung might have found a true differentiator from its competitors: virtual reality.
Along with its flagship phones, Samsung also announced a new 360-degree video camera, the Gear 360. It also said that anyone preordering an S7 or S7 Edge would get its predecessor, the Gear VR headset, bundled in for free.
While this may raise questions of how well the Gear VR has been selling, it also suggests what the company sees as the future of mobile. Samsung brought in Facebook CEO Mark Zuckerberg, whose VR subsidiary Oculus helped design the Gear VR, to announce the launch of the Gear 360 at the Mobile World Congress in Barcelona.
Samsung now has an end-to-end offering for anyone interested in figuring out what all the fuss over VR is about. The Gear 360, which is the size of a GoPro action camera—and about as easy to operate—can record high quality 360- and 180-degree video and wirelessly send it to one of Samsung's new phones. Through the phones, it can also livestream 360-degree video to a Gear VR headset, allowing anyone who's purchased a new Samsung phone and gotten a Gear VR to create shareable, immersive videos with a few button presses.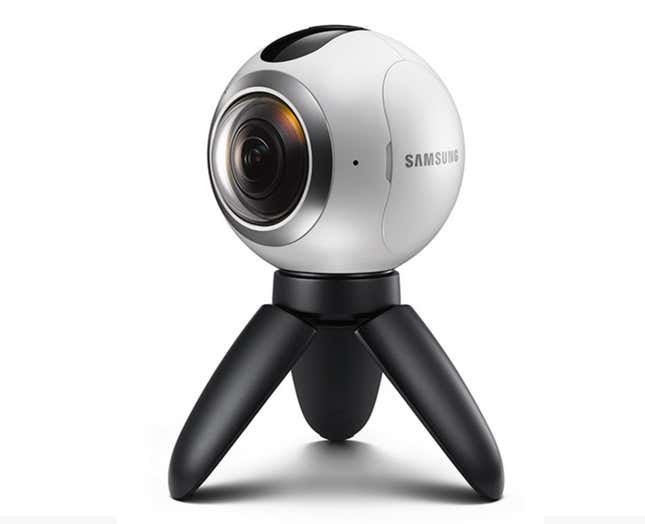 At a separate event on Monday (Feb. 22), Samsung showed off its new flagship showroom (where you can't actually buy any Samsung products) in the fashionable Meatpacking district in New York. It has a DJ booth, an amphitheater, art installations, a coffee store, a kitchen full of Samsung appliances, a "living room" with a Samsung flatscreen TV, and rows of tables set up to demo its phones and VR headsets. Samsung told Quartz that the space, called Samsung 837, will be open to the public. Samsung told Quartz that the space, called Samsung 837, will be open to the public to come check out its products. Samsung seems to be trying to sell us on a lifestyle where everything in the future is amazing, cool, and made by Samsung.
Virtual reality appears to be part of that future. Samsung already makes some of the best TVs and smartphones, as well as a few other appliances, and it's becoming difficult to truly innovate these devices: TVs and phones can't get much thiner, and connected fridges can't cool much more efficiently. So Samsung is adding VR to its electronic lifestyle offering, betting that it can become as integral to our lives as other devices have proven.
Samsung hasn't announced how much the Gear 360 will cost, but said that it should be "affordable for many people." The company told Quartz that the Gear 360 will be released in the second quarter of 2016.
Mark Zuckerberg thinks we'll all be wearing VR headsets in the future. If he's right, Samsung can keep making decent phones that are slightly better than the ones before them and push into the burgeoning VR market with great success—as long as it can keep innovating in VR. Samsung's current offering is only marginally better than Google's—where you strap a phone to your face and hope you don't get motion sickness—but if the new Gear 360 proves as enjoyable and inexpensive as a GoPro, it could have another winner on its hands.