Peng Liyuan has all the right traits for a first lady–ease in the spotlight, approachable beauty, and her own powerful fame. Her husband, Xi Jinping, officially becomes China's head of state on March 14, and plans to put her in the spotlight this month (paywall) at the BRICS summit in South Africa as an exercise in "soft power." But Peng is already used to the spotlight.
Peng is Xi's second wife and a famous folk singer for the People's Liberation Army. For years, her renditions of 1980s and 1990s patriotic songs were seen by nearly the entire country during CCTV's Chinese New Year program. Lavishly dressed in anything from a ball gown to the costume of a Tibetan yak herder, Peng traipsed around the stage, commanding the nation's attention with the syrupy sweet soprano voice that earned her the nickname "Peony Fairy".
Here's a video of her singing the "Laundry Song," a patriotic song extolling the many contributions of China's military (which includes helping regular Chinese wash their clothes, apparently).
Her career downshifted in 2007 when it became evident that her husband, who had been working the upper rungs of the Communist Party bureaucracy for the past decade, was being groomed for a top post. Peng stopped performing in the CCTV program and was careful never to talk about her husband in interviews. When she did appear in public, she exchanged her heavy make up and gowns for subdued pantsuits or her military uniform, and even tamed her trademark bouffant hairdos.
Since the country's leadership transition began last November, she has also been conspicuously absent from Xi's public appearances. Many observers concluded that she would stay out of the spotlight, in the tradition of Chinese first ladies after Mao Zedong's third wife, the former actress Jiang Qing, whose reign didn't go down well in Chinese history.
But the Chinese political establishment may be rethinking her role. Peng will reportedly host her own speaking engagements (paywall) at the BRICS summit. And Peng, already popular and without the same kind of elite family connections as Xi (he is the son of Xi Zhongxun, a famous communist revolutionary), could help the party dispel its image as privileged, corrupt, and out of touch. Xi has already started this campaign by banning lavish banquets, eating instant noodles in public, and donning a distinctly more unbuttoned look.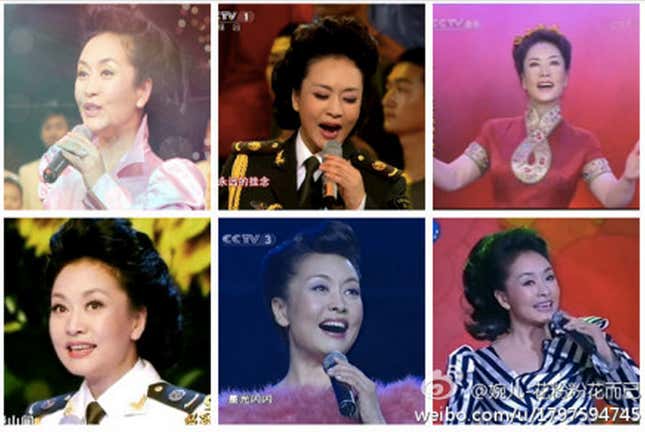 Peng is praised as being humble and friendly—the wife of a composer she worked with says the first lady wears plain clothes and would come over to listen to music and talk about art—as well as bold: Peng is a World Health Organization ambassador for AIDS, a touchy subject in China.
Yet some suspect a calculating side. Peng is rumored to have been responsible for one of the bigger controversies of the 2008 Beijing Olympics when a girl originally chosen to sing the opening anthem was nixed on the grounds that she was too homely, selecting a cuter girl to lip-synch in her place. Others point to parallels between her and Jiang, Mao's wife and a former actress, who created a cult of personality and is today blamed for engineering the Cultural Revolution.
Ultimately though, Peng can help make Xi appear more human, in a country where leaders tend to look remote and robotic among the public. In a 2006 interview that has been wiped from the internet by state censors, Peng said she first met Xi when he was the little-known mayor of Xiamen in the south of China. She thought him unsophisticated and old-looking but intelligent (paywall) when he asked her how many techniques exist for singing. The two married a year later in 1987.
In that interview Peng also said that she wore ugly "big army trousers" to see if Xi would like her for her personality. Little did he know that she would one day end up as a potent political asset in her own right.