A young Lionel Messi fan in Afghanistan is now the proud recipient of a signed jersey and other gear from the Argentinian soccer star, who tracked him down down after a photo of the five-year-old wearing a makeshift Messi jersey went viral in January.
A Messi fan account initially posted a picture of Murtaza Ahmadi on Jan. 16, incorrectly identifying him as Iraqi.  A few days later, the Barcelona forward's team requested information about the photo, sparking an online search to find the young fan, who was eventually located two weeks later in Jaghori, southwest of Kabul.
Messi is a UNICEF ambassador and the children's aid organization delivered two autographed jerseys and a signed football to Ahmadi this week. Pictures released by the organization show the boy posing proudly with his new gear.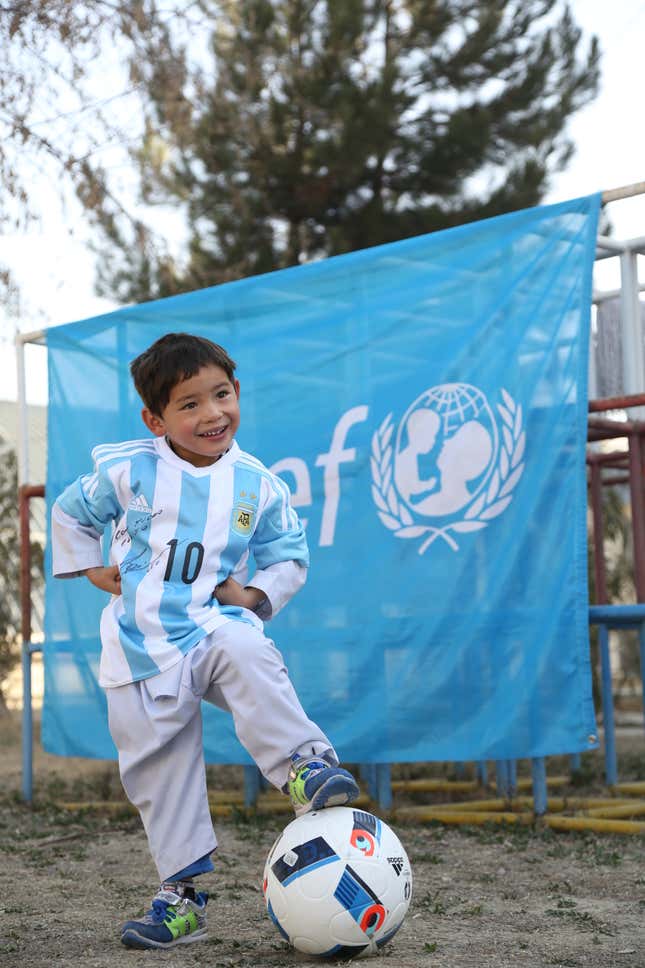 Murtaza's brother, Homayoun Ahmadi, told Al Jazeera in early February that they couldn't have imagined buying the the original jersey. "We just can't afford it so, to make my brother happy, I made a shirt out of that plastic bag for him," he said.
"We did not expect that we would get this kind of support from everyone. People from all over the world have been calling me to help get Murtaza a jersey and a football," the boy's father, Arif Ahmadi, said.
"I love Messi and my shirt says Messi loves me," Murtaza said upon receiving the jersey.
Arif Ahmadi told CNN it was "one of the happiest moments" of his son's life.