The locus of travel has rapidly moved eastward, a trajectory likely continuing into 2013 and beyond. Both consumer and business travel trends are now being defined and tested out in regions other than the US and Europe. User experience and its intersection with design is the lens that travel will increasingly be defined by, and regions like Middle East, Asia and West Africa are at the forefront of those trends. This was discussed at length in a report earlier this year: "13 Global Trends That Will Define Travel in 2013."
Now data from the World Travel and Tourism Council (WTTC) backs that up. In its annual "Economic Impact Research," it has come up with data on the world's fastest growing countries in travel and tourism, calibrating against GDP contribution, employment growth, business and leisure travel growth, investment and other metrics.
Some of the countries on the list are surprising on first glance, but on deeper dive, make sense:
The boom in the top few countries on the list—especially Qatar and Azerbaijan—is driven by oil/natural gas and construction. It's understandable that travel is growing.
Qatar is also being driven by its new geopolitical prominence, based on the back of its worldwide sovereign wealth spending spree.
The mining boom–or speculators hoping for it–in central Asian countries like Mongolia and Kyrgyzstan are driving the travel economies there.
Peel back the layers on many of these countries, and a big reason for the growth in travel would point to one reason: China. The Asian giant has been buying its way into the emerging countries in Asia and Africa, especially in infrastructure development. That would explain the rise in travel industry as a result.
Some countries like Thailand, Oman, and Cape Verde are experiencing genuine tourism-driven growth, with less geopolitical implications than others on the list.
A big caveat: With few exceptions, all of these countries are growing this fast from a very small base where the travel and tourism industry is in its infancy. The absolute numbers may not be huge currently, but long-term projections until 2023 even out some of these biases, and that's why you see countries like China and India appear in this.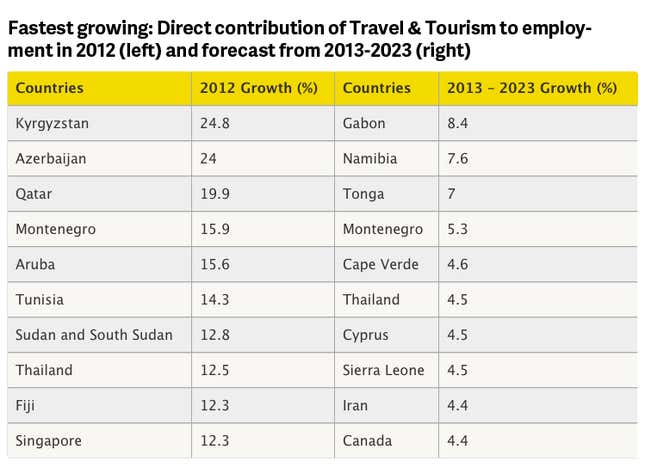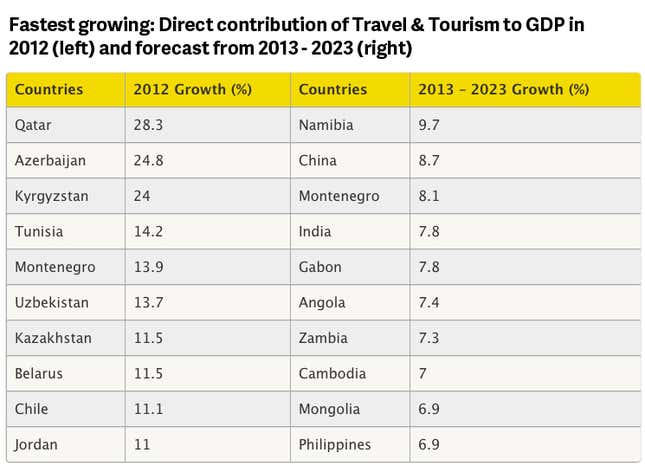 This post originally appeared on Skift.com. 
More from our partner site: