Prada's sales growth has been soft lately. The Italian brand has lost some of its allure in recent years and the luxury market in China, which accounts for a major chunk of Prada's revenue, is in a slump.
To get back on course, the label seems to be counting on handbags. It sent out loads of them at its fall-winter 2016 runway show on Feb. 25.
Miuccia Prada's imagined woman was, she said, a "vagabond," layering on items almost haphazardly. There were beautiful clothes, but like a number of luxury brands, Prada is a business built on bags and leather goods, and it made that fact clear in its runway accessorizing.
Wallets became pendants on necklaces, or hung from belts. Bags in a wide range of styles turned up, carried by hand or slung across the body. Some models carried two bags, like busy working women. There were 52 looks in the show, and nearly as many bags (not all unique styles). Last season, there were fewer than 40 bags on the runway, and just under 30 the season before that. It's true that those seasons featured fewer looks overall, but even so, the profusion of bags was notable this time around.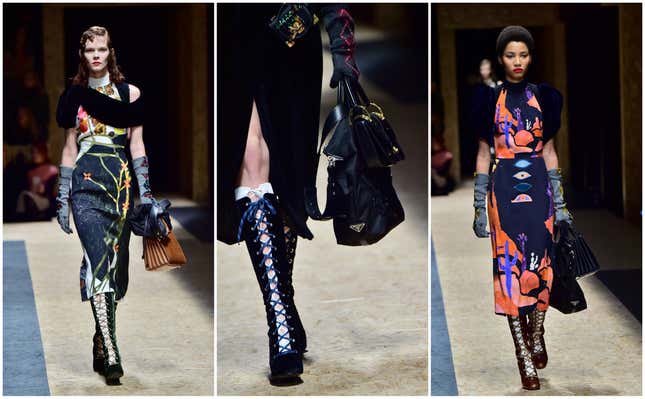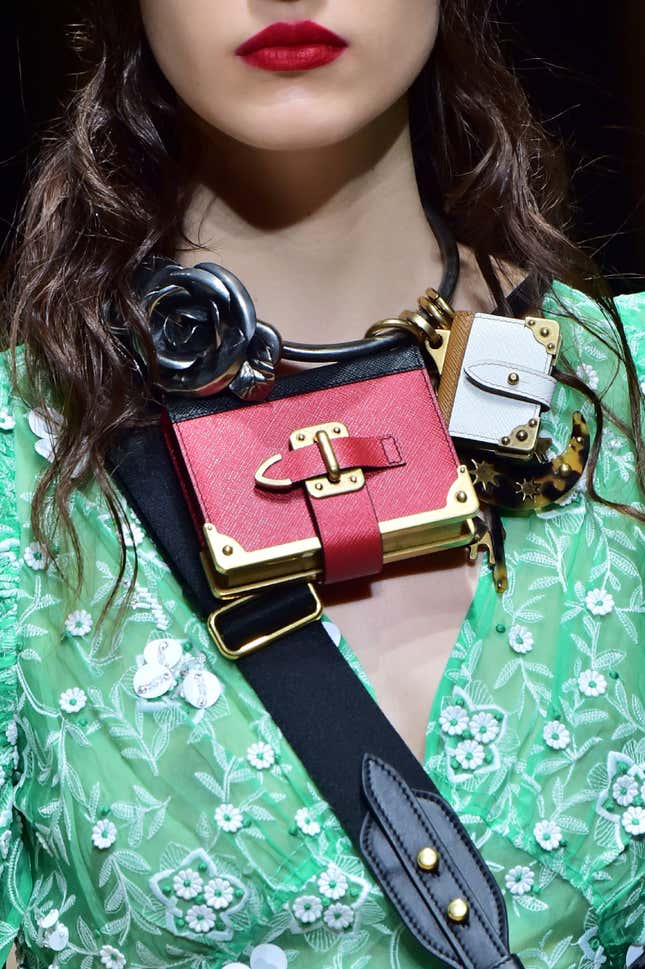 It worked with Prada's bag-lady concept, but according to AFP, it also reflected the fact that company executives are hoping bags can revive the struggling label. In keeping with the trend of the instantly shoppable runway that many brands are implementing, Prada also had items up for immediate purchase: two new handbags, the Pionnière and the Cahier.
It's not hard to discern why the company might lean so heavily on bags. Leather goods made up 63% of Prada's sales (pdf) through the first nine months of 2015, far more than any other category. But it was also the only category to see sales decline.
Prada's message to women is to go ahead and double-bag it, preferably with Prada, and it gave them plenty of options for doing so.