Columbia, South Carolina
South Carolina, as expected, voted overwhelmingly for Hillary Clinton in the Democratic primary today (Feb. 27). It was a dispiriting end to Bernie Sanders' mad-dash effort to get South Carolinians  to "feel the Bern." Connecting with the young, black voters he targeted would have made Bernie's path to nomination at least plausible, but after a 50-point loss his chances are looking slim indeed.
Today's poll data suggest that more than four in five black South Carolinians, who made up a 62% of voters today, voted for Clinton—even more than the 78% that voted for Obama in 2008.
Though we won't know for a while, years even, maybe Sanders' effort will turn out not to be for naught. Over the last two weeks, Quartz had conversations with a number of South Carolina voters—most of them strong Clinton supporters—that suggest his themes are resonating with voters. This hints at hope for an enduring Bernie legacy. He has found purchase with geographically and ethnically diverse swaths of voters, a base that one day might unite to push for the sort of new New Deal that Sanders wants for America.
Enlisting Killer Mike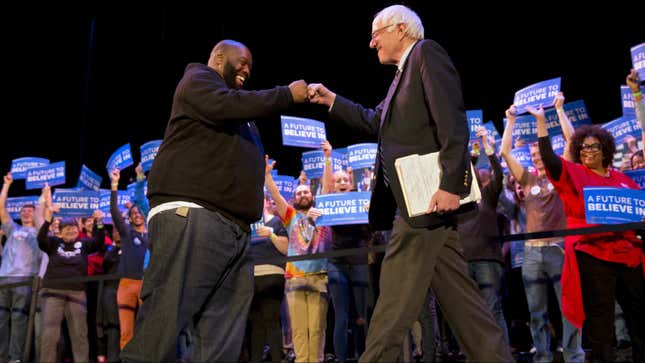 Bernie Sanders had little time to counter Clinton's strong reputation in the state.
"Sanders is coming to this [state] late," Robert Oldendick, political science professor at the University of South Carolina, told Quartz last week. "He's making a concerted effort because he knows he's behind in the African-American community—and given that they [accounted for] 55% of voters [in 2008], you can't lose 80-20 in that group and hope to win."
Over the last month, Bernie aimed for the one big chunk of the state's voters that remained up for grabs. Clinton was supposed to have the black vote locked up, and Sanders had the youth vote—but what about young, black voters?
Targeting that demographic, Sanders overhauled his stump speech to address racial injustice, reaching out to Charleston's Black Lives Matter group, and aggressively courting students at the state's half-dozen historically black colleges and universities (HBCUs) at rallies over the last six months.
His team's campaigning efforts were valiant. Busloads of impassioned out-of-state Sanders fans have rung doorbells and stabbed Bernie signs into lawns around the state. While Bernie was pinballing around the Super Tuesday states this week—an implicit admission that his South Carolina chances were slim—hip-hop star Killer Mike stumped for him in South Carolina barber shops with Nina Brown, the former Ohio state senator.
Sanders also built up his South Carolina cred by winning key endorsements from state politicians, including representatives Justin Bamberg, who also represented the family of Walter Scott, the man who was shot by a police officer in North Charleston last year. But, as of mid-February, Bernie still lagged 63-23 behind Clinton among African-Americans in a poll by Public Policy Polling (pdf).
Bernie goes the distance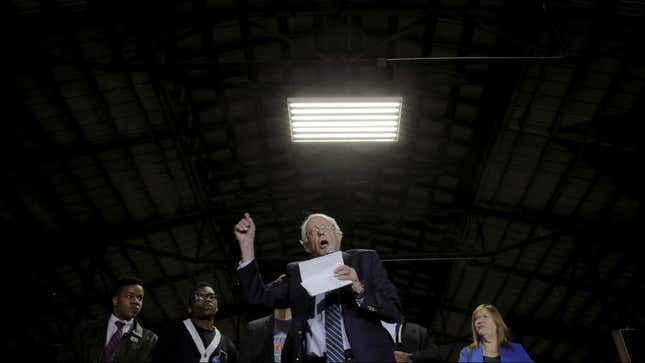 While perhaps not the most strategic use of his time, Bernie refused to give up on South Carolina. Despite being clobbered by Clinton in the polls, the senator flew back from early-morning engagements in Minnesota yesterday, Feb. 26, to speak at rallies in Orangeburg and Columbia in the afternoon and evening.
The strain was starting to show as he whipped up a modest crowd at Claflin University, a historically black university in Orangeburg. Though still lively enough to keep up his jokey old-guy patter ("you know, Killah Mike is not… a killah"), his voice rasped noticeably at times. Nina introduced him by arguing that  "you have to earn the black vote, you don't own the black vote." Bernie was clearly committed to earning it.
Claflin's crowd yesterday aside, turnout at Bernie rallies suggested that his message was connecting. His campaign workers have been keen to note that some of the students in the crowd at Allen University booed Jim Clyburn—the state's lone Democrat in Congress and a pillar of the black community—when he announced his endorsement of Clinton.
Well-liked—but not well-known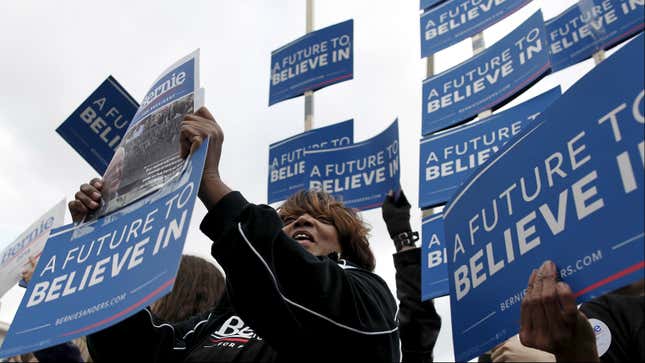 What the ugly poll data don't reveal, though, is that Sanders' efforts were paying off among more than just young voters. Nearly all of the dozens of Hillary supporters Quartz spoke with liked and respected Sanders.
"I just learned about Bernie Sanders," said Pat Tolbert, a retiree in Rock Hill and declared longtime Hillary fan. "I feel as though she'd be a better choice, but I like his issues too."
Even those who were skeptical of Bernie's economics (and there were many) still thought well of him.
"He has a lot of promises I don't think he can keep—for instance, the president can't pass laws by himself," Kasita Allen, a 55-year-old manager who lives in North Charleston, told Quartz as she waited to attend a Hillary town hall event on Feb. 25, in a line that snaked around the town's Royal Baptist Church.
"But he seems very personable and honest," said Allen. "And he marched with Martin Luther King Jr. during the civil rights era—[I'm] grateful for that."
Both Allen and Tolbert happen to be in a coveted South Carolina Democratic primary demographic: African-American women aged 45 and older. Since South Carolina is overwhelmingly Republican, these women's votes don't matter that much in the general election. The ability to connect with them could be an important bellwether, though. In 2012, African-Americans eclipsed whites as the voters who turn out most reliably in national presidential elections.
African-American women are particularly stalwart. In fact, they boast the highest voter turnout of any demographic group, by ethnicity and gender. And not only are these women generally engaged, informed voters; they also tend to be influential in their families and communities.
Missed messages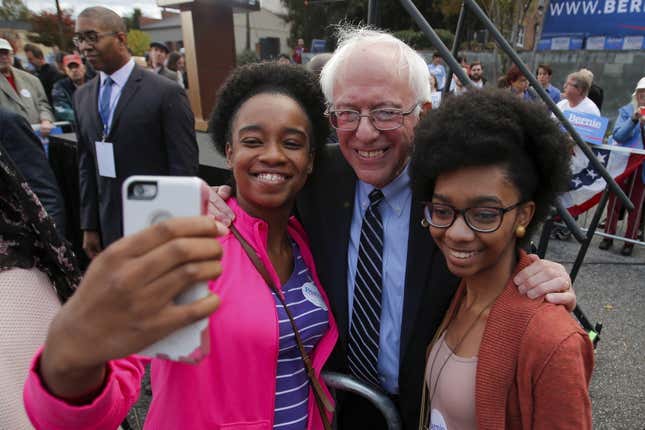 It's possible that Sanders could have won over some of these prize voters if he'd had more time. In particular, he could have benefited from a few more months in which to clearly articulate his plans. As it was, some of his messages were getting garbled. Sanders canvassers told Quartz that among the middle- and low-income voters they spoke with in Florence and Sumter, the big takeaway was that Sanders wanted to raise their taxes.
His easier-to-grasp themes don't seem to be as electrifying here in South Carolina. Wall Street and "the rich" lack the magnitude of villainy that they have among millennials of the whiter north. South Carolina voters are understandably more focused on mending the gaping holes in the social safety net. Mere days before the primary, Sanders shifted to talking about sorely needed infrastructure investment and poverty in African-American communities. But it was too late to make much of an impact.
Healthcare was likely a huge missed opportunity for Sanders. Almost all of the South Carolina Democrats with whom Quartz talked ranked improving healthcare (or simply keeping Obamacare in place) as their top one or two priorities. His single-payer scheme—no matter how pie-in-the-sky—could have been a big talking point for Bernie. However, the healthcare ideas most voters praised were Hillary's, not his.
Context is key here. South Carolina's Democratic primary voters tend to be fiercely protective of president Barack Obama's accomplishments, particularly Obamacare. Hillary is widely seen as the chosen defender of his legacy. The Clinton campaign shrewdly played to this sentiment, both in speeches and imagery (in Florence, the campaign's door-knocker flyers feature Obama at Clinton's side, beaming at her as she gives a speech).
Clinton's ownership of issues hobbled other Bernie hobbyhorses, too. Clinton voters, especially younger ones, routinely cited her commitment to fixing mass incarceration and criminal justice reform as reasons for their support—even though Bernie is arguably stronger on those issues.
South Carolinians are listening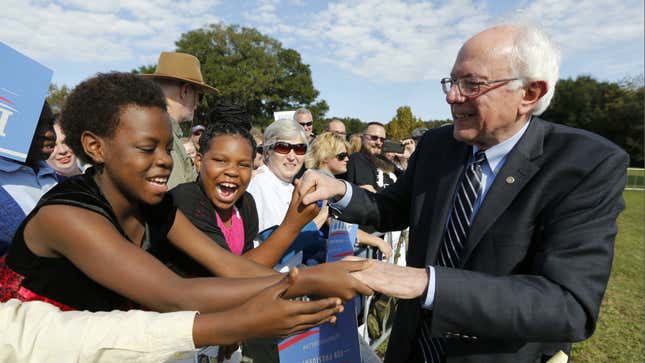 However, against formidable odds, at least one of Bernie's political philosophies found a broader mark here in South Carolina. Though Austin Seals was still undecided when Quartz chatted with him yesterday, the freshman at Claflin said he was leaning toward Sanders, having been turned off by how tangled in the political establishment Clinton seems.
"Sanders can offer a different approach, which this country needs in these chaotic times," Seals said. "What he's proposing about education is very important to the future of our country's growth."
Bernie's passion for free public education has also reached young voters. At a Bill Clinton rally in Rock Hill on Thursday, Quartz spoke with Ashton Spears, an 18-year-old who was still undecided. Though he had a favorable view of the Clintons, Spears had more to say about Sanders.
"I like Bernie," said Spears. "I like what he's saying, what he's trying to do, what he stands for." Pressed for specifics, he said he didn't care much about what happened on Wall Street, but was excited about Sanders' free college policy.
Dyshane Murphy, another 18-year-old, admitted that he hadn't really given much thought to whom he'd be voting for in the primary.
"I don't know, honestly—I'm not really into politics," he said. "My [basketball] teammates told me it was the best decision, to vote for Hillary Clinton." Murphy couldn't think of anything he knew about her.
What about Bernie Sanders—had he heard about him? Murphy shook his head. "Except I do know he's all about education," he added.
Of all Bernie's policy proposals, free public education seems to be the one that sticks with young African-American voters (Clinton's wants to make college more affordable, but not necessarily free). And small wonder; national data reveal that young African-American college graduates are much likelier than their white peers to be underemployed (meaning, unemployed or working only part-time due to a lack of job opportunities), based on analysis by the Economic Policy Institute. That makes student debt even more onerous.
But however financially risky it might be to rack up student debt, securing a college education is clearly critical to making a reliable living. More than half of African-American high-school grads are underemployed, according to EPI.
Hope for a Bernie legacy?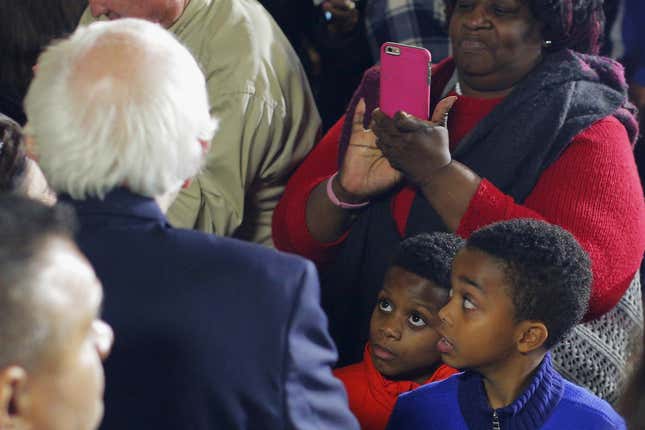 Bernie didn't pull off a Donerail in this crucial leg of the horserace. Unless he somehow does—and does so soon—we'll probably look back on the South Carolina primary as the twilight of his campaign. But it may be that he leaves a bigger mark in South Carolina than his skimpy delegate count would suggest. His popularity here, even among avowed Clinton supporters, hints that Bernie's call for a return to the New Deal can inspire audiences beyond his post-Occupy Wall Street base.
Could those disparate groups one day unite to force the Democratic party to champion labor and redistribution of wealth? Not in 2016. Then again, to one day spark Sanders' longed-for revolution, maybe what the US needs is a long, slow Bern.