For all the success enjoyed by Clash of Clans, the mobile game from Supercell never made it to the top of the daily app charts. It was the top grossing game for most of 2014 and 2015, but it never did better than No. 4 on iOS or No. 12 on Android in terms of downloads in a day.
But Supercell's follow-up, Clash Royale, is easily showing up its predecessor: The game skyrocketed to the top of the iOS app rankings yesterday (March 2) within 12 hours of its release, according to app analytics firm Sensor Tower. Clash Royale got a slower start on Android, where it was the 61st most popular app on Google Play.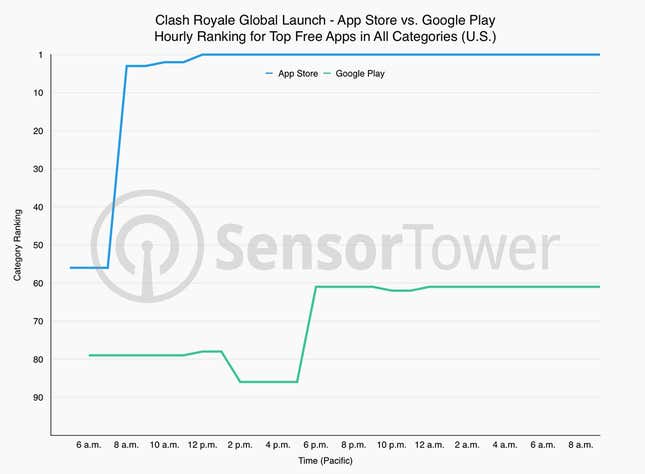 In contrast, the chart below shows how Clash of Clans fared on iOS and Android over the last two years.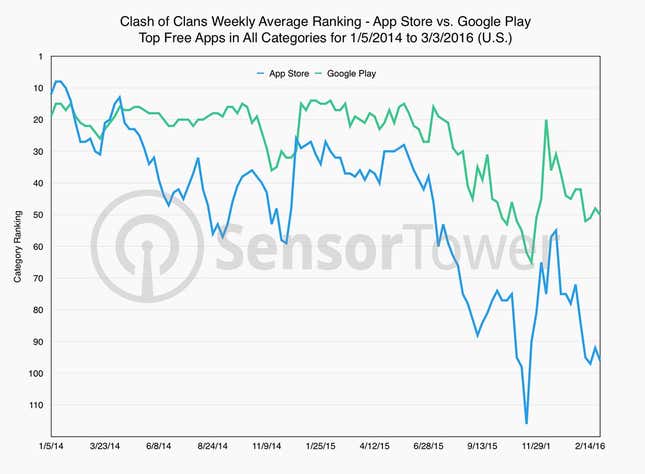 Not only did Clash Royale climb the charts, it's also been making money at a fast clip. It became the No. 2 top grossing iPhone app yesterday. Users play for free, but can pay to unlock special features.
This is particularly noteworthy because users don't typically pay for in-app purchases right when an app is released, a Sensor Tower representative tells Quartz. Instead, in-app purchases become more popular once users become hooked. If Clash of Clans's past performance is any indication, Clash Royale's momentum will likely continue for a while to come.