Update (3:15pm ET): In a press conference after being released, Lula was visibly angry about his arrest. "I felt like a prisoner," he said (link in Portuguese). "Unfortunately, they preferred to abuse their power, arrogance—a show, a fireworks spectacle." Clashes were reported outside the his apartment, where supporters and opponents gathered following news of his detention. Some analysts worry that the increasingly heated rhetoric could erupt into violence in the next couple of days.
Original (9:10am): Brazil's investigation into official corruption and money laundering took a politically explosive leap early this morning (Mar. 4) when police detained popular former president Luiz Inácio Lula da Silva.
Federal police said they have not arrested nor charged Lula, but they directly accused him of corruption. In a statement issued yesterday, Lula's foundation denied that he had committed any wrongdoing.
The police operation—which took place at Lula's apartment in São Bernardo do Campo, a suburb of São Paulo—was a dramatic show of law enforcement's seriousness, and a menacing specter over the sitting president, Dilma Rousseff, a member of Lula's Workers Party.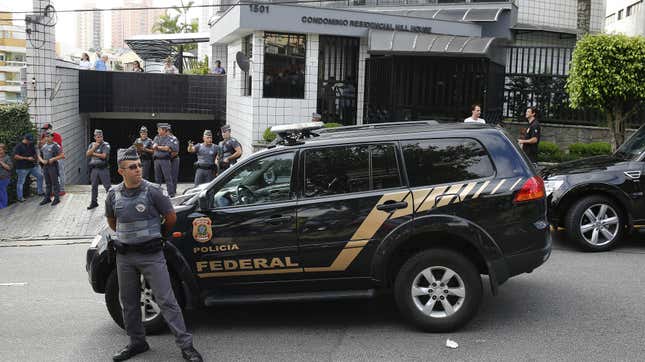 "The likelihood of a sudden change in government, either through judicial or legislative means, has skyrocketed," Maplecroft, a political risk firm, said in a note to clients.
Brazilian markets rallied sharply on the news, apparently sensing a change in regime that could shake up the country's beleaguered economy. Brazil is in the midst of its deepest recession in 25 years, statistics revealed earlier this week.
Police indicated that the anti-corruption probe, code named "Operation Car Wash," had entered (pdf) a new, upgraded phase that they called "Aletheia," or "the real search."
The long government investigation has focused on the state oil company, Petrobras, and a tangled conspiracy of kickbacks, graft, and money laundering that appear to have enriched much of the country's elite. Rouseff, who was minister of energy while the alleged corruption was taking place, has denied benefitting, but analysts have said it seems improbable that she did not know anything about the alleged corruption as it was going on.
As for Lula, among other things the authorities are investigating are the renovation of a country estate and a beachfront apartment used by the former president and his family.
A police statement cited by Reuters said:
Ex-president Lula, besides being party leader, was the one ultimately responsible for the decision on who would be the directors at Petrobras and was one of the main beneficiaries of these crimes. There is evidence that the crimes enriched him and financed electoral campaigns and the treasury of his political group.
Lula left office in 2010 after eight years in office. He remains one of the most powerful officials in his political party, and in construction in Brasilia.