While exploring the ocean near the Hawaiian islands late last month, researchers with the US National Oceanic and Atmospheric Administration (NOAA) discovered what they believe to be an entirely new species of octopod.
The creature, which they captured on video, was sitting on a rocky seabed roughly 14,000 feet underwater. Unlike most other octopods, the creature appears to have little pigment in its skin, and wasn't very muscular, giving it an ethereal, ghost-like appearance. Michael Vecchione, one of the researchers aboard NOAA's Okeanos Explorer research ship that encountered the creature said in a post that, "the appearance of this animal was unlike any published records and was the deepest observation ever for this type of cephalopod."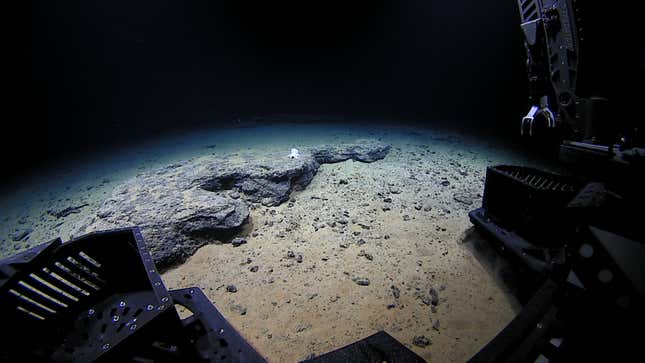 The weather agency's remotely controlled robot scout, ROV Deep Discoverer, came across the octopod as it was trawling the seabed near Necker Island (not that Necker Island), one of the smaller islands in the Hawaiian archipelago. The creature is apparently a type of cephalopod called an incirrate octopod, similar to an octopus commonly found in shallower waters, and Vecchione suggested that these are generally found less than 4km (13,100 feet) underwater.
Vecchione said that social media posts had suggested that they name the octopod "Casper" after the cartoon ghost. He said that the team is now considering combining its discovery with some other observations from a German ship in the Pacific Ocean to submit their findings to a scientific journal.