There are many clients from hell, but the worst are those who simply don't pay.
Defaulting or delaying payment impacts all businesses, and is perhaps most sorely felt by artists, start-ups and freelancers, who tend to have less money or time to take legal action. This reality recently dawned on London-based web developer and part-time musician Olivier Lesnicki, after meeting musicians who complained of being constantly stiffed. In search of a solution, he and developer Jon Halt have created Fileship.io, a new file sharing platform that requires clients to pay before getting their product.
Fileship basically holds commissioned work hostage, with files locked until payment is received. After an artist uploads a file and sets their price, they'll receive a link via email, which they can send to the client. The interface is designed to work seamlessly with PayPal and funds are transferred directly to designers' accounts.
Fileship tacks 5% commission on top of the fee; a $100 job, for example, would be billed as $109.39 to the client. Lesnicki explains that they've aligned their pricing model with Kickstarter's fees, and plan to lower the fees as the scale of their business grows.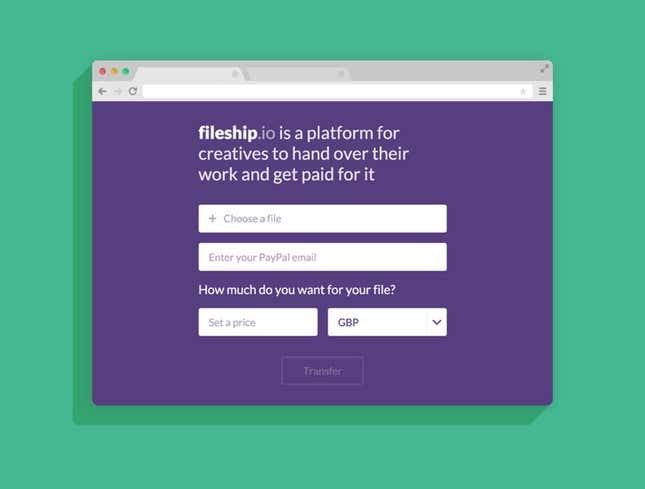 In theory, Fileship provides an easy, professional alternative to sending awkward reminder emails to delinquent clients. It also saves artists and creatives from having to hire a lawyer or a collection agency when things get really dire.
But whenever money is exchanged, trust is the ultimate currency. Launched on Feb. 28, Lesnicki tells Quartz that the site has already had over 12,000 visits and 120 uploads so far. That number will presumably grow when Fileship earns third-party web-safe transaction verifications, and publishes a few customer testimonials.
Fileship is a riff on file.io, the "ephemeral" file sharing service that makes files automatically disappear—à la Snapchat—once they're downloaded. Files sent via Fileship will be accessible to clients for seven days to make sure that they're satisfied with the final deliverable. This way, artists also avoid the burden of storing massive amounts of data for eternity.
Setting boundaries is healthy in all sorts of relationships. As Lesnicki describes, without clear limits, clients will often ask for "files again and again."