It's not just women in science who have it rough. Architects experience similar sexism at work, shows a new survey by Architect's Journal. More than 70% of female architects who participated in the survey reported experiencing sexual discrimination, harassment or bullying at work. This reflects a troubling 10% jump from last year.
The study, titled "Women in Architecture," draws on 1,104 responses from professionals in architecture, academia, engineering and other related fields, of whom 20% were men. And although it focuses on the UK, anecdotal evidence suggests the same grim scenario pervades architecture on the other side of the Atlantic.
Yen Ha, a principal at Front Studio Architects in New York City, tells Quartz that discrimination comes from all sides—clients, brokers, engineers and most consistently from contractors. At one project kick-off meeting, she recalls a real estate agent telling a contractor, "I'll have the real architect send the plans to you."
"It's inevitable, it happens every single time," Ha says.
The missing 32%
This kind of broad discrimination may be one reason that few women pursue the profession. In the US, men and women graduate from architecture school in roughly equal numbers, but only about 18% of licensed practitioners are women, according to the American Institute of Architects (AIA).
Why do so many trained architects abandon their metier? Another commonly cited reason for the drop off is that female architects with children have less time to devote to the highly competitive profession, and struggle to break back in after taking time off. "There's a big stigma for leaving architecture," explains Rosa Sheng, who leads The Missing 32% Project, a multi-year investigation by the San Francisco chapter of the AIA. "Once you leave, it's like falling out of the pearly gates of heaven: You can never get back in," Sheng told Architect Magazine in 2014.
"It's really rare to find women in architecture who have kids," says Ha, who has two children of her own. According to the Architect's Journal study, 87% of survey respondents said that children had set back their careers.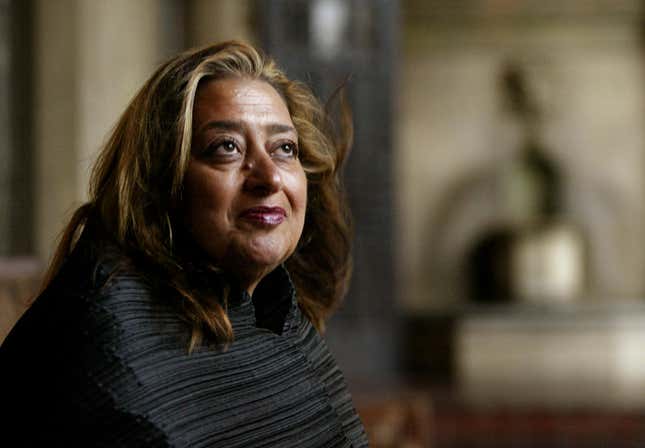 The fight for more female starchitects
Mirroring the industry's gender disparity, there are few female role models in architecture. Zaha Hadid—the prize-winning Iraqi-British architect whose futurist buildings and personal candor frequently make the news—may be the field's lone living female celebrity. "I love that Zaha is this crazy presence in the field," observes Ha. "She's a woman and she's putting herself out there. I think it makes huge difference."
Hadid was the first and only solo female winner of the Pritzker Prize, the profession's most prestigious honor. The only other female laureate in Pritzker's 37-year history is Japanese architect Kazuyo Sejima who shared the honor with her partner Ryue Nishizawa in 2010. In 2013, Pritzker's jury famously denied Denise Scott Brown's petition to be recognized with her husband and design partner Robert Venturi.
In an effort to establish new female heroes, in 1998, the Royal Institute of British Architects and the Arts Council of England established the Jane Drew Prize, named for a revered English architect (and rumored M16 operative). But after the first year, controversy plagued the initiative, and it was put on hold until 2012, when Architect's Journal took over the prize and gave Hadid the honor. This year's winner, French architect and professor Odile Decq, is only its sixth recipient.
Ha says she's contemplated leaving architecture entirely, but doesn't want to leave the profession even more out of balance. "There are not a lot of women in architecture," she says. "I feel like I would be letting down womankind by leaving. There's a responsibility to keep on working and to stay visible."