Canada's new liberal prime minister Justin Trudeau is in Washington to meet with US president Barack Obama this week. Somewhat surprisingly for neighboring nations with strong bonds, it's the first official visit by a Canadian prime minister in nearly two decades. Why it didn't happen sooner during Obama's time in office? One reason might be the strained relationship he had with Trudeau's conservative predecessor, Stephen Harper.
But Trudeau and Obama are another story. As some have noted, the Canadian leader almost seems to have a "man crush" on his US counterpart, judging by the way he looks at him.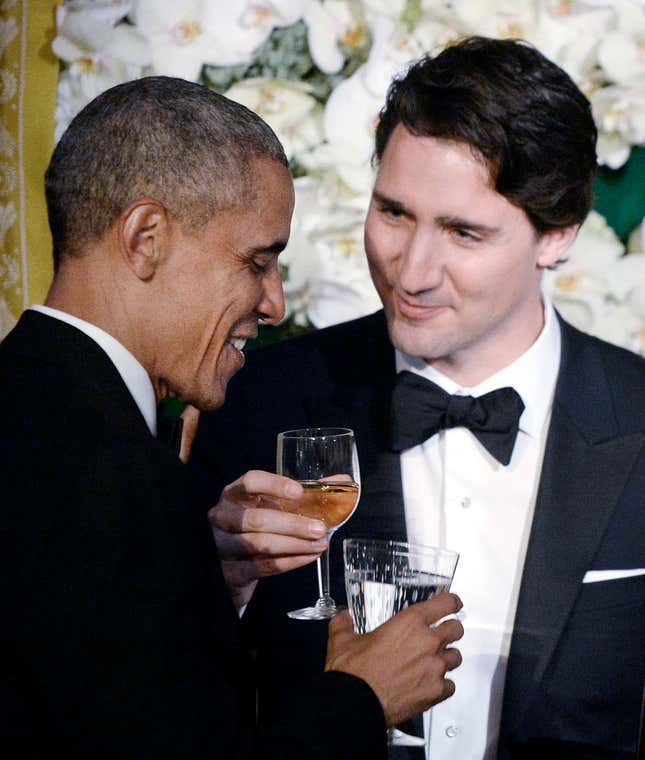 Certainly the two men are closely aligned on a number of important issues, which might help explain the lavish praise they've heaped on one another (paywall). "He campaigned on a message of hope and of change; his positive and optimistic vision is inspiring young people," Mr. Obama said at a news conference. "On the world stage, his country is leading on climate change and cares deeply about development, so from my perspective, what's not to like?"
They used the occasion to announce joint efforts to curb emissions of planet-warming gases, notably methane, a chemical contained in natural gas.
Such harmony contributed, no doubt, to an attention-grabbing state dinner on March 10. Michelle Obama's floral-patterned dress complemented Sophie Trudeau's fuchsia gown with pink and orange detailing by Canadian designer Lucien Matis.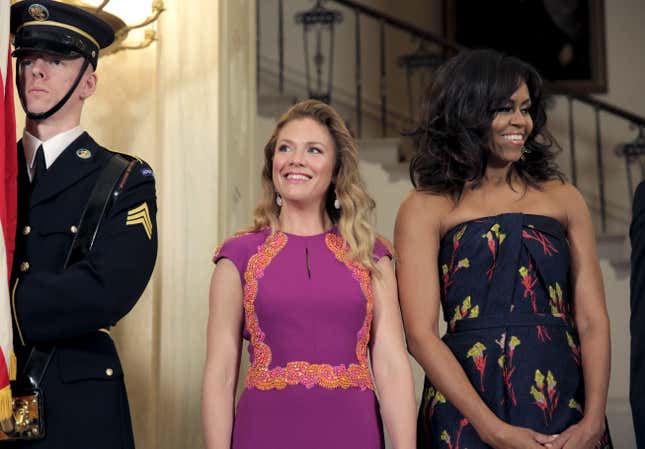 The spread on the table included Canadian whiskey and poutine, a Quebec dish that has become popular in parts of the US—perhaps inevitably since it includes french fries and cheese.
Bromance aside, the evening did have a bit of real romance to it.
As happens between good bros, Obama ribbed his Canadian counterpart on the subject of sports, suggesting that Americans are better at hockey than Canadians. He noted the latest Stanley Cup was won by the Chicago Blackhawks.
In all fairness, that team is well stocked with Canadian players.