This post has been corrected.
Since 2003, the American "family style" restaurant chain Olive Garden has donated more than 28 million meals to local food banks across the US as part of its Fight Against Hunger campaign and what it calls its "larger citizenship efforts."
That's "a great thing" for those who benefit from the donations, said Kelly Ditson, who has been a server for about two years at a branch of the Italian-style restaurant in Greensburg, Pennsylvania. But she has a question for the chain's executives: "I wonder, do you think that any of those people could possibly be employees of yours?"
Ditson herself has had to rely on county assistance for medical care and food, even as she works about 30 hours a week serving the pasta dishes, deep-fried appetizers, and famous breadsticks the restaurant chain dishes out. A single, 26-year-old mother of two, she took home about $12,000 in pay last year, she tells Quartz. Despite Olive Garden's charitable largess, she says, bringing home leftover food from the restaurant is not an option.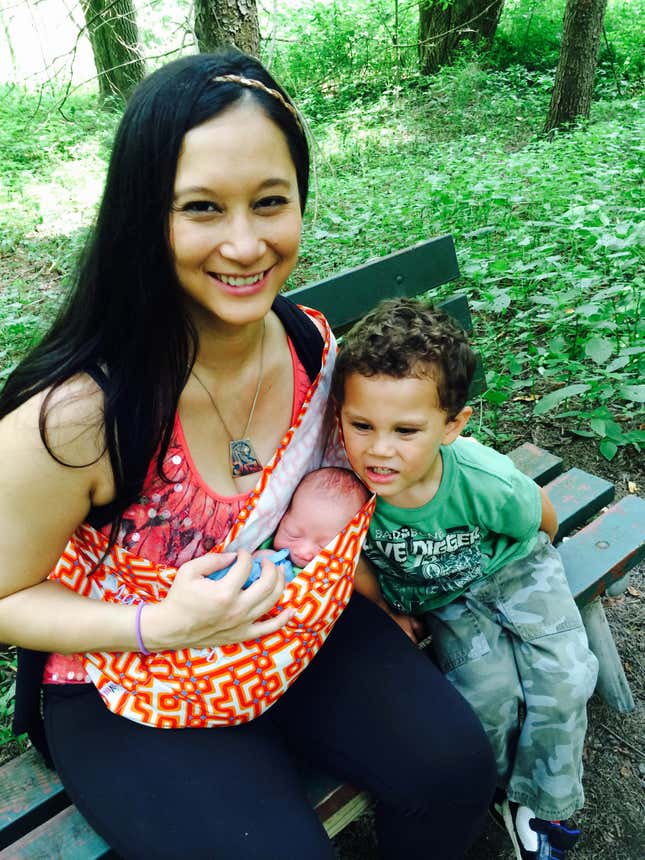 "I got in trouble for eating some food that would just go to waste," Ditson told Quartz. "I got a verbal warning and was told that was considered stealing from the company, so I could be written up and possibly terminated if I did it again."
Ditson's circumstances are far from unique, and she is now a vocal critic of the system that created them. As a member of Dignity at Darden, a campaign organized by the labor advocacy group Restaurant Opportunities Center ("ROC") United, Ditson has written about her struggles as a server for Darden (which owns Olive Garden), and even showed up at a shareholder meeting with other Darden employees. Although fast food workers' fight for a $15 minimum wage has gotten more attention, she wants Americans to know that servers in sit-down restaurants are not faring much better. (Neither are some of the low-level employees at tech companies providing reviews of all these restaurants, apparently.)
Tipped workers, like waitstaff, are about twice as likely as non-tipped workers to end up in poverty, according to reports from the Economic Policy Institute, which have been cited by the White House (pdf). (The EPI's findings are not specific to Olive Garden. They are based on the Current Population Survey from the US Census Bureau.)  Servers in the US are in an especially precarious position, 2.5 to 3 times as likely as non-tipped workers to end up in poverty, according to a report from ROC United, an organization fighting to better the conditions of restaurant workers, as well as the report from the White House. (ROC United based its calculations on the 2013 American Community Survey from the Census Bureau.)
This is due to the tipped minimum wage system, in which restaurants don't pay their servers the bulk of their wages—customers do. Tipped employees only need to receive $2.13 per hour from their employers, instead of the hourly $7.25 minimum wage. While employers are supposed to make up any difference if a server's tips do not add up to the $7.25 benchmark, that doesn't always happen, the EPI report found. Ditson says Olive Garden, for example, doesn't make up the difference when her tips fall short.
This explains why almost half the full-service restaurant workers and their families in the US are receiving benefits through one or more public assistance programs—Medicaid, food stamps, child care assistance or housing vouchers—according to ROC United's calculations. This adds up to an average total taxpayer cost of approximately $9.4 billion each year for restaurant workers and their families between 2009 and 2013. (ROC based the estimate on government enrollment and expenditure information for public benefits programs and population data.)
The National Restaurant Association, the industry lobbying group representing more than 500,000 restaurant businesses, disputes the figures indicating that a large portion of tipped workers are receiving public assistance benefits, but it did not provide alternative data. "ROC has time and again released these 'reports' using broad definitions and including measures like [Earned Income Tax Credit] in order to suit their own agenda," spokesperson Christin Fernandez told Quartz over email. Her organization could not provide data tracking its industry's workers' reliance on public assistance, but she pointed to a report from the Employment Policies Institutes finding that raising the minimum wage does not reduce the use of the social safety net. That report, however, does not look at the tipped minimum wage.
She said the tipped minimum wage system works, and employers must make up the difference between actual wages and the minimum wage. "That is the law," she said. "Plain and simple."
Jessica Dinon, a spokeswoman for Olive Garden, did not answer any questions about how many of the company's employees are on public assistance, but she provided a statement saying that "Darden is a values-based company built on a culture of integrity and fairness… Any assertion that we do not pay our employees fairly… is completely false."
Inquiries to Ditson's general manager at the Greensburg, Pennsylvania branch of Olive Garden were directed to Hunter Robinson, a spokesman for Darden. "We comply with all federal laws," Robinson said, but he declined to elaborate further, citing employee privacy. He also pointed out that Ditson has the right to use the company's dispute resolution process.
Correction: The National Restaurant Association cited a report from the Employment Policies Institute, not the Economic Policy Institute referenced earlier in the story.