Just a week after the maker of the canceled television show Veronica Mars raised more than $3 million dollars via a Kickstarter campaign, an online American luxury retailer just brought in over $100,000 through contributions made online for its expansion into Canada.
The quick success of Everlane, which started its crowd funding campaign only on March 4, represents a possible new venue for capital raising for companies. An established company that makes and sells luxury clothes and accessories, Everlane doesn't necessarily need the money. Each pledge was awarded with an accompanying gift. (A pledge of $2,500 earns the contributor a trip to Everlane's offices in San Francisco or Los Angeles and a dinner with the company's founder; for $7,500 you'll get a start in launching your own clothing line. Contributions of $200 or less generally come with an Everlane shopping credit for the same amount, plus giveaways like t-shirts.)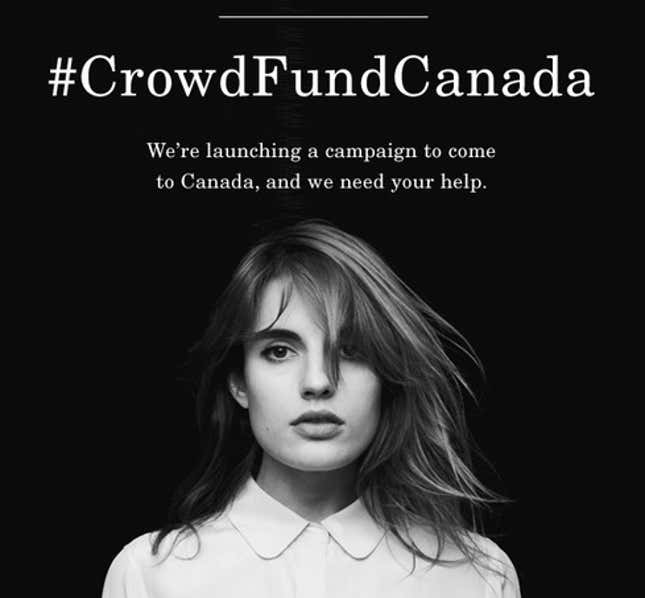 Instead, for Everlane and possibly other companies looking to expand in unknown markets, crowd funding could function as a way to raise capital and gather data on how much consumer interest is out there. Explaining the campaign, Everlane said on its site, "We see this as a unique way to bring rewards for those who join early, while testing demand." (Canada has proven a tricky market for some US online retailers before: Amazon's Zappos unit stopped shipping to Canadian customers in 2011, citing issues with brand distribution deals and customs.)
Everlane said that 69% of contributions had came from Canadians as of March 14. In addition to about $104,000 in raised funds, Everlane knows that at least some people in Canada are eager for its arrival.